Learning management systems (LMS) have become essential for training companies to effectively manage and deliver online courses. However, with many available options, it can be challenging to determine which LMS platform best fits your company's specific needs and goals. In this blog post, we will take a closer look at the key features to consider when choosing an LMS platform and provide an overview of the top options on the market. Whether a small startup or a large enterprise, this guide will help you find the perfect LMS platform to support your training efforts.
Learn how to create and publish your first course with Paradiso CourseCart, for free!  
Features of Learning Management Systems for Training Companies
Learning management systems (LMS) are essential for training companies to manage and deliver online courses effectively. These platforms come with a wide range of features that help to streamline the training process and make it easier for training companies to provide high-quality training to their students.
The essential feature of LMS platforms is the ability to track student progress and assess performance in real-time. This includes tracking student progress through a course, viewing their quiz and assessment scores, and providing feedback on their performance. This feature provides valuable insights into how well students absorb the material and where they may need additional support. LMS platforms also offer the ability to automate administrative tasks such as grading, tracking student progress, and providing certifications.
11 best LMS platform for training companies to watch
Paradiso LMS
iSpring Learn
Talent LMS
SkyPrep
eFront
Docebo
360 learning
Absorb LMS
Graphy
BrainCert
Coassemble
Paradiso LMS for Training Organizations was created with trainers and training companies in mind. It is a turnkey system that enables learning and development departments to manage their training and provide eLearning using the most up-to-date learning approaches. To provide excellent and exciting training to your employees and trainees, use a combination of the virtual classroom, blended learning, and other web-based platforms.
iSpring Learn is a cloud-based learning management system that allows you to roll out training to your whole organization in less than a day. There is no need for installation or sophisticated IT implementation, and it is entirely user-friendly. iSpring Learn consolidates all training content and data into a single, centralized area, allowing your learners to access it from any device.
It is a cloud-hosted, mobile ready learning management system built for both large and small businesses. It has complete course management, learning delivery, and administrative administration modules that are simple to use, even for non-technical users. Using these TalentLMS capabilities, you can efficiently develop courses, engage learners, boost collaboration, and analyze your students' overall performance.
SkyPrep is a cloud-based learning management system designed for companies of all sizes. Drag-and-drop course development, easier course delivery, automatic grading, and gamification tools are all available. Furthermore, the site allows users to monetize their courses. You will get access to all of the resources you need to run exciting and productive training for your staff.
eFront provides device-independent eLearning solutions for all sorts of enterprises. This platform, which is SCORM-compliant and straightforward to use, enables users to create training materials as quickly as feasible. It offers everything from content management and course development to gamification and learner performance tracking to the user. Furthermore, it offers mobile and offline access for a more flexible learning experience.
Docebo is a learning management system hosted in the cloud that is notable for its wholly integrated ecosystem of features and modular interface. It uses artificial intelligence to improve learning management automation, customize learning experiences, and promote informal classes for businesses. It also provides open API capabilities to interact with other applications more efficiently.
It is a learning management system designed for companies of all sizes. It is well recognized for its collaborative learning framework, which attempts to make the creation of learning materials easier. However, it has several other valuable features, such as gamification, student segmentation, mobile learning, and learner route customization. To make the experience more engaging for course participants, it includes algorithm-powered newsfeeds, learner feedback, and built-in communication features.
The Absorb LMS platform is created as a learning management system to enable continuous learning collaboration and interaction. These are accomplished through features such as leaderboards, feedback loops, quizzes, and news items. Additionally, educators may tailor the learning experience to specific client categories and business units. To guarantee a dynamic learning experience, the collection also provides movies and microlearning components.
It is a modern learning management system designed to meet the complex needs of professional content and learning course creators, including domains and white-label websites to advance their brands and grow their business, as well as support for all types of multimedia formats, marketing tools, payment gateways, student communication tools, and robust security measures to protect their hard work. Graphy advantages include drag-and-drop course building capability, no coding required to construct a mobile version, and numerous others.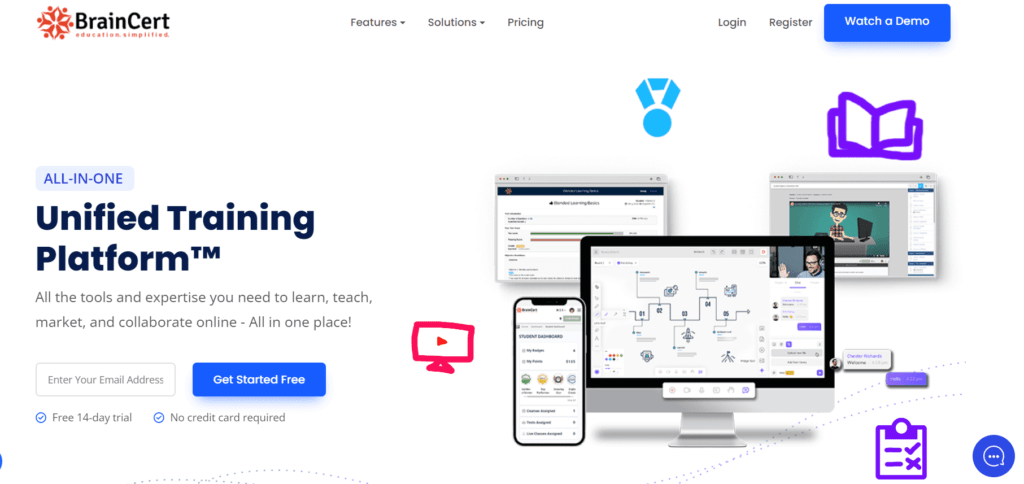 BrainCert is a robust LMS designed to maximize employee online training. It includes powerful course administration features, web-conferencing capabilities, and an integrated virtual classroom as a service (VCaaS) platform. It also has a social network and message system, making it ideal for collaborative learning. It also includes enterprise-level security features for customers who desire complete configuration control while keeping their data secure from prying eyes.
Coassemble is a cloud-hosted learning management system that is scalable and built to meet the learning and training needs of businesses of all sizes. The platform combines LMS functionalities with content development to deliver training resources for organizations and individual users. One of the Coassemble advantages is the availability of a library of customizable templates. Drag-and-drop capabilities allow you to customize these templates to build interactive training and learning courses.
Selecting the best LMS platform for training companies can be challenging due to the many available options. However, it is essential to consider your organisation's and your learners' specific needs when deciding. Factors such as scalability, ease of use, mobile compatibility, and integration capabilities should all be considered. Ultimately, the platform that offers the most comprehensive and user-friendly solution will be the best choice for your training company.