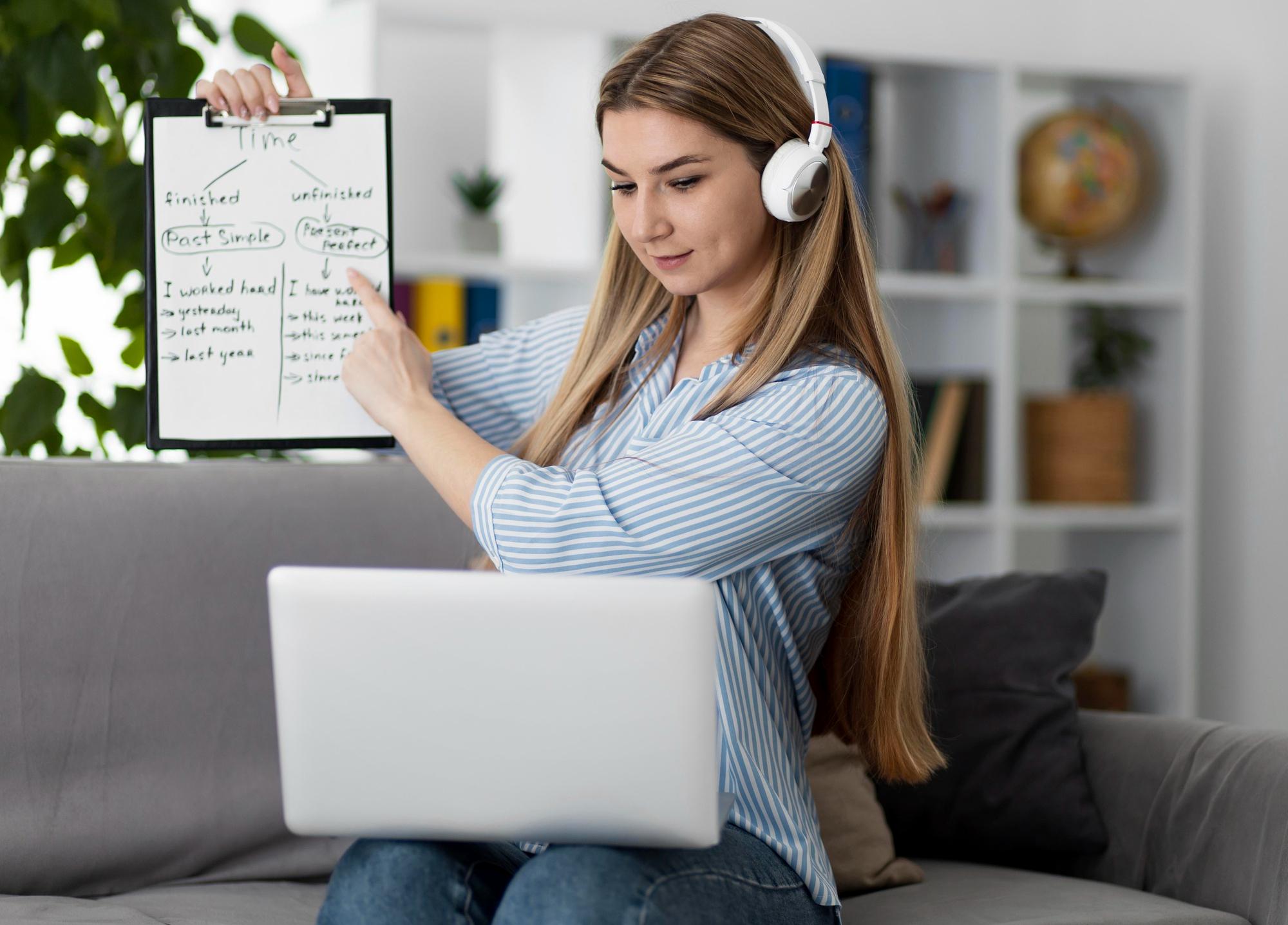 Learn how to create and sell
your online courses with
Paradiso LMS
In the digital age, online courses have emerged as a popular medium for sharing knowledge and monetizing expertise. If you're eager to tap into this thriving market and create your own online courses, Paradiso LMS is the ultimate solution.
This blog post aims to guide you through the process of creating and selling online courses using Paradiso LMS, a comprehensive AI-powered eCommerce LMS platform. Paradiso LMS empowers you to create and sell engaging courses to a global audience with its user-friendly interface, customizable features, integrated e-commerce functionality, and powerful analytics tools.
Learn how to structure your content, personalize your course design, set up pricing, and track student performance. Whether you're an experienced educator or just starting out, Paradiso LMS provides the tools and support you need to succeed in the online education industry.
How to start profitable online course business?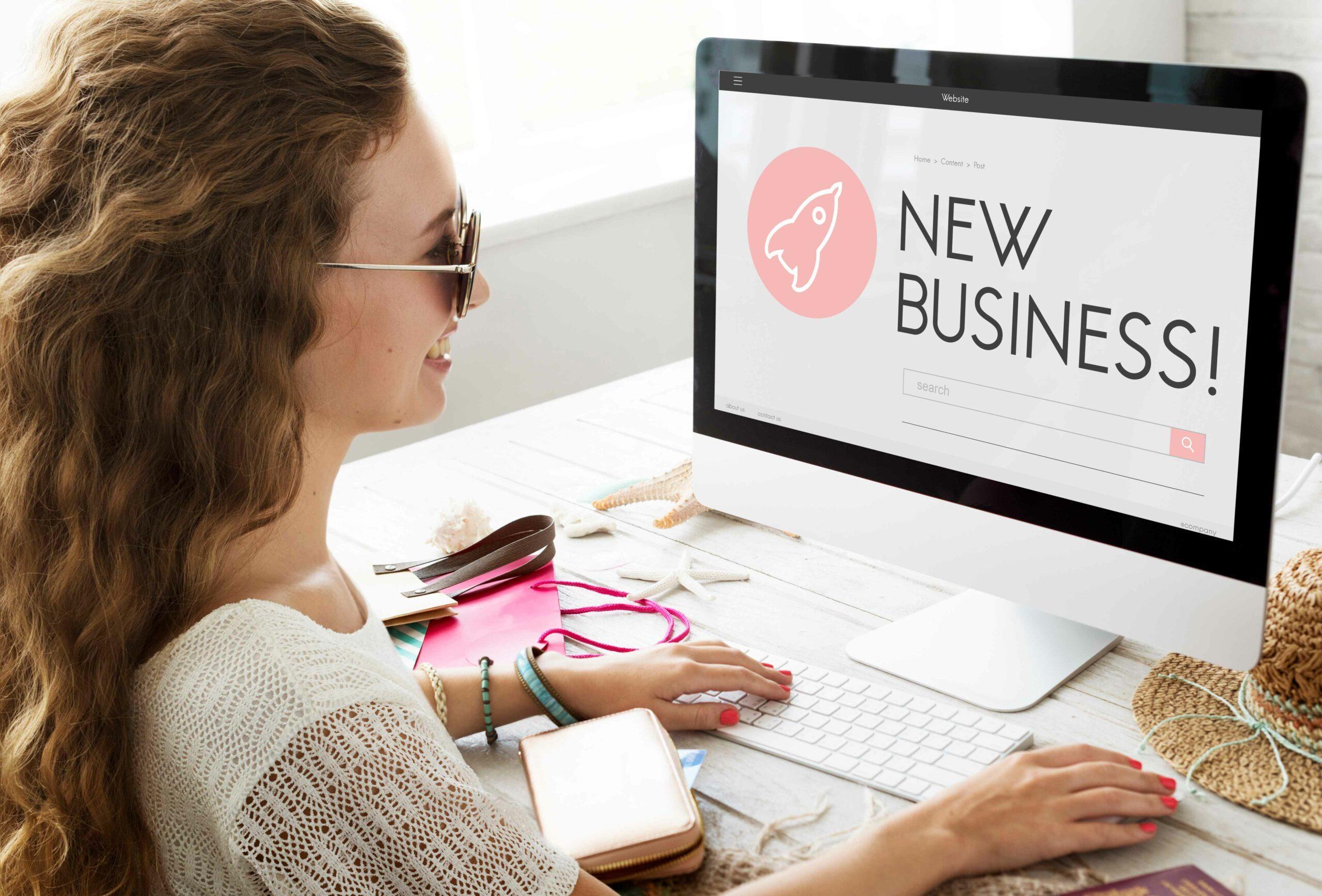 An online course platform is a tool that lets you create and host courses while also promoting them. You can upload course videos, create assignments and quizzes, get student feedback, receive payments, and track student activity. Learning management system is often used for online course creation but may not be sales oriented. However, some LMS platforms combine both features. When it comes to creating and selling online courses, there are three main ways to do it:
Benefits of online course selling platforms you should know
An online courses selling platform is an all-in-one solution that helps educators, students, and school administrators. It's a tool designed to help you find, recommend and sell your courses online. We're going to explain how a course selling platform can benefit every user in an educational environment:
Broad Audience Reach
With course creating-selling platforms, you can tap into a global audience, breaking free from the constraints of physical locations. This opens up opportunities to reach a diverse range of learners, significantly increasing your chances of attracting a larger student base.
Simplified Course Creation
Course platforms offer user-friendly interfaces and tools that simplify the process of creating and organizing your course content. You can structure your materials, upload multimedia resources, and easily design engaging lessons without requiring extensive technical expertise.
Marketing and Promotion Assistance
By leveraging the built-in marketing and promotional features of course platforms, you can showcase your courses to a wider audience. These platforms often provide options for search engine optimization, social media integration, and affiliate marketing, helping you increase your course visibility and attract more students.
Monetization Opportunities
Create and Sell Course platform offers secure payment gateways and revenue-sharing models, allowing you to monetize your expertise effectively. You can set your course prices, determine revenue-sharing percentages, and receive secure payments, empowering you to generate income from your online courses.
Robust Learning Management System (LMS)
Course platforms provide a comprehensive learning management system that enhances the learning experience for your students. Features such as progress tracking, assessments, and discussion forums enable interactive engagement, feedback, and collaboration, fostering a dynamic and effective learning environment.
How does an online course platform work?
An online course platform allows instructors to create and sell their courses online. In addition, the platform enables instructors to create and upload course content such as videos, audio, and text-based material. Students can then purchase these courses and access the content at their convenience.
Here are some points that describe creating and selling online course platform functionalities:
Helps simplify the course generation technique:
First, instructors create course content, including videos, audio, text-based material, and quizzes. Then, they organize the content into manageable sections to ensure students can easily navigate the course material.
Provides the option to upload the Course content:
After creating the course, instructors upload the content to the online course platform, including the course description, price, and duration. In addition, the platform may offer various templates and design tools to help instructors create an engaging course interface.
Allow learners to access course modules:
Students purchase the course and gain access to the course material. In addition, the platform provides students with a user-friendly interface where they can easily access and navigate the course material.
Delivers intuitive course Management system:
Instructors use platform tools to manage their courses, track student progress, offer quizzes, and provide feedback. In addition, the platform may offer various tools, including analytics, to help instructors identify areas of improvement and enhance their course quality.
How to choose the best online course platform?
You might think you need to be a computer whiz to create and sell online courses, but that's not true! There are lots of tools out there that anyone can use, no matter how tech-savvy you are.
So don't let your lack of skills hold you back. Instead, focus on these tips:
Clear with your Objectives:
Knowing why you need it is crucial to choose an appropriate create and sell online course platform. For instance, if you're teaching primary school students, you'll want a tool that's easy for them to use and offers a positive learning experience. The platform should include basic testing and assessment functions like quizzes and brain games. Before anything else, identify why you need the platform to create an effective learning strategy. Once you're clear on this, everything else will fall into place.
Identify the Required Features:
When buying online course creation software, choose based on your needs rather than what looks good. To make an informed decision, identify your pain points and focus on the required critical features. Take advantage of the free trials most providers offer to test the software. Consider including features like eLearning authoring tools, cross-platform compatibility, multimedia support, testing and assessment, and eCommerce support on your shortlist.
Compare your budget and software pricing:
When you're looking for software, it's essential to consider your budget. Knowing how much you need to spend will help you focus on affordable software. In addition, it means you won't have to spend time researching options beyond your budget. Instead, you can focus on finding the software that fits your needs and your wallet.
Discover the quality of consumer support:
In today's market, providing high-quality customer service has become crucial to stay ahead of the competition. However, purchasing software is just the beginning of the process. Engaging with the provider's customer service team is essential during installation, troubleshooting, maintenance, and upgrades. Furthermore, to ensure you receive timely and advanced assistance, you should read online reviews and client testimonials to assess the provider's customer support.
After extensive research and thorough testing of numerous Software designed to create and sell online courses, We have curated a list of our top recommendations.
Have a look at top 10 best online course platforms to create and sell online courses
Paradiso LMS: Comprehensive AI-powered eLearning platform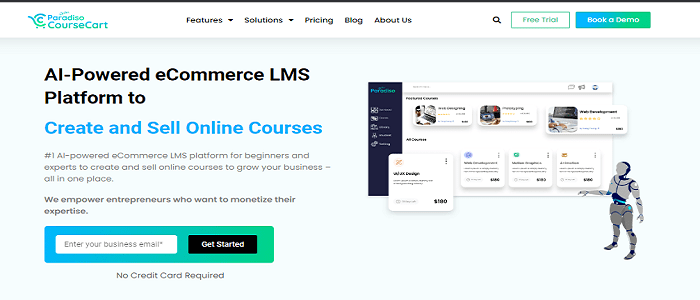 Paradiso LMS is a powerful learning management system and an excellent platform for instructors and organizations looking to create and sell online courses. With its robust course creation tools and intuitive interface, Paradiso LMS makes it easy for instructors to design and develop engaging and interactive online courses. The platform offers a variety of multimedia options, including videos, presentations, quizzes, and assignments, allowing instructors to deliver content in a dynamic and immersive manner.
In addition, Paradiso LMS provides comprehensive features for course management, such as enrollment tracking, progress monitoring, and learner analytics, giving instructors valuable insights into the effectiveness of their courses.
Paradiso LMS also offers monetization options for instructors to sell courses and generate revenue. With integrated e-commerce functionality, instructors can set pricing, offer discounts, and securely process payments directly through the platform. Paradiso LMS supports various payment gateways, making it convenient for learners to purchase courses and for instructors to receive payments.
Furthermore, the platform provides marketing tools and integrations with popular marketing platforms, enabling instructors to promote their courses effectively and reach a wider audience. Overall, Paradiso LMS combines the functionality of a robust learning management system with the features necessary to create and sell online courses, making it a valuable platform for instructors and organizations in the eLearning space.
Udemy: Global marketplace for online courses

Udemy is one of the largest online course platforms that offers a vast range of courses taught by expert instructors. It provides a marketplace where instructors can create and sell their courses to a global audience. Udemy covers a wide range of topics, including business, technology, personal development, and more. One of the key strengths of Udemy is its extensive library of courses, which gives learners a diverse selection to choose from.
The platform also provides a user-friendly interface and features such as quizzes, assignments, and discussion forums to enhance the learning experience. Whether you're looking to acquire new skills or enhance existing ones, Udemy offers a wealth of educational opportunities for learners of all levels.
Skillshare: Creative skills learning community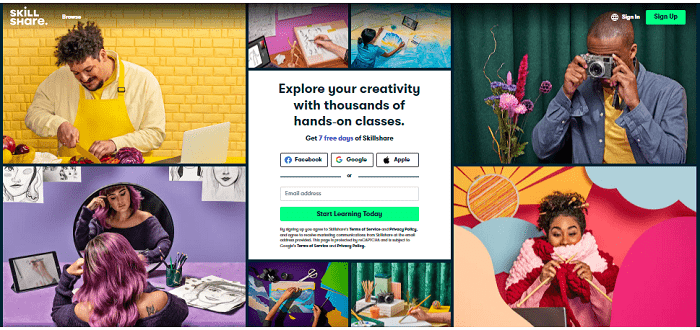 Skillshare is an online learning community that focuses on creative skills such as design, photography, writing, and more. It offers a subscription-based model where learners pay a monthly fee to access unlimited courses. Skillshare stands out for its emphasis on project-based learning, encouraging learners to apply their newly acquired skills through hands-on projects.
The platform also fosters a sense of community by allowing learners to interact with instructors and fellow students through discussions and feedback. Skillshare's affordable pricing and focus on creative skills make it an attractive option for individuals seeking to explore and develop their artistic talents.
Thinkific: Customizable course creation platform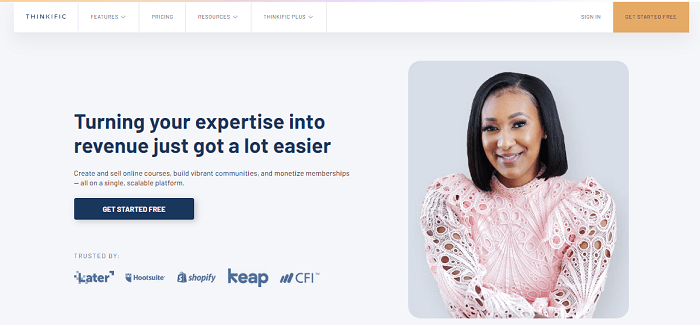 Thinkific is a versatile online course platform that empowers individuals and businesses to create and sell their own courses. It offers a user-friendly course creation interface with drag-and-drop functionality, making it easy for instructors to design their curriculum and multimedia content.
Thinkific also provides features for building membership sites, delivering live classes, and managing student enrollment and progress tracking. The platform supports various monetization options, including one-time purchases, subscriptions, and payment plans. With its robust features and flexibility, Thinkific enables entrepreneurs, experts, and businesses to monetize their knowledge and create impactful online courses.
Teachable: User-friendly online course platform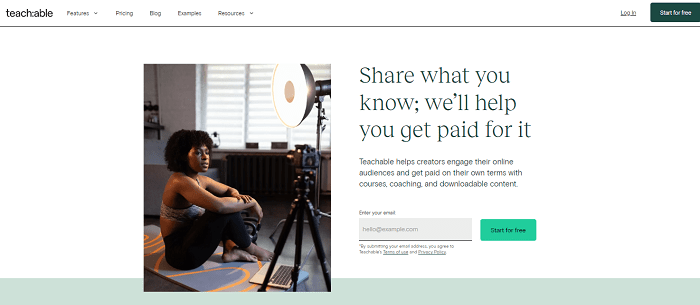 Teachable is a popular online course platform that enables instructors to create and sell their courses easily. It offers a clean and intuitive course builder interface that allows instructors to customize their course layout, multimedia content, and pricing options. Teachable provides a range of marketing tools to help instructors promote their courses, including customizable sales pages and integrated email marketing.
The platform also supports course analytics, and student engagement features to track progress and interact with learners effectively. Whether you're an individual instructor or an organization, Teachable provides a user-friendly platform to deliver high-quality online courses.
Podia: All-in-one digital product platform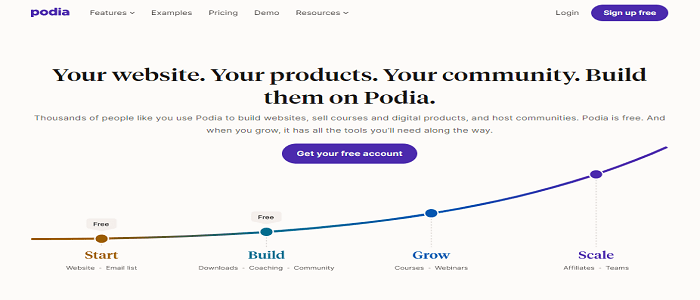 Podia is an all-in-one platform for creating and selling online courses, memberships, and digital products. It offers a simple and intuitive course builder that allows instructors to create multimedia-rich courses without the need for technical expertise.
Podia also provides features for building sales pages, offering upsells, and managing customer relationships. One of its notable features is the ability to create membership sites, allowing instructors to offer recurring access to their content. With its comprehensive set of features and ease of use, Podia is a great choice for individuals and businesses looking to monetize their expertise.
Kajabi: Marketing-focused online course platform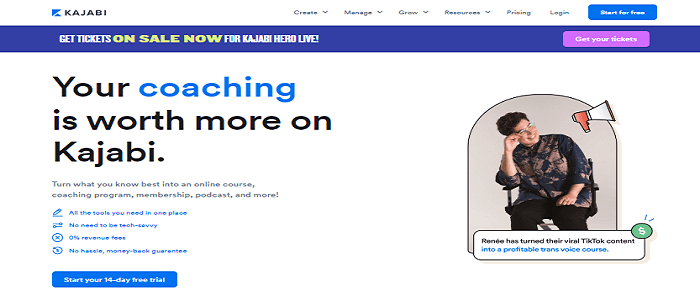 Kajabi is an all-in-one online course platform that empowers entrepreneurs, experts, and businesses to create, market, and sell their courses and digital products. It provides a comprehensive suite of tools and features, including course creation, website building, email marketing, and sales funnels.
Kajabi offers a user-friendly interface with drag-and-drop functionality, allowing instructors to design and customize their courses and landing pages without coding knowledge. The platform also provides robust marketing automation features, enabling instructors to engage with their audience and drive sales. With its powerful marketing tools and seamless integration capabilities, Kajabi is an ideal platform for individuals and businesses seeking to build and monetize their online courses and digital products.
Mighty Networks: Course creation with community-building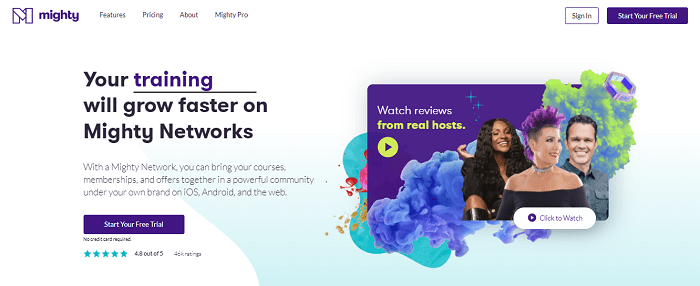 Mighty Networks is a unique online course platform combining course creation and community building. It allows instructors to create online communities where members can access courses, participate in discussions, and connect with like-minded individuals. The platform provides a range of community features, including member profiles, private messaging, and event management.
Mighty Networks also supports multimedia course content, assessments, and progress tracking. What sets Mighty Networks apart is its emphasis on fostering meaningful connections and engagement among learners. It provides a space for instructors to create vibrant communities around their courses, creating a more immersive and collaborative learning experience.
LearnDash: Flexible WordPress-based LMS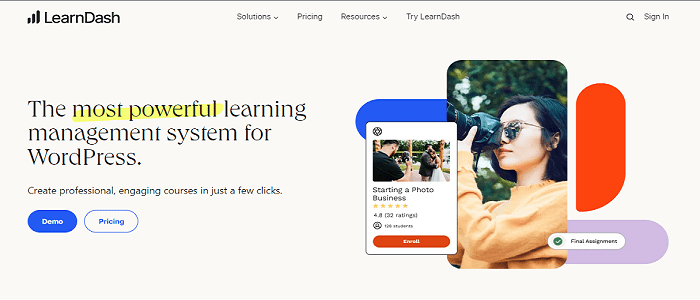 LearnDash is a popular WordPress-based learning management system that offers a flexible and feature-rich platform for creating and delivering online courses. It provides a robust set of course creation tools, allowing instructors to design multimedia-rich content, quizzes, assignments, and certificates.
LearnDash supports a variety of eLearning formats, including self-paced courses, drip-feed content, and group-based learning. The platform also integrates with popular WordPress plugins and third-party services, expanding its functionality and customization options. LearnDash is well-regarded for its scalability and extensive customization possibilities, making it a preferred choice for individuals, businesses, and educational institutions looking for a flexible and customizable online course platform.
Ruzuku: Simplified online course creation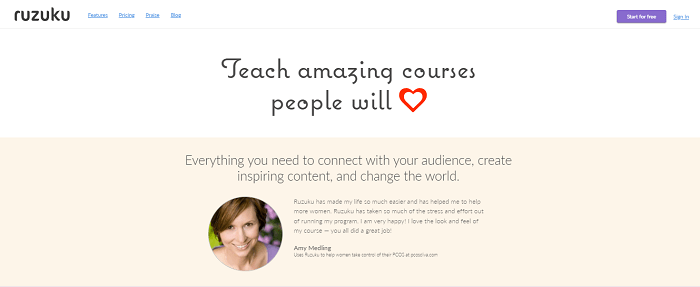 Ruzuku is an online course platform designed to simplify the course creation and delivery process. It offers a straightforward interface and a range of features to support instructors in creating engaging and interactive courses. Ruzuku provides tools for multimedia content creation, discussion forums, assessments, and progress tracking. The platform also supports live classes and webinars, enabling instructors to deliver real-time instruction and interact with learners directly.
Ruzuku provides a user-friendly experience for instructors and learners, making it an accessible option for those new to online course creation. With its emphasis on simplicity and interactivity, Ruzuku is a solid choice for individuals and small businesses seeking to enter the online course market.
Why should you choose Paradiso LMS?
Paradiso LMS is an eCommerce LMS platform that utilizes AI technology to empower beginners and experts to develop and market courses online, all within a single platform. You can construct dynamic learning courses incorporating multimedia elements such as videos and quizzes to captivate your audience.
Paradiso LMS can increase user engagement with immersive E-learning experiences and differentiate your brand from the competition. The best part is that you can create appealing course content without technical expertise or coding skills. Additionally, you can use our AI Media Studio to drive conversions, sales, and engagement, monetizing your content through one-time payments or subscriptions.
Create Engaging Content in Minutes
Build an interactive course containing videos, quizzes, and more in minutes using an in-built AI-powered authoring tool. Let's engage your users with exciting E-learning. With Paradiso LMS, you can easily create multimedia content that will keep your students engaged and interested.
Build your own Brand (White Labeling)
Double down on your efforts to build your brand unique with the help of Paradiso's white label LMS. Our platform allows you to customize the look and feel of your courses, from the branding and color scheme to the course structure and navigation.
Drive More Conversions 
Create interactive content without coding and watch your conversions, sales, and engagement soar using our AI Media Studio. Our platform offers advanced media tools that allow instructors to create interactive and engaging content that drives conversions and sales.
Powerful Integrations 
Top creators and brands monetize content with one-time payments or subscriptions with Paradiso LMS. Our platform integrates with various payment gateways and learning management systems, making it easy for instructors to monetize their content and grow their businesses.
Interactive Course Templates
A worthwhile online course platform should offer a range of ready-to-use resources, such as courses, templates, and themes that the platform and its users have contributed. This feature is a significant time-saver, enabling you to create and deploy a course within minutes.
5 Key features of Paradiso LMS to create & sell online courses
Paradiso LMS is an advanced AI-powered eCommerce LMS platform that empowers instructors to create and sell online courses seamlessly. With its array of powerful features, CourseCart stands out as a comprehensive solution for course creators. We will explore five key features that make Paradiso LMS a top choice for online course creation and sales.
Intuitive Course Creation Tools:
Paradiso LMS user-friendly interfaces and tools simplify the course creation process, allowing instructors to easily structure and present their content in an engaging manner, without the need for extensive technical knowledge.
Built-in eCommerce Functionality:
Paradiso LMS eliminates the need for external payment gateways by providing a built-in e-commerce system. Instructors can seamlessly sell their courses directly on the platform, making the payment process convenient and secure for learners.
Flexible Pricing and Discounts:
Paradiso LMS allows instructors to set pricing options that align with their business models. They can choose from one-time payments, subscriptions, or installment plans while applying discounts and coupons to attract and retain learners.
Multi-language Support:
Recognizing the importance of reaching a diverse global audience, LMS supports multiple languages. Instructors can easily translate their courses into various languages, ensuring inclusivity and expanding market reach.
Comprehensive Reporting and Analytics:
Paradiso LMS provides instructors with detailed reporting and analytics tools. These enable them to track learner progress, assess course performance, and analyze engagement levels, allowing for data-driven decision-making and continuous course improvement.
Paradiso LMS Integrate with your favorite Apps
Paradiso LMS is not just a standalone platform for creating and selling online courses; it also offers seamless integration with a range of popular apps. We will explore how Paradiso LMS integration capabilities can enhance your course creation process and improve the overall learning experience for your students.
CRM Integration:
Paradiso LMS integrates with CRM tools like Salesforce and ZOHO CRM, allowing you to manage customer relationship data effectively. This integration enables you to track learner interactions, analyze sales data, and create personalized marketing campaigns, ultimately improving your overall revenue.
Content Authoring Tools Integration:
Integrating Paradiso LMS with content authoring tools like Paradiso Composer, Articulate Storyline or Adobe Captivate allows you to create interactive and visually appealing course content that enhances student engagement and improves learning outcomes.
Video Conferencing Integration:
Paradiso LMS integration with video conferencing platforms such as Zoom or Microsoft Teams enables you to conduct live virtual classes, interactive webinars, or Q&A sessions within your courses, fostering real-time communication and collaboration with your students.
Marketing Automation Integration:
Integrating LMS with marketing automation tools like Mailchimp or HubSpot empowers you to automate your email campaigns, target specific audience segments, and deliver personalized course recommendations, enhancing your marketing efforts and increasing course sales.
Analytics Integration:
Paradiso LMS integration with analytics tools like Google Analytics or xAPI provides valuable insights into learner behaviour, course performance, and engagement metrics. This data-driven approach enables you to optimize your courses for better learning outcomes.
Payment Gateways:
Paradiso LMS integrate with payment gateways like PayPal, Razorpay, and authorise.net to enable online payments for e-commerce businesses by transferring payment information between the host portal (website, mobile phone, or voice response service) and the bank acquiring the payment.
Paradiso LMS pricing models you should know about
The LMS companies must offer flexible LMS pricing models, adaptable to each client's needs, possibilities, and scope. The price packages should include hours of training, development and implementation costs of the platform that may vary depending on each use case scenario.
Below we detail the different payment methods we use in Paradiso Solutions and those usually handled by the most well-known Learning Management Systems. We set our eLearning software up based on your needs and requirements, creating a deployment unique for you. Our LMS pricing is set to ensure you get the right product with the perfect features.
Paradiso LMS is a highly acclaimed e-commerce LMS platform that leverages AI to cater to the evolving learning needs of businesses and educational institutions. Its user-friendly interface and extensive features make it a global go-to tool for millions of users, enabling them to create and sell online courses and tests effortlessly.
You can ask us about our products, implementation, pricing, customization, or anything of concern to you, and our experts will be happy to answer all your questions and provide you with the best fit of solutions. So, take a tour or request a demo today!