Text to Speech technology has improved greatly, and we use it daily. Thanks to AI, it has become more natural and human-like. You may have encountered it when talking to virtual assistants or using smart devices that read out text. Interestingly, AI helps make speech sound less robotic and more like a human.   
AI text-to-speech, called Neural Text-To-Speech, uses advanced technology to turn written text into spoken words. It uses neural networks and machine learning to create more natural speech. So, when you hear a virtual assistant or device reading something to you, this AI technology makes it sound more like a human talking. 
What is a text-to-speech converter?
Text-to-speech converter is a software application that transforms written text into spoken words. Recent advancements in artificial intelligence and machine learning have made this technology more sophisticated. TTS converters analyze text using algorithms to generate natural-sounding audio files.
These algorithms break down the text into individual words and sentences, determining the appropriate pronunciation and combining them for playback. Various converters exist with different features and capabilities. Some are device-specific, like smartphones or computers, while others are web-based and accessible from any device with an internet connection.
Many TTS converters offer additional functionalities such as language translation, adjustable speaking rates, and word highlighting. These features accommodate diverse learner preferences and needs, enhancing user experience.
Let's Understand How Artificial Intelligence Text-to-Speech Functions.
Speech engines start by listening to human voices and turning them into written words. They analyze these words to understand their meaning and come up with a response. This technology has advanced thanks to AI, which allows it to understand human communication and give appropriate answers. The Text-to-Speech software takes the written response and turns it back into spoken words.
This technology has some great benefits:
It produces more natural-sounding voices, capturing things like intonation and expression.
It can create voices with different accents, making it useful for language learning or character voices.
It helps people learn new languages by providing spoken examples.
It assists visually impaired individuals by reading out written text.
It can restore voices for people who have lost theirs due to medical reasons. Lastly, Text to Speech technology has come a long way. It sounds more like a human and offers many practical uses, from language learning to accessibility for the visually impaired.
Why Someone Should Use Text-to-Speech converter
Using text-to-speech (TTS) in B2B SaaS training has multiple benefits. It enhances accessibility and engagement, resulting in increased customer satisfaction. Additionally, let's explore the top three advantages of employing a text-to-speech converter.
Enable Equal Access to Learners Help to Expand Reach
Text-to-speech converter offers a significant advantage by making content accessible to users with diverse learning preferences or disabilities. These converters provide an audio option for written materials, ensuring everyone has equal access to training information, regardless of their needs or abilities.
Strengthen Engagement through TTS Converter
Text-to-Speech converter makes learning more exciting by turning text into engaging audio. Instead of reading, users can listen to the content, which helps them stay focused and interested. This immersive experience boosts understanding and memory, leading to better learning outcomes and a more enjoyable training process.
Break Language Boundaries with Multilingual Support
Text-to-speech (TTS) technology brings a crucial advantage: multilingual support. B2B SaaS companies catering to a global audience can benefit greatly from this feature. It enables them to provide training materials in multiple languages without separate resources. It saves time, effort, and resources while ensuring learners from different linguistic backgrounds can access the same valuable content.
What Are the Advanced features you should Consider while Choosing Text-To-Speech Software
Optical Character Recognition is a technology that scans and converts printed text into digital text. When combined with text-to-speech software, OCR enables devices like reading pens to scan and read text aloud. Many digital devices also offer built-in apps for reading digital books, further enhancing accessibility and convenience.
Create Natural and Expressive Voices with Text-to-Speech
To produce a natural-sounding voice, pitch, and intonation play vital roles. The pitch determines the voice's tone and its high or low sound, while intonation adds natural variations for expressing emotions. Pronunciation is also crucial, as different languages have unique pronunciations that need to be accurately captured by AI voice generators.
High-quality text-to-speech software should offer AI voices that closely resemble human speech, including appropriate pauses and breaths. It should provide various options for female and male vocalists, allowing users to personalize their voiceover experience.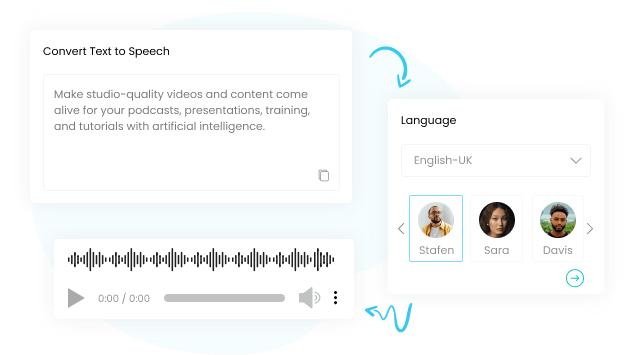 Embrace Your Unique Vocal Identity with the Help OF Voice Cloning
Voice cloning offers a unique way to express your personality and create captivating voice content. With voice cloning, you can generate dynamic and evolving voices for various purposes, such as interactive voice replies, commercials, and character voices.
In the ever-expanding global voice cloning industry, choosing the right text-to-speech software that suits your needs is important. Now, you can clone the voices of your favorite voice actors whenever you desire, giving you unprecedented flexibility and creative possibilities in your audio projects.
Enhance Voiceovers with AI To Achieve Natural and Customized Results
Utilizing advanced Text-to-Speech technology, AI-generated voices can greatly enhance the quality of voiceovers. These voices offer improved naturalness, clarity, and intonation, making them stand out from generic options. Excellent text-to-speech software goes beyond familiar voices by providing customization options tailored to specific project requirements.
Each project and character demand a unique tone of voice. Whether it's a peppy and exciting delivery or a voice that exudes intelligence and authority, customization features play a crucial role in achieving the ideal voiceover. Users can create a custom voiceover that aligns perfectly with their project's needs by utilizing these customization options.
Get High-quality Video Dubbing with AI Technology in Multiple Languages
Dubbing in video localization projects involves a complex process, whether you use human voice actors or Text-to-Speech (TTS) voices. With TTS, you can instantly generate results without negotiating rates or dealing with communication delays.
Paradiso AI supports over 900+ voices and accents, allowing you to choose from various options. Additionally, you can mix up to 20 voices in a single text synthesize task, giving you flexibility and control over your dubbing project.
Personalize Your Videos with Voiceover Options in Different Languages
Adding a professional voiceover can greatly enhance any branding strategy. Using captivating voiceovers, video producers and organizations can captivate their target audience and generate interest even before viewers watch the video. Paradiso AI media studio's text-to-speech tool allows users to create compelling videos with enticing voiceovers for various purposes.
This tool goes beyond basic text-to-speech conversion and serves as a voice generator, allowing users to craft the perfect voiceover for their content. With this feature, businesses can create engaging videos that leave a lasting impression on their audience.
Utilize Spoken Language Translation to Improve User Communication
Do you need to convert your voice recordings or audio notes into written text? Paradiso AI Media Studio offers a user-friendly audio translator that allows you to do just that and more! You can transcribe voice recordings, podcasts, conversations, and more with a simple click.
Upload your audio file (mp3, wav, m4a, etc.), go to the "Subtitles" section, and let our powerful audio translator instantly convert your audio into text.
You can then review and refine the transcription as needed. Say goodbye to manual transcription and language barriers with Paradiso AI Media Studio's efficient audio translation service.
Increase Efficiency by Importing and Exporting Data Transfer
Paradiso's AI media studio offers a convenient solution for sharing and hosting videos online. By uploading your video to the platform, you can save your collaborators, friends, or coworkers from the hassle of downloading large video files. With customizable privacy settings, you have full control over who can access and view your videos.
The platform also supports collaborative features like enabling comments, allowing for easy communication and feedback. Additionally, you can leverage the studio to record videos using your webcam or capture your screen.
How can text-to-speech converter aid Customer Training?
Effective customer training is crucial in B2B settings, but what is considered effective varies for each customer. Designing inclusive training programs that meet diverse needs and preferences is important. Text-to-speech converter enhances the customer learning experience by providing accessible and personalized training content.
Boost Customer Engagement and Retention of Information
Paradiso AI's advanced text-to-speech (TTS) converter offers over 900+ voices in multiple languages, changing video scripts into realistic voices. It enhances customer training with relatable accents, benefiting global support teams. The converter makes training inclusive and accessible by providing audio alternatives to written materials. It boosts engagement, retention, learning outcomes, loyalty, and customer satisfaction.
Scale Training Programs Made Easy with Text-to-Speech Technology
Using text-to-speech technology has proven effective in customer training programs, saving time for trainers and learners. It allows your learning management system to grow rapidly. Incorporating text-to-speech in customer onboarding can enhance customer training. A practical example is how Salesforce, a CRM platform, implemented it. By offering audio versions of training modules through their online platform, Salesforce eliminated the need for expensive live training sessions.
Resolve Language Barriers in Customer Training for Smooth Progress
Text-to-speech systems analyze human speech recordings to understand how words are pronounced, and sentences are formed. They then generate synthetic speech that sounds like a human voice. This adaptability is useful for B2B companies operating in diverse environments. The best text-to-speech converter accurately pronounces words in different dialects, enhancing learning outcomes and minimizing miscommunication. It promotes a diverse knowledge base and improves customer learning experiences.
Top 10 Best Text to Speech Converter in 2023
Paradiso AI
Speechello
Play.ht
Murf
iSpring Suite Max
TTSReader
Text to MP3
Free TTS
ReadLoud
Synthesia
Free text-to-speech tools typically provide basic features such as voice selection, language options, and speed adjustment. However, it's important to note that free solutions are not permitted for commercial use. If you need a straightforward text-to-speech tool for personal purposes, consider exploring the options listed below.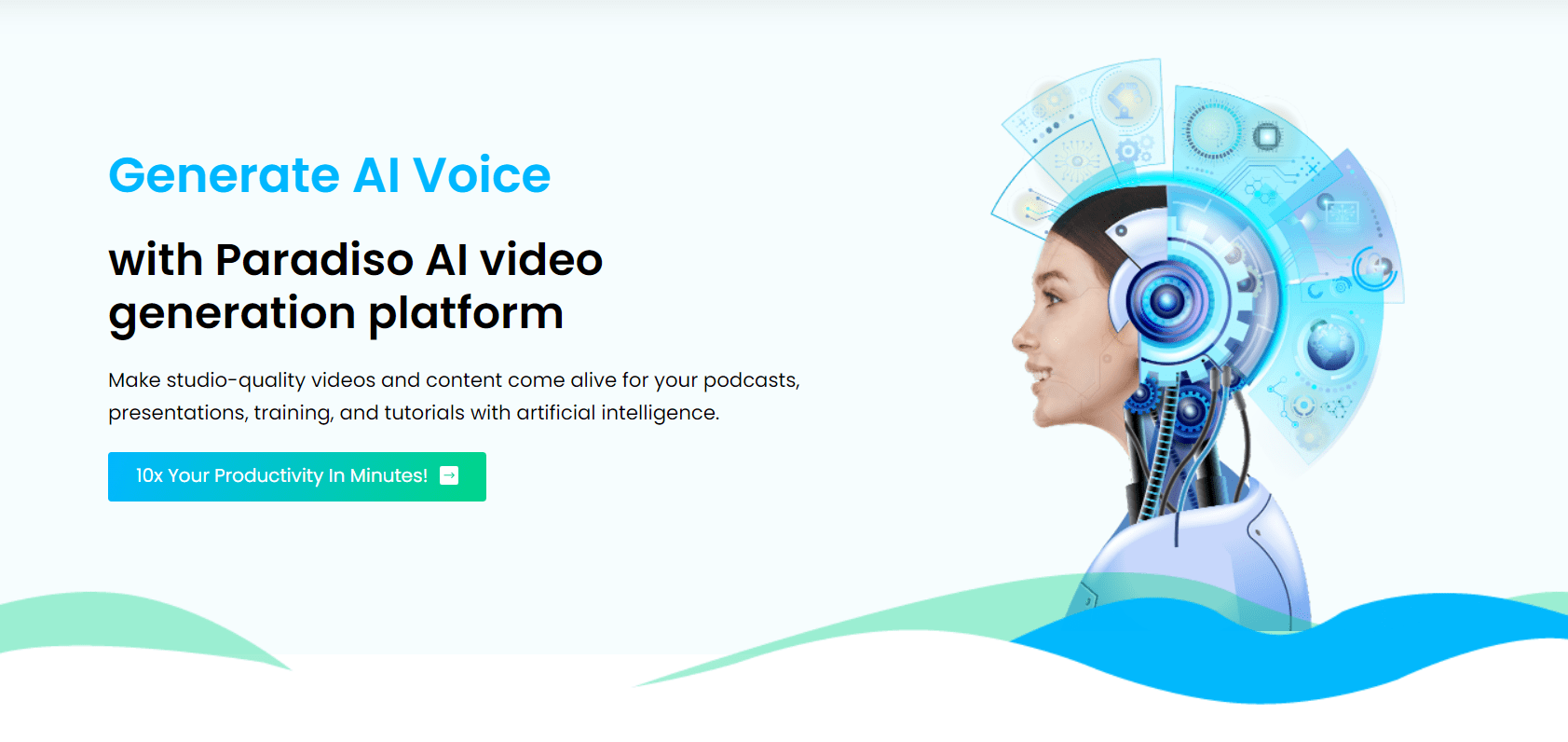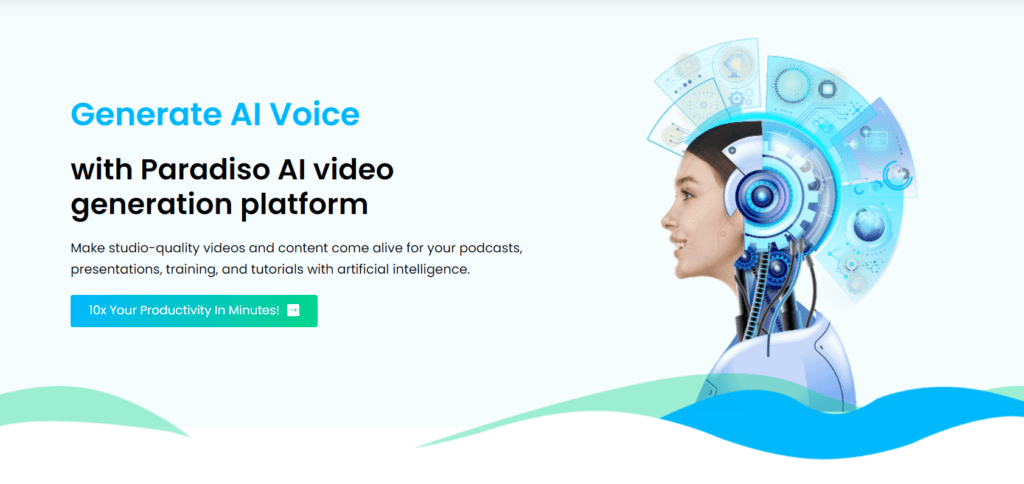 Paradiso text-to-speech converter is a useful tool to convert any text into lifelike speech, thus allowing you to create different media content such as audiobooks, podcasts, voice content and applications that talk and build entirely new categories of speech-enabled products.
Paradiso AI text-to-speech converter enhances productivity by turning spoken words into actionable information, simplifying workflows. Create captivating videos with unique AI avatars or customize them for interactive experiences. This innovative technology changes audio, blog posts, articles, and more into customized explainer videos and educational content.
Our AI Translator is a valuable tool for businesses looking to expand their reach and individuals communicating with people from different cultures. The user-friendly interface makes it easy to use and a versatile tool for breaking language barriers.
Advanced Features
Multi-Language Support
Synchronize Speech
Audio Optimization
Adjust Speaking Rate / Pitch
Different Voice Choices
Speech-to-Text
Audio Capture
Collaboration Tools
Multi-Screen Recording
Video Editing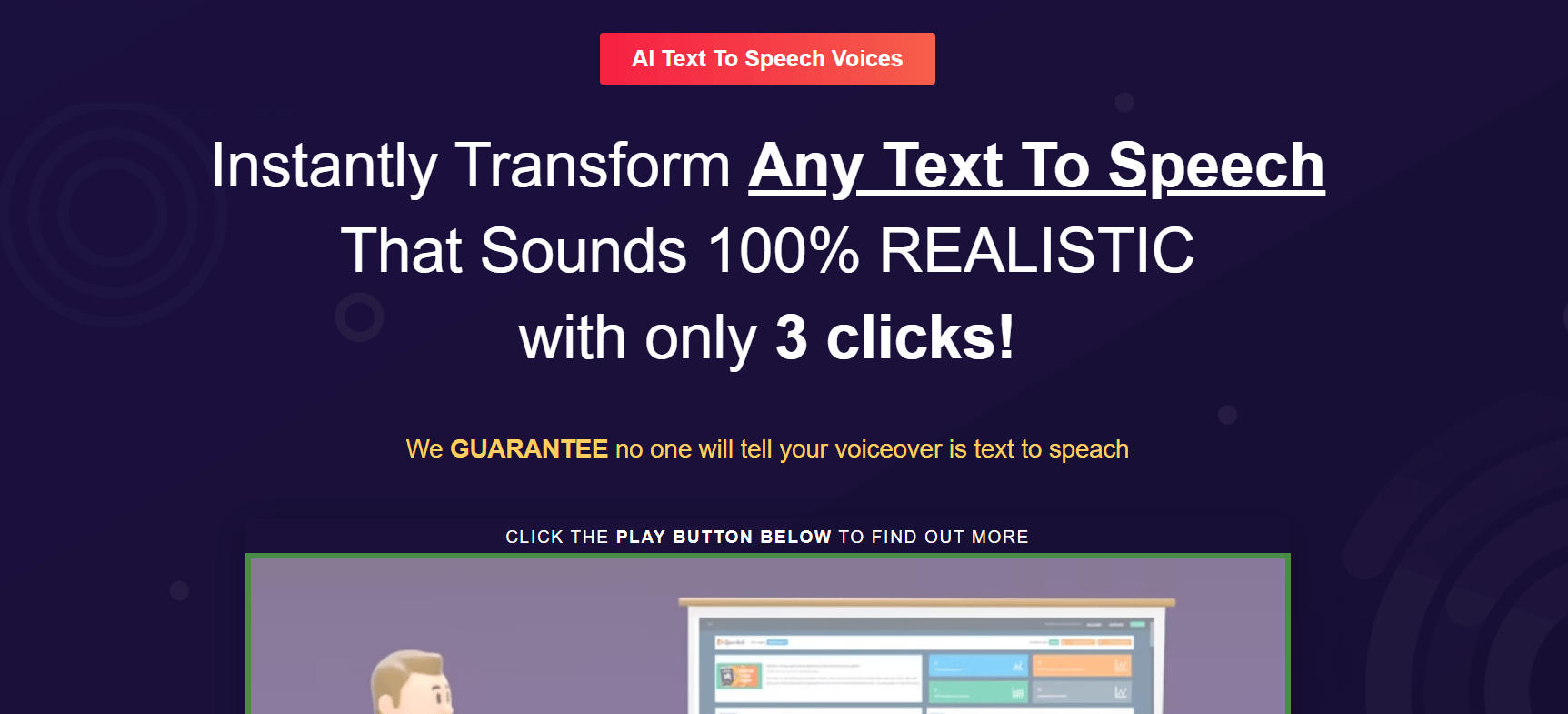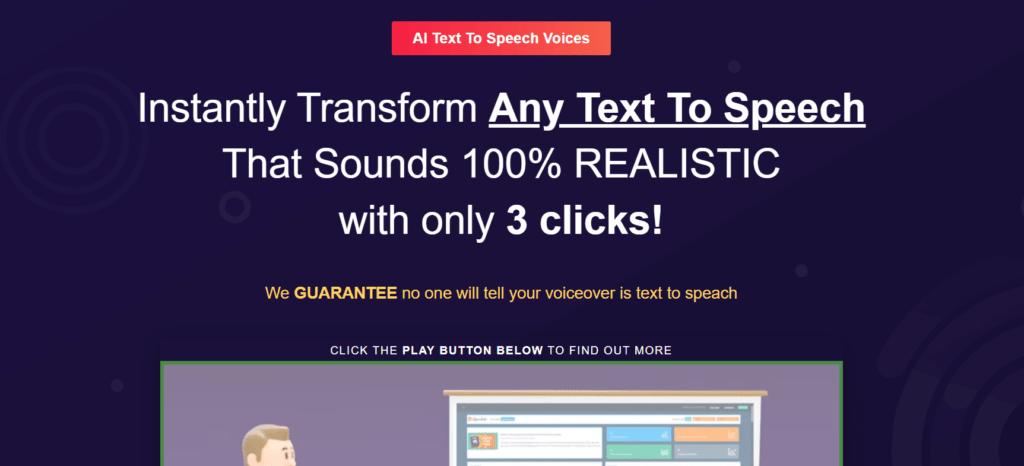 Easily create natural-sounding voice-overs with Speechello. Just paste your text, choose settings, and download the MP3 file. AI automatically adds punctuation for smooth delivery. Customize with breathing sounds, pauses, and tone options like serious, joyful, or normal access over 30 human voices, including male, female, and kid voices, in 20+ languages.
Advanced features
Enhanced Voice Editing
Extensive Customization
23 Language Support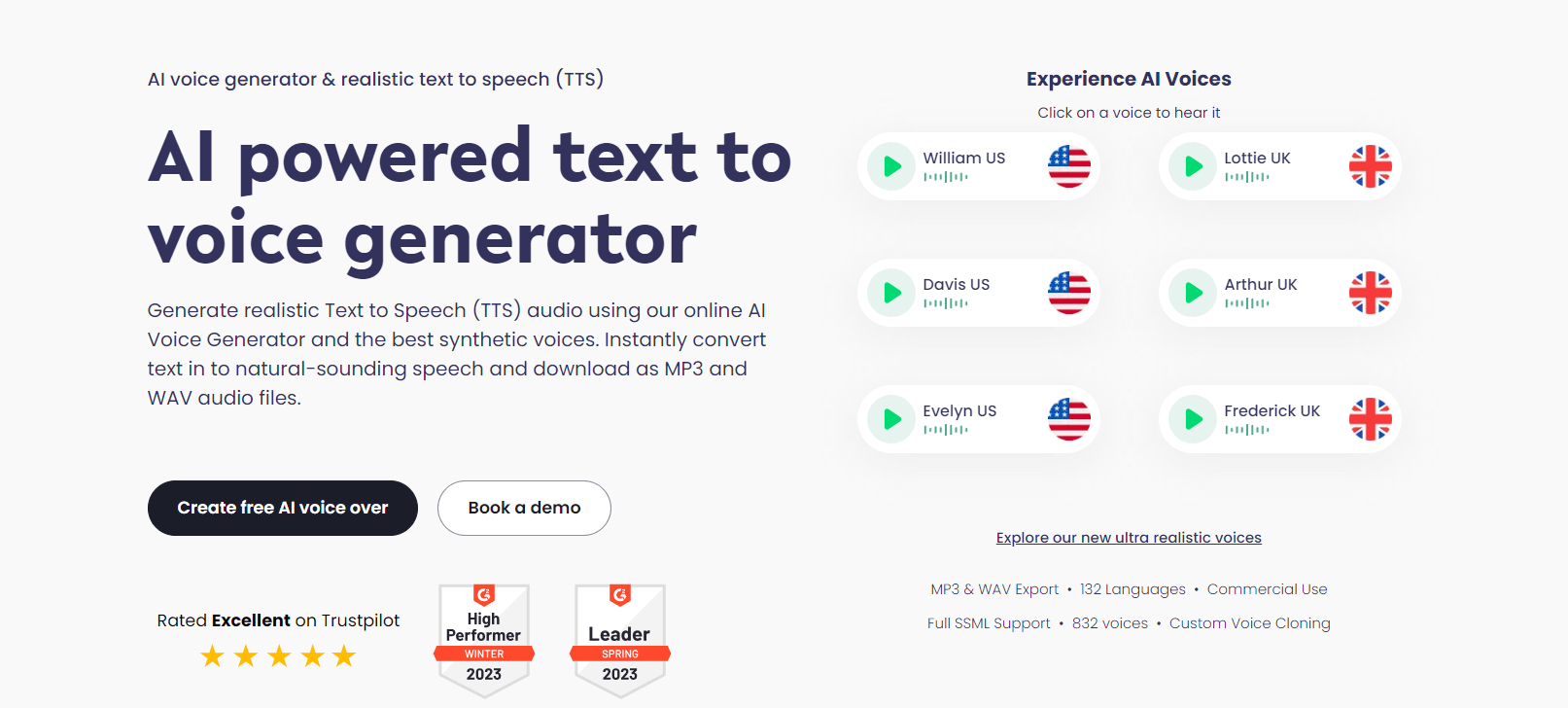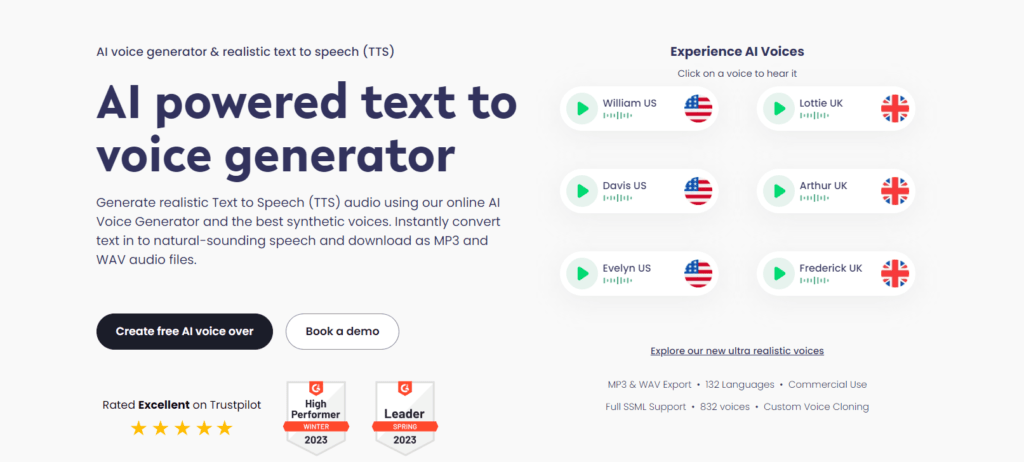 It offers instant text conversion into high-quality speech, downloadable as MP3 and WAV files. Create professional voice-overs for marketing, products, and YouTube videos with ease. It accurately pronounces complex terminology and acronyms, and you can customize word pronunciations and save settings for future use.
Advanced features
Diverse voice library
Cloud audio storage
Collaborative capabilities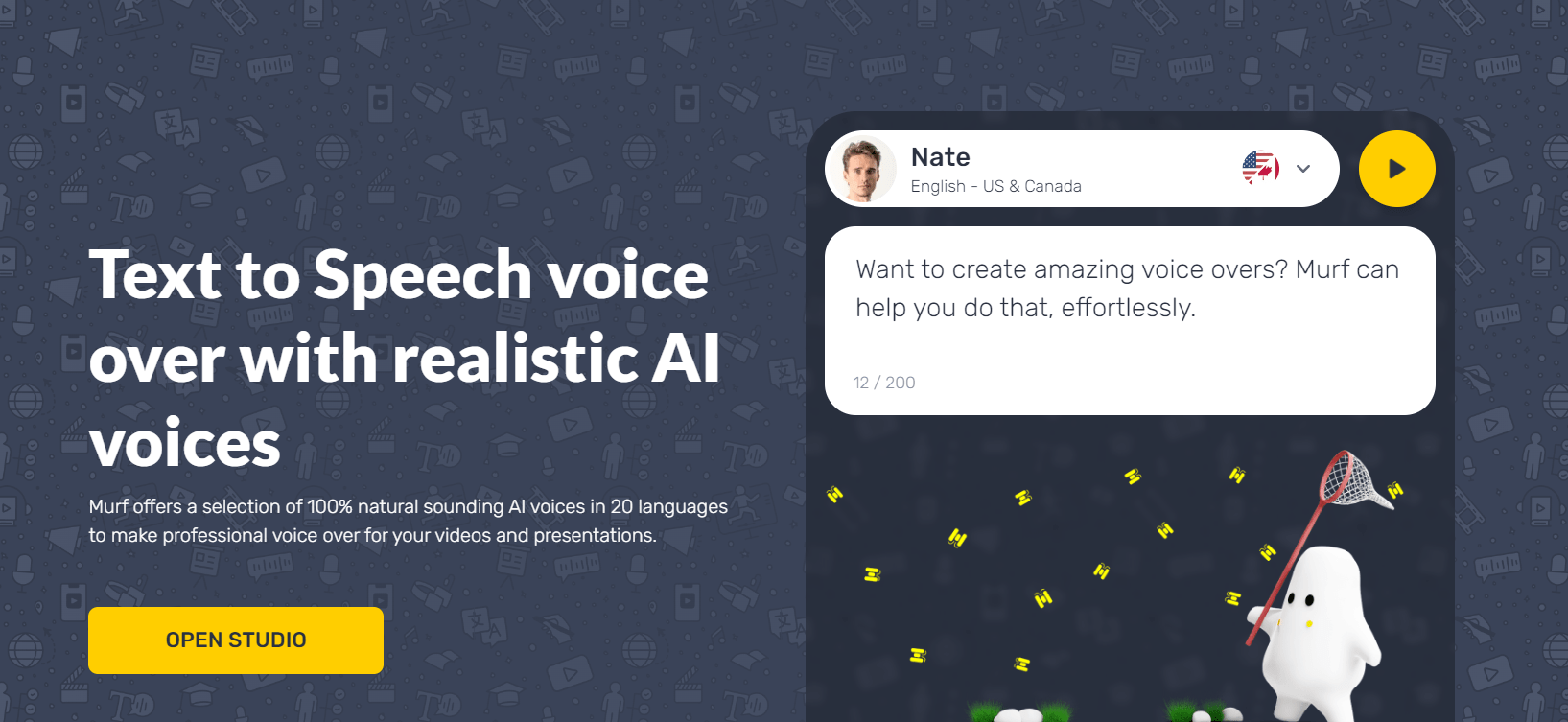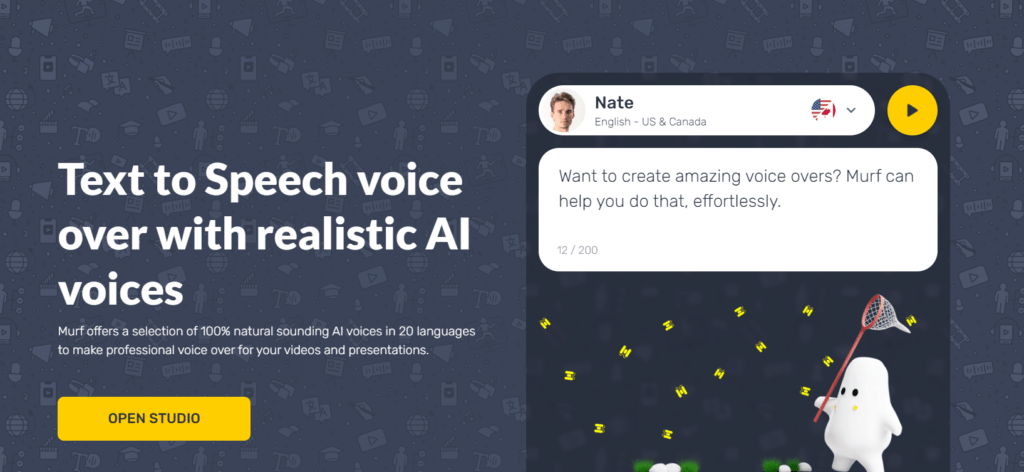 Change your text into lifelike audio with Murf Studio. Easily import text from different sources and enjoy a wide selection of 120 voices in 20 languages. Customize the voice speed, pitch, and emphasis to create captivating content. Ideal for eLearning, audiobooks, YouTube videos, and more. Bring your words to life with realistic AI voices.
Advanced features:
120+ lifelike AI voices
Extensive voice customization
20 languages with diverse accents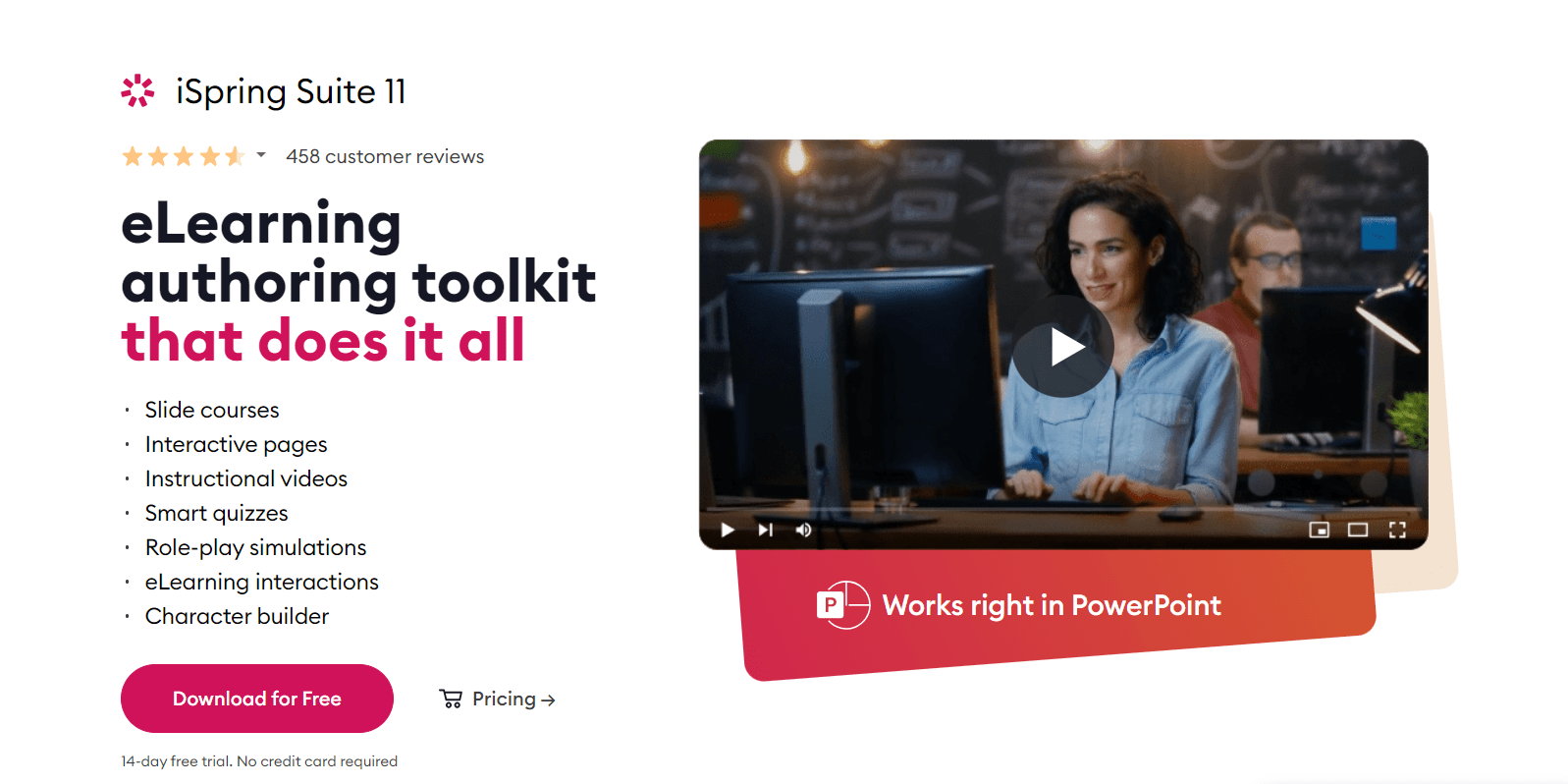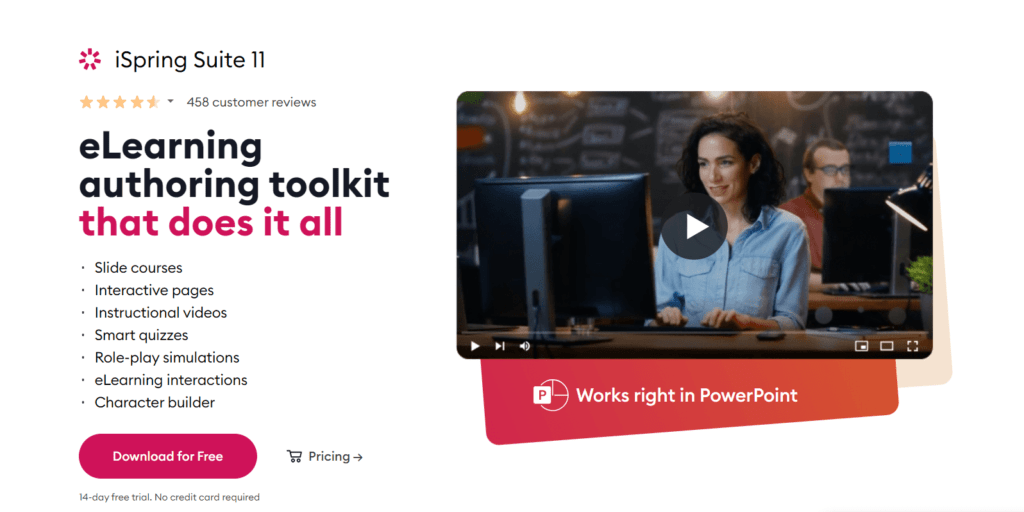 It is an All-in-one eLearning solution with built-in text-to-speech. Change the text into captivating narration effortlessly. Just paste your text, select the language, and choose the perfect voice. Create professional training courses without the need for additional tools. Enjoy convenience and efficiency in a single platform.
Advanced features
300+ lifelike voices.
Fifty-two languages supported.
PowerPoint's familiar interface.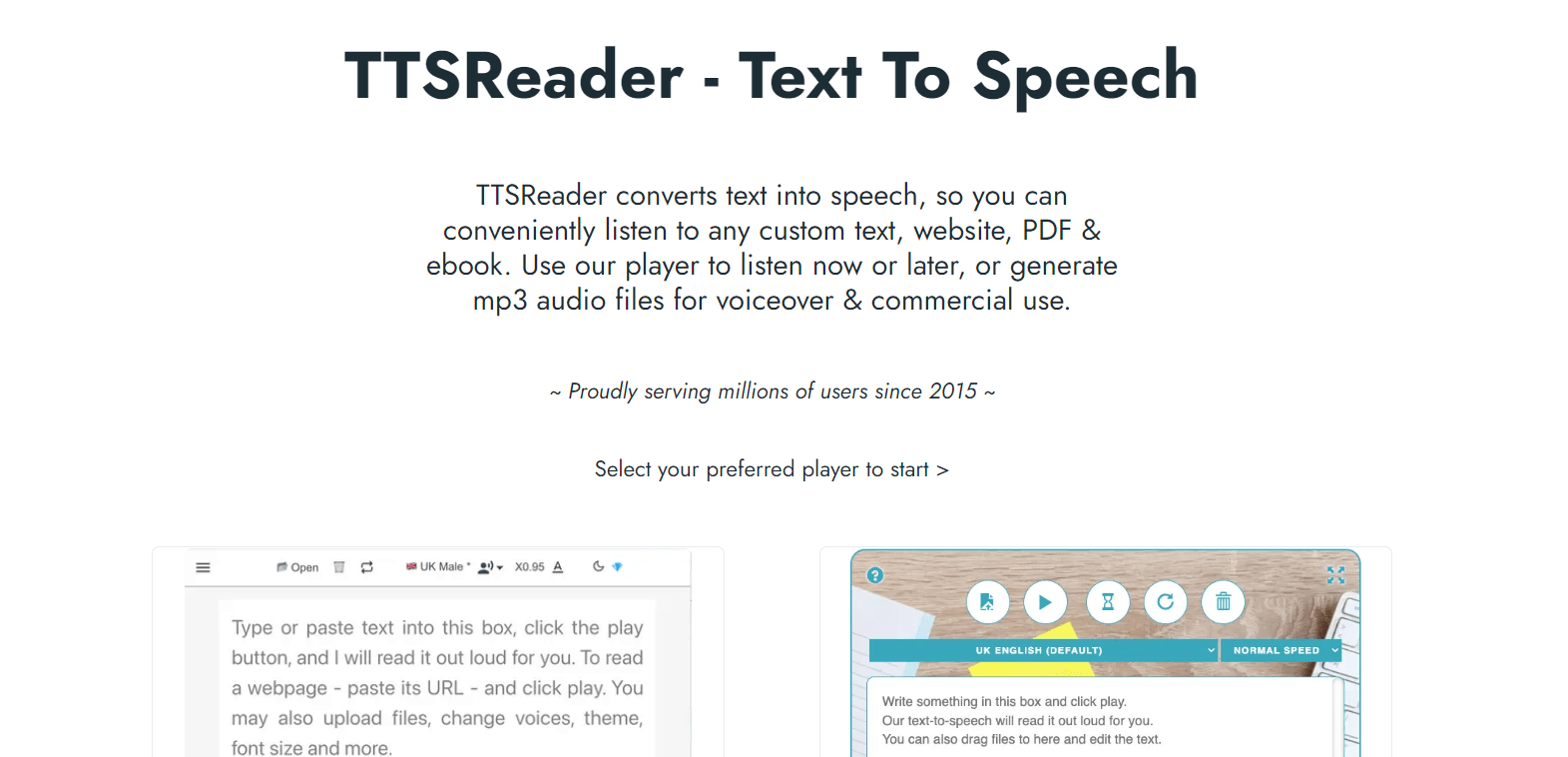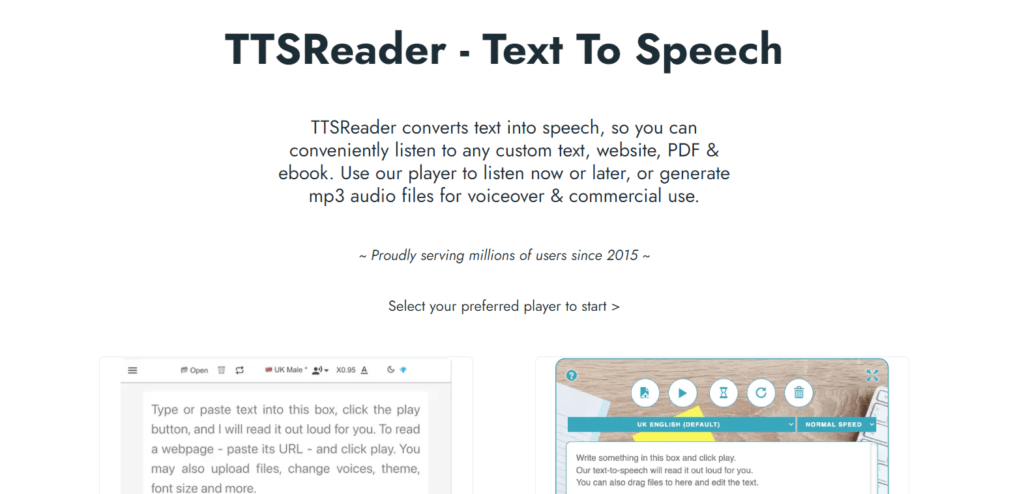 It lets you listen to various types of content like text, PDFs, e-books, and web pages. It offers both male and female voices in 30+ languages. However, the voice settings are limited to speed adjustment and adding pauses. It's convenient for listening on the move or while driving with its Android app and browser extension.
Advanced features
Voice pasted in text, PDFs, and webpages
30+ languages & dialects
Includes Text Reader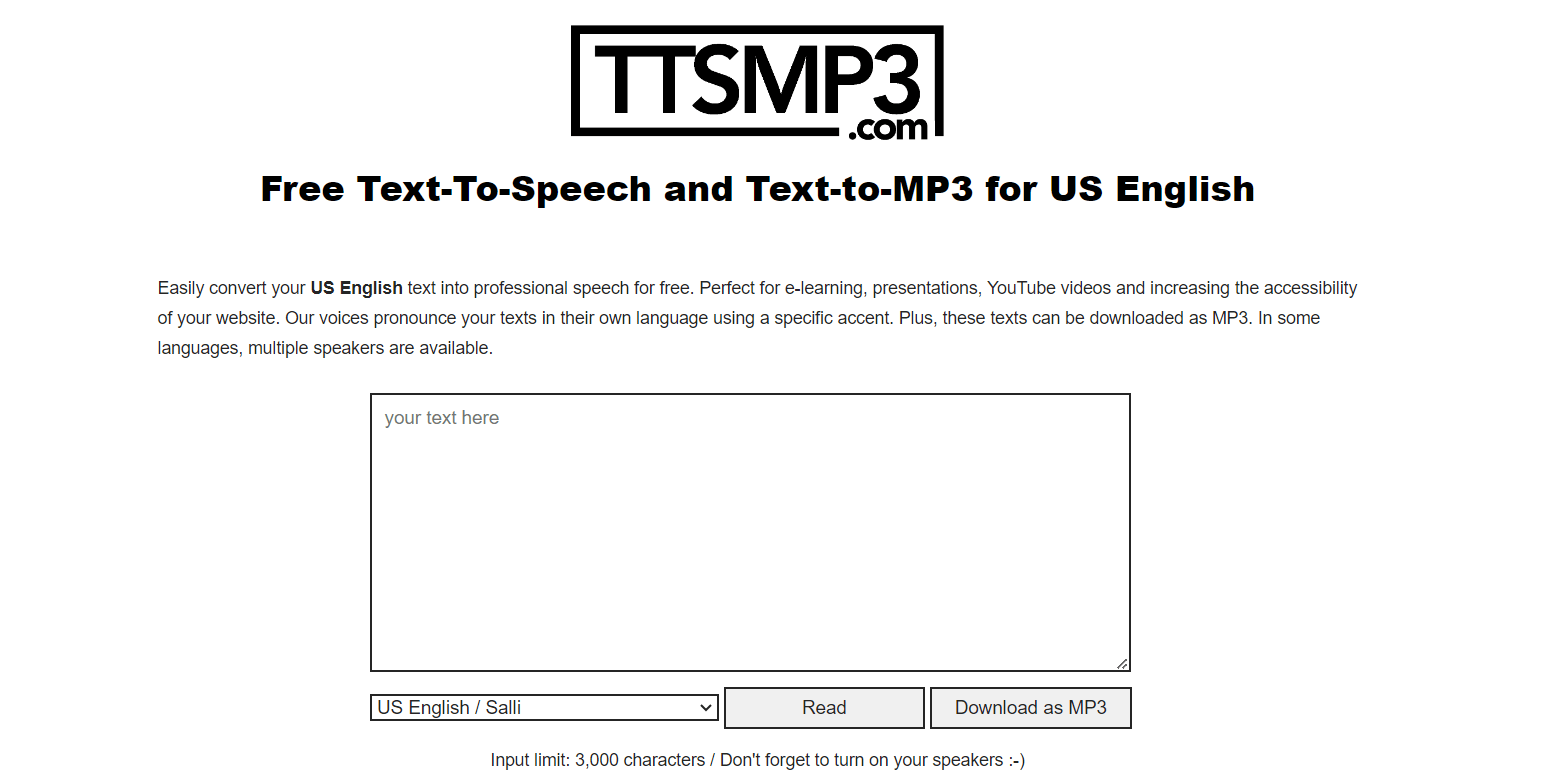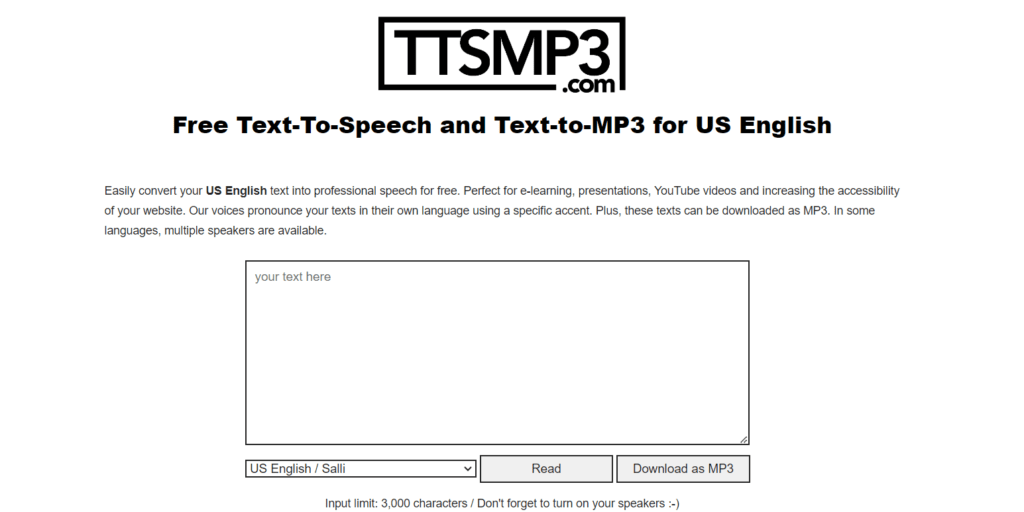 Turn your written words into spoken audio with Text to MP3. Convert up to 300 words at once and adjust the speed to your liking. Make it even better by adding background music and adjusting the volume. You can store up to 5 files and easily share them with your team using direct links.
Advanced features
30 music tracks for ambience
5-file storage capacity
25 voices in 8 languages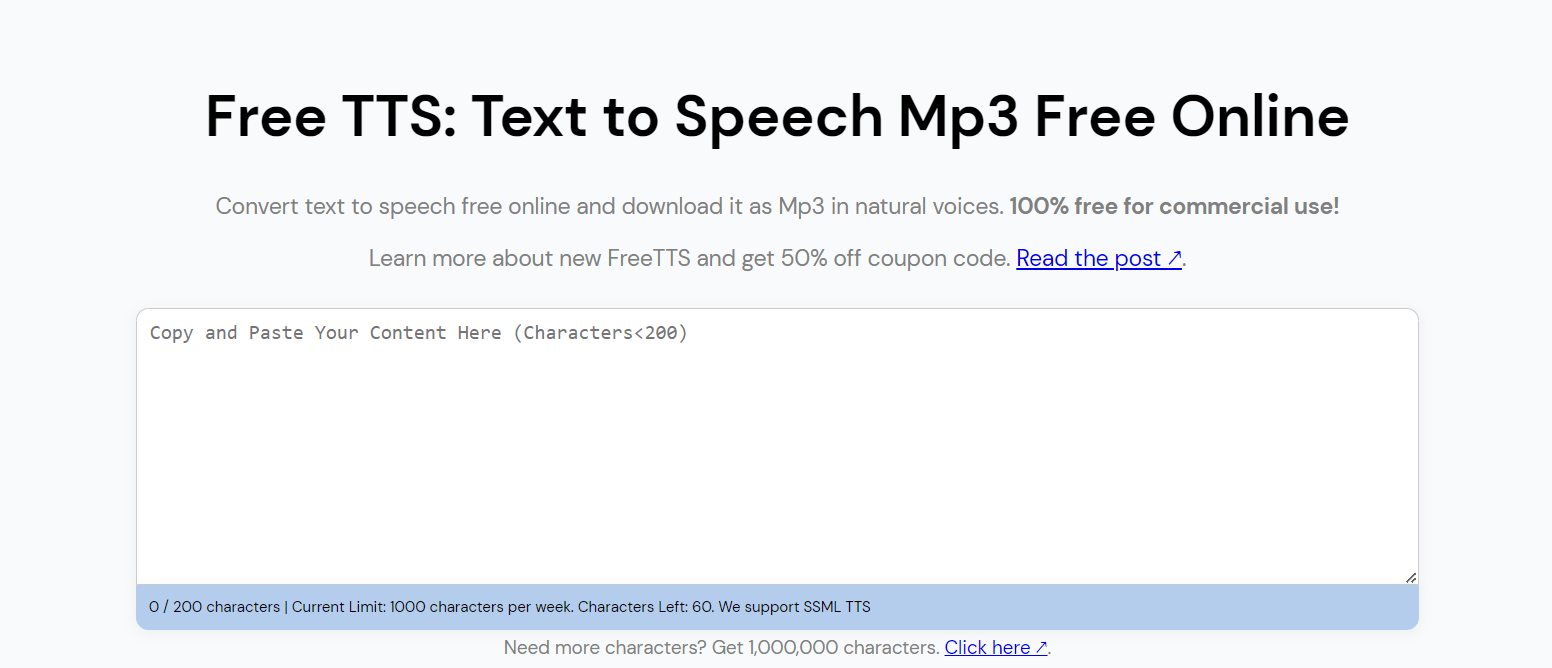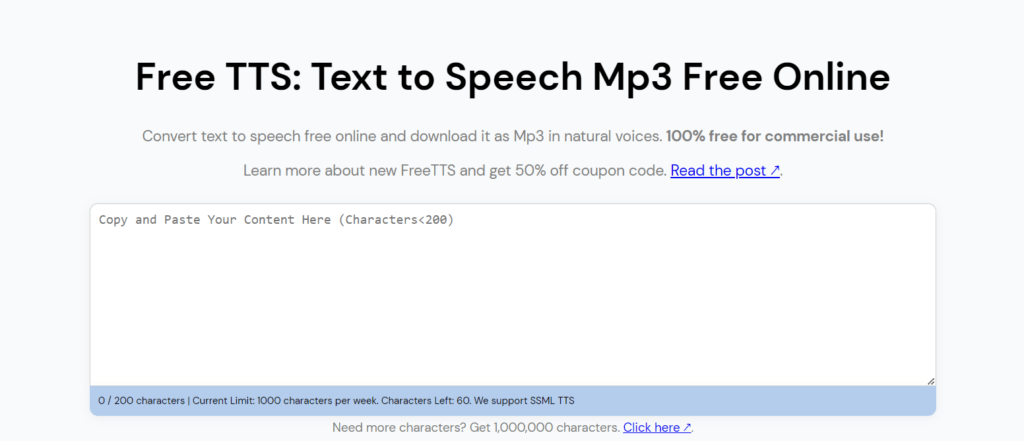 Free TTS is a simple tool for turning text into MP3 files. Just paste your content, choose the language and voice, and download the file. It has 13 English-speaking voices, both male and female and supports 30+ languages and dialects. The voices might sound robotic, but you can use SSML for more control over speaking styles.
Advanced features
30+ languages offered
SSML support
Accurate conversions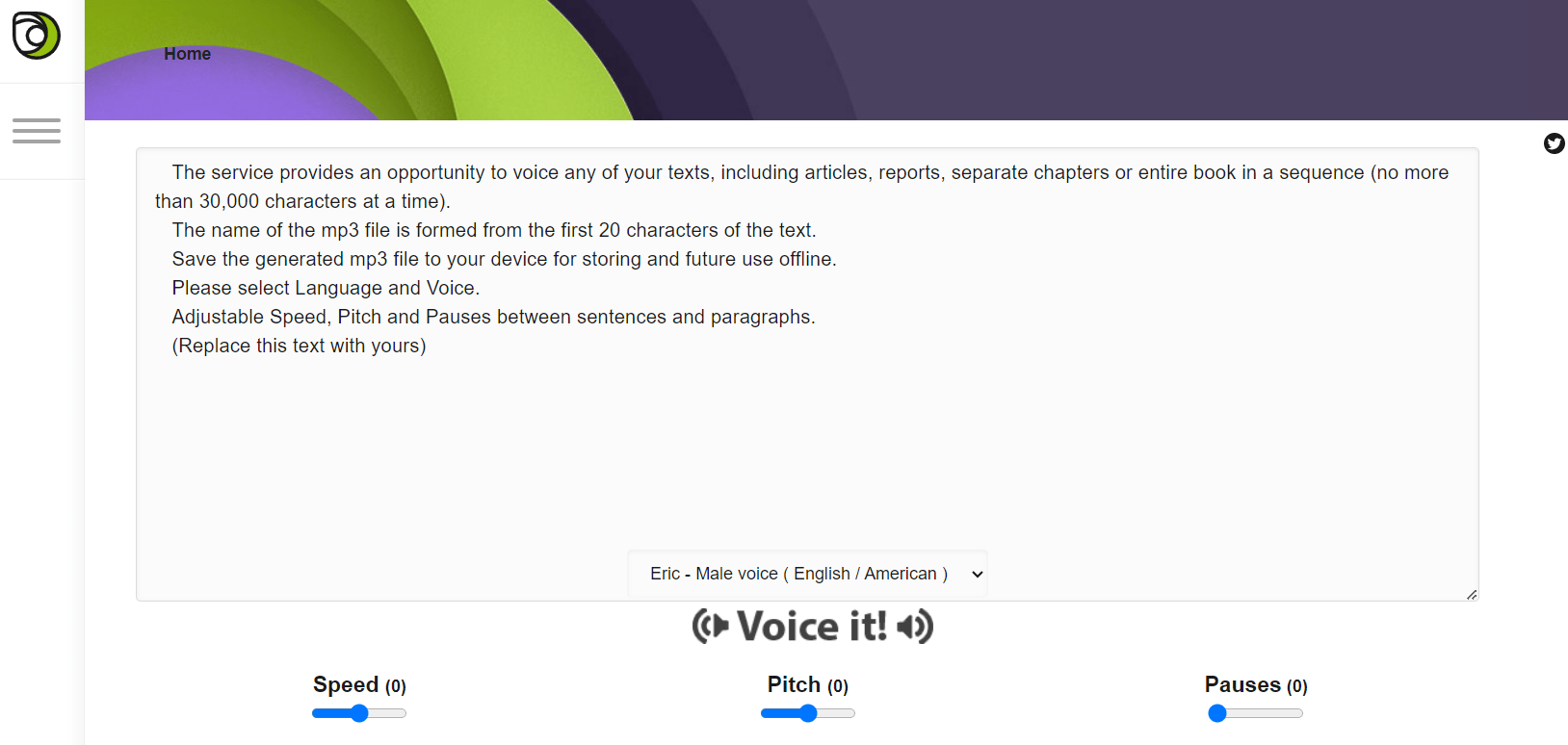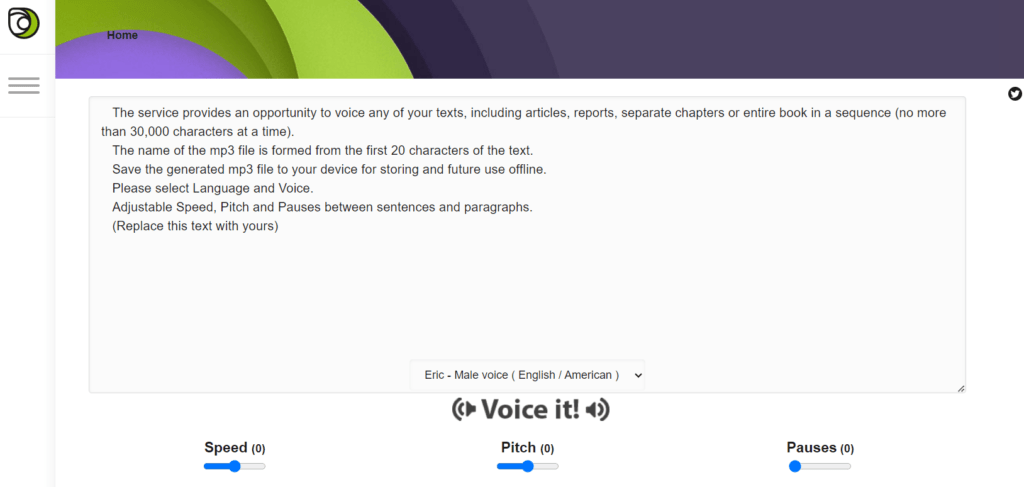 ReadLoud is easy-to-use text-to-speech software that stands out with its generous character limit. It lets you convert up to 30,000 characters in one go, making it suitable for articles, reports, chapters, or even entire books, with 20 languages and over 40 voices to choose from, including male, female, and kid voices, for a personalized listening experience.
Advanced features
20 diverse languages & dialects
MP3 downloads capability
40 voices: male, female, kid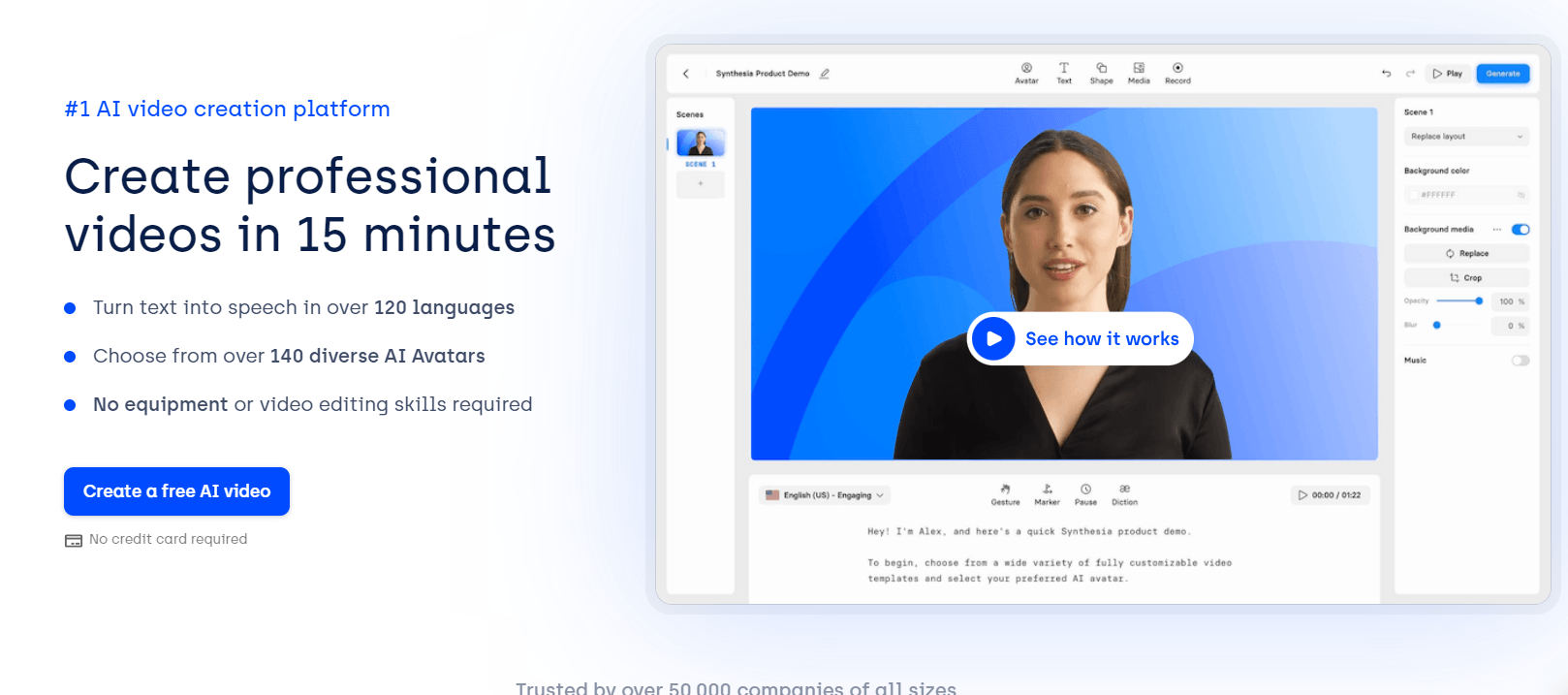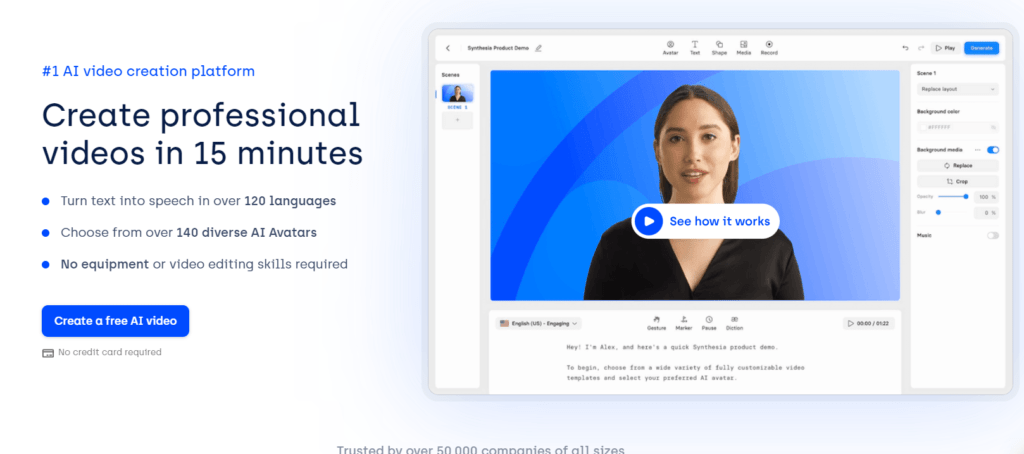 Create amazing videos effortlessly with this innovative AI video generation platform. It turns your text into engaging videos using virtual avatars and text-to-video technology. It's not just about adding audio – it brings your text to life with virtual talking heads, making your videos captivating and dynamic. It's time to avoid boring videos and create interactive content!
Advanced Features
Avatars for customized videos
Text-to-video conversion
Cloud-based efficiency
In summary, when choosing a text-to-speech tool for voiceovers, compare different applications and consider their pros and cons. Look for software with the powerful features mentioned earlier to ensure you have the right online text-to-speech converter. Paradiso AI meets all the criteria for accurate voice generation, with a user-friendly interface for converting text to speech. Its natural voices are realistic and customizable, allowing pitch, speed, pauses, and emphasis adjustments.
Moreover, it goes beyond text-to-speech functionality by serving as a video maker, enabling users to combine images, videos, and presentations with voiceovers to create engaging videos. Paradiso's AI media studio offers a selection of royalty-free background music to enhance voiceover projects.