In today's digital era, Learning Management Systems (LMS) have become necessary software for industries and eLearning institutions to regulate and provide training and educational programs. An LMS is a software application that allows the organization, documentation, monitoring, and reporting of training programs, courses, and eLearning course content. With the vast advancement of technology, the LMS industry is continually progressing, and the latest trends include tailored learning, mobile learning, gamification, microlearning, and social learning.
Additionally, assimilating Artificial Intelligence (AI) in LMS software revolutionizes the industry, delivering apprentices with tailored and dynamic learning experiences. AI-based software can measure learners 'performance, needs, and involvement to create personalized learning tracks, offer real-time feedback, and make learning more appealing and motivating. As we are at the beginning of 2023, administrations and educational institutions find the best LMS solutions that provide the latest trends and AI-based assets to advance their training and educational programs. This blog will cover the best Learning Management Systems (LMS) of 2023 and the unique features that make them popular in the market.
What is a Learning Management System?
Learning Management Systems, or LMS, indicate software or web-based technologies planned to support the development, execution, and assessment of learning courses. The system involves a server for fundamental operations and a user interface preferred by instructors, apprentices, and organizations. The main objective of LMS is to allow the trainer or teacher to monitor the learning program of the learners.
What are the key assets of an innovative LMS? 
To enhance the experience of both learning and managing, LMS forums must assimilate numerous vital assets. These features are primarily essential for the progress and development of the individual utilizing them. These innovative features are:
Artificial Intelligence (AI):
AI is a crucial feature of the latest LMSs that can improve the learning experience by delivering tailored suggestions to learners. For instance, AI-powered LMSs can measure a student's engagement and areas of improvement, share feedback on tasks, and suggest learning materials based on the learner's preferences and objectives.
Accessibility:
LMSs should be designed to be accessible to all learners, including those with physical disorders. It involves allowing students to regulate the interface's font size, contrast, and colour and providing video transcripts and closed captions.
Automation of Management Assignments:
One of the crucial advantages of LMSs is that they automate several managerial assignments, such as registering students, regulating course content, and tracking growth. It unlocks trainers' time to emphasize training and engaging with students.
More than One Function of LMS:
Latest LMSs are progressively planned to serve more than one function. For instance, an LMS may involve unique assets for employee training, consumer education, and compliance training. This multi-functionality allows administrations to refine their education programs and decrease costs by utilizing a single forum for all their training requirements.
Why use Learning Management Systems?
An LMS provides distinct advantages that are not accessible through other training or learning approaches. Let's take a look at them:
Systematize Educational Course Content:
Instead of having resources distributed across several platforms, an LMS offers a centralized location to save your course modules. It streamlined course design and eradicated the need to recover resources from several sources.
Limitless Access to Learning Resources:
once you upload your learning resources to an LMS, your students can get them at any time and from any location utilizing their android phones or tablet. They don't have to wait for a pre-arranged training program to start learning.
Progress Monitoring:
An LMS enables you to track your student's performance and progress. If a student faces a problem with a specific subject and cannot reach a milestone, you can share additional materials through the LMS.
Time Efficiency:
Students can complete a subject in just 10 minutes utilizing an LMS rather than investing 40 minutes in a classroom or virtual program. The LMS provides more direct materials and delivers the necessary tools for quizzes and exams, eliminating the need to worry about assessing their progress.
Best Examples of Learning Management Software
This blog aims to assist you in making an informed decision when choosing a learning platform to design your course content. We have compiled a list of the most popular LMS software options and have closely examined the advantages and disadvantages of each.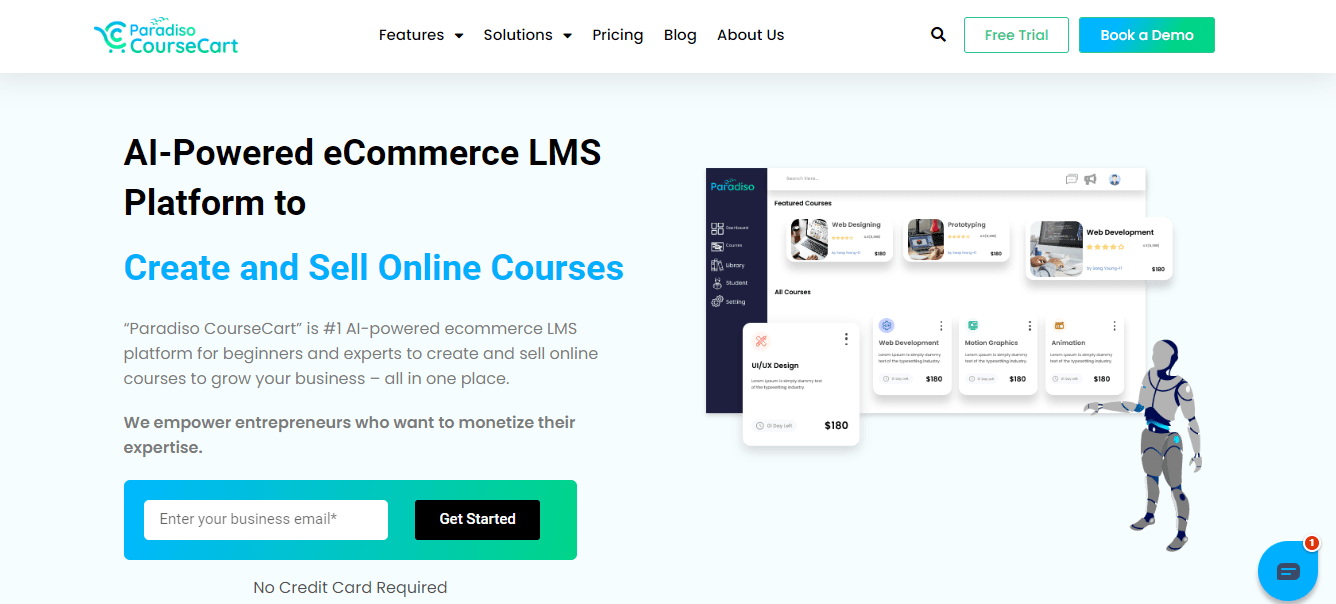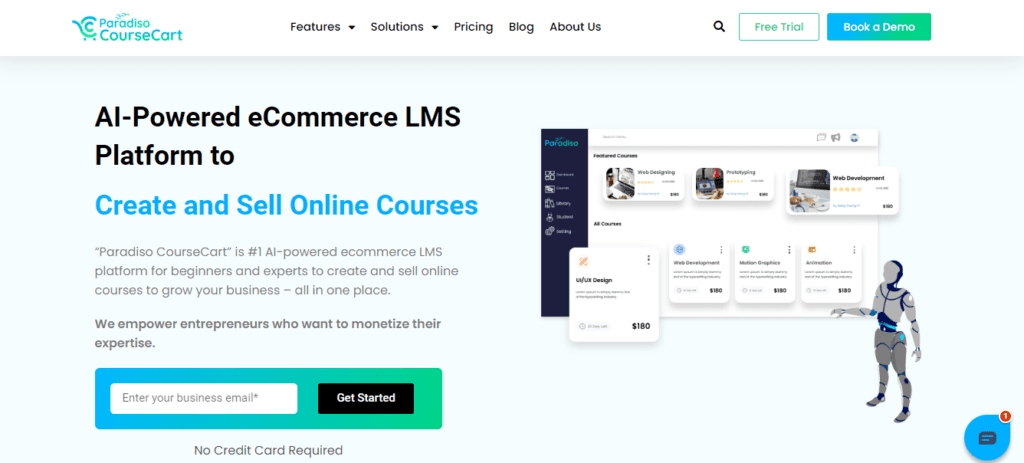 Paradiso LMS, based in San Francisco, is suitable for businesses of all sizes. It is well-known for integrating over 100 applications, such as CRM, CMS, HRMS, web conferencing, e-commerce, and sharing tools. It also offers a course library of over 5000 contents for an additional fee. In addition, the built-in chatbox speeds up the problem-solving process, and the platform has limited modules that make navigation easy for users.
Features:
Mobile compatibility
Advanced Reporting
Performance management
SCORM and Tincan compliance
Pros:
Live chat
Allows over 100 integrations with third-party applications
Fully customizable
Cost-effective: payment only required for active users
Ideal for blended learning
24/7 technical support
Cons:
Often experiences issues with bugs.


TalentLMS, founded in 2012 in California, is a cloud-based learning management system that has surpassed the most popular systems currently available. Its user-friendly interface makes learning and training more accessible to users of all levels and is suitable for organizations of any size. In addition, pricing plans are based on the number of active users within the organization, allowing users to determine their pricing plan.
Features:
Gamification
Surveys Engine
Feature-rich communication tool
Video conference support
Content marketplace
eCommerce
SCORM and xAPI compliant
Pros:
A free version for up to 5 users is available for an unlimited time
The knowledge base provides quick answers for platform-related issues
Cons:
Sometimes web content is not embedded in the platform
No live support in the free version
Monthly reports of users are not available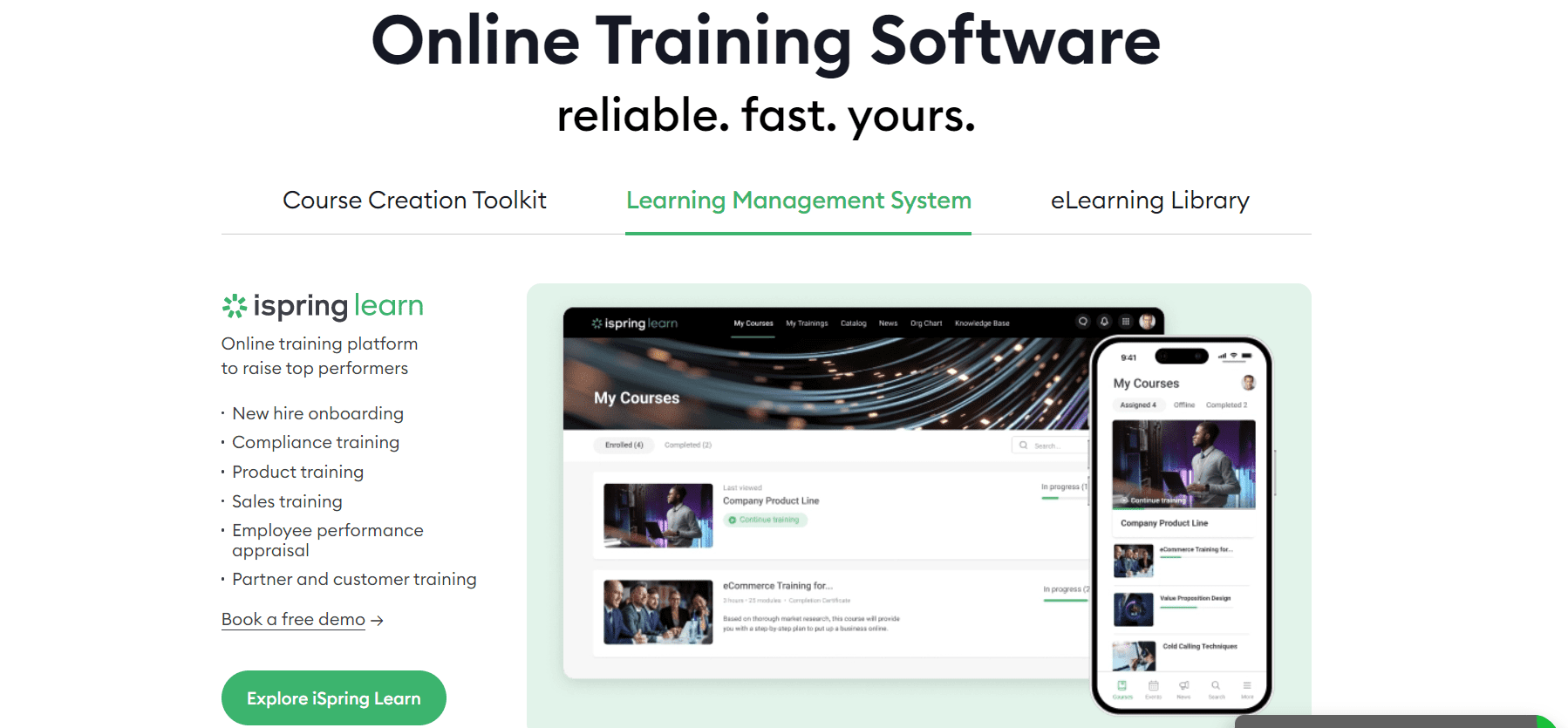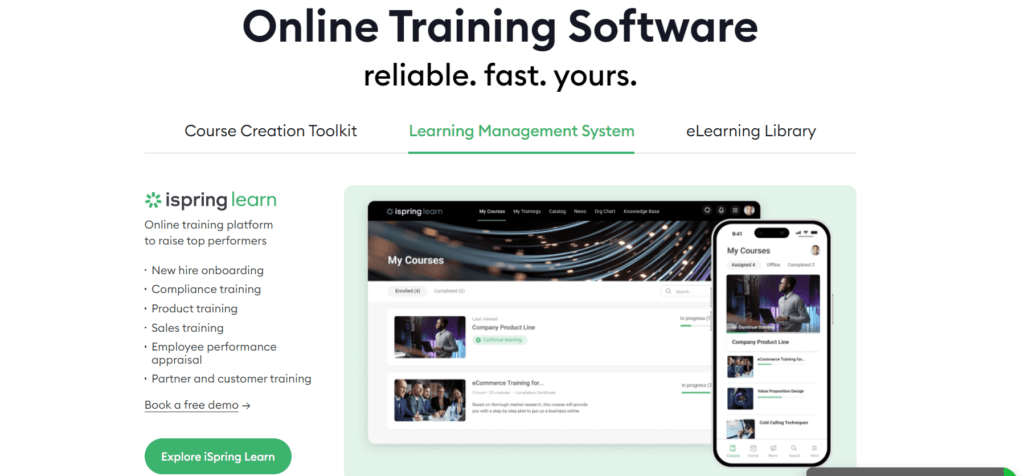 iSpring Learn is a cloud-based LMS developed by a well-known eLearning industry vendor which is user-friendly. Unlike other LMSs, iSpring Learn has an authoring tool, iSpring Suite, that enables users to create interactive online courses, assessments, dialogue simulations, and other eLearning content. Once created, the content can be easily uploaded to iSpring Learn. Learners can access the materials on any device at any time.
Features:
Cutting-edge reports on content and students' progress
SCORM compliance
automatic email notifications of course assignments and deadlines
gamification
native mobile app
Pros
Intuitive interface
360-degree performance appraisal module
24/7 tech support
Cons
Lack of xAPI/LTI/PENS support
Limited functionality for large enterprises
No ready-made courses.
A guide to choosing the right LMS for your organization
Selecting the right LMS solution is critical, as it can be costly in time and money. It applies whether you are an individual or a company. If you are unsure which LMS to choose, consider the following tips:
Read product reviews: They can provide valuable insight into what an LMS can or cannot do for you.
Seek user feedback: Connect with people in your community who have experience with the LMS platform you are interested in, or consult trusted sources.
Request a consultation/demo: Discuss your learning needs with the LMS vendors that catch your attention and find out what they can offer you.
Obtain a trial from an LMS vendor: Test-driving your preferred LMS can help determine if its features and functions are worth your investment.
What makes Paradiso LMS stand out as the best Learning Management System?
Paradiso LMS is known for its intuitive interface and aptitude to be accessed on iOS and Android devices through its in-built applications. It also provides multi-language support and can be effortlessly incorporated with third-party tools.
It provides many assets to enhance and streamline employee training programs. Some of its features contain course designing tools, assessment and survey tools, a repository for files, gamification tools, support for video conferencing, and data analytics.
Additionally, it offers dynamic management of course authoring, branding, catalogue, and marketplace. Also, it is content-friendly and offers customizable possibilities for customers to personalize their experience according to their specific preferences and needs, including custom homepages, reporting, branding, and fields.
Selecting the right LMS software is crucial to the success of an online learning program. The software should be easy to use, customizable, and provide various features to meet the organization's or individual's needs. While many LMS software options are available, Paradiso LMS is the best LMS software options for 2023. The software selection depends on factors such as the organization's size, budget, and the type of training or education they offer. Organizations and individuals can provide high-quality, engaging, and effective online learning experiences with the right LMS software.