A sales training platform is a technology that allows organizations to create, deliver and track the progress of their sales training programs. These platforms offer a wide range of tools and features that make it easy for organizations to design and deliver engaging training content, assess the performance of their sales teams and track progress over time. With a sales training platform, organizations can provide their sales teams with the knowledge and skills they need to be successful, ultimately increasing sales and revenue.
Additionally, the platform allows for custom branding and can be integrated with other systems, such as CRM, for better management and communication with the sales team. Sales training platforms are becoming increasingly crucial for businesses of all sizes as they provide an efficient and effective way to train sales teams and improve their performance.
Sales training is essential for any business that relies on a sales team to generate revenue. It is the process of providing knowledge, skills, and techniques to sales professionals to help them identify and engage potential customers, build relationships and close deals. Sales training can take many forms, including classroom-style training, online courses, on-the-job training, or a combination of all three. The content of sales training programs can vary greatly depending on the product or service sold, the industry, and the target market.
Most effective sales training programs include topics such as the basics of selling, product knowledge, effective communication and negotiation skills, and how to overcome objections.
Role-playing exercises and simulations are often used in sales training to allow salespeople to practice what they have learned in a simulated sales environment. This approach helps them to apply what they've learned and get feedback on their performance. Sales training is beneficial not only for the sales team but also for the organization as a whole. It helps the company to achieve its sales objectives and ensures that the sales team is well-equipped to adapt to changes in the market. Additionally, consistent sales training also helps to boost morale and create a culture of continuous improvement within the sales team.
How can I improve my sales training?
Improving your sales training program involves understanding the needs of your sales team and developing strategies to address those needs. One effective way to start is by assessing the current state of your sales training program and identifying areas that need improvement. This can be done by conducting surveys or focus groups with your sales team or by analyzing data such as sales results and training completion rates.
Once you have identified areas that should have improved, then you can take steps to address them. One way to do this is by incorporating various training methods, such as online courses, classroom-style training, and on-the-job training. This can help ensure that all sales team members are engaged and motivated to learn.
 Incorporating interactive and experiential elements like role-playing exercises, case studies, and mock scenarios can help to make the training more engaging and effective.
Another way to improve your sales training is by regularly updating and refreshing the content to ensure that it stays current and relevant. This can include incorporating new industry trends and best practices and feedback from your sales team. Additionally, regularly checking on the progress of your sales team post-training and making adjustments as necessary is also a crucial step to ensure the training is meeting its objectives.
Features to look for in sales training platform
When searching for a sales training platform, there are several key features to look for. A good sales training platform should provide a comprehensive and engaging user experience while being easy to use and accessible.
One of the most essential features to look for is a platform that offers a wide range of training modules and resources. This can include video tutorials, interactive simulations, and quizzes, which can help employees learn at their own pace and most effectively. An important feature is an ability to track and measure progress. This can include assessments, quizzes, and other tools to help employees measure their understanding of the material and identify areas where they need further improvement. Additionally, a good platform should provide feedback and allow employees to review their progress and compare it with their peers.
The feature to look for is a platform that offers flexibility. A good sales training platform should be able to adapt to the unique needs of your business and employees, whether in different locations or working remotely. This can include offering customized training programs or allowing employees to choose the topics and modules most relevant to their roles.
In addition, a good sales training platform should be able to provide ongoing support and resources. This can include access to a library of resources, such as videos, e-books, and online courses, as well as mentoring or coaching from experienced sales professionals.
9 Best sales training platforms
Paradiso LMS
Lemon learning
Mindtickle
Brain shark
Edapp
ProProfs
Ruzuku
Learndash
Absorb LMS
Paradiso the best LMS for sales training, which allows you to develop courses from scratch or use existing resources from the course catalog. To match the high standards of eLearning websites and organizations, you can have the material in the form of photographs, videos, documents, and audio.
You may design prior or recurrent courses using intelligent lists and management drag-and-drop. It allows you to engage individuals through surveys and quizzes. Achievements and leaderboards are other gamification features.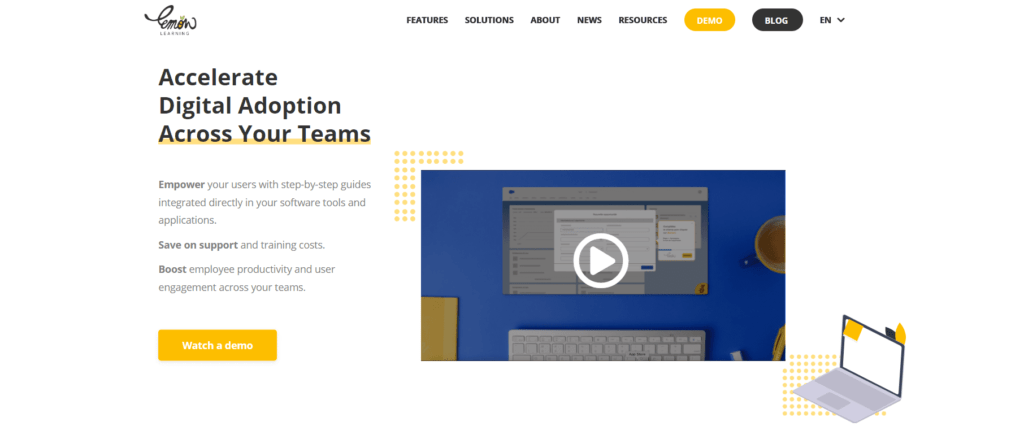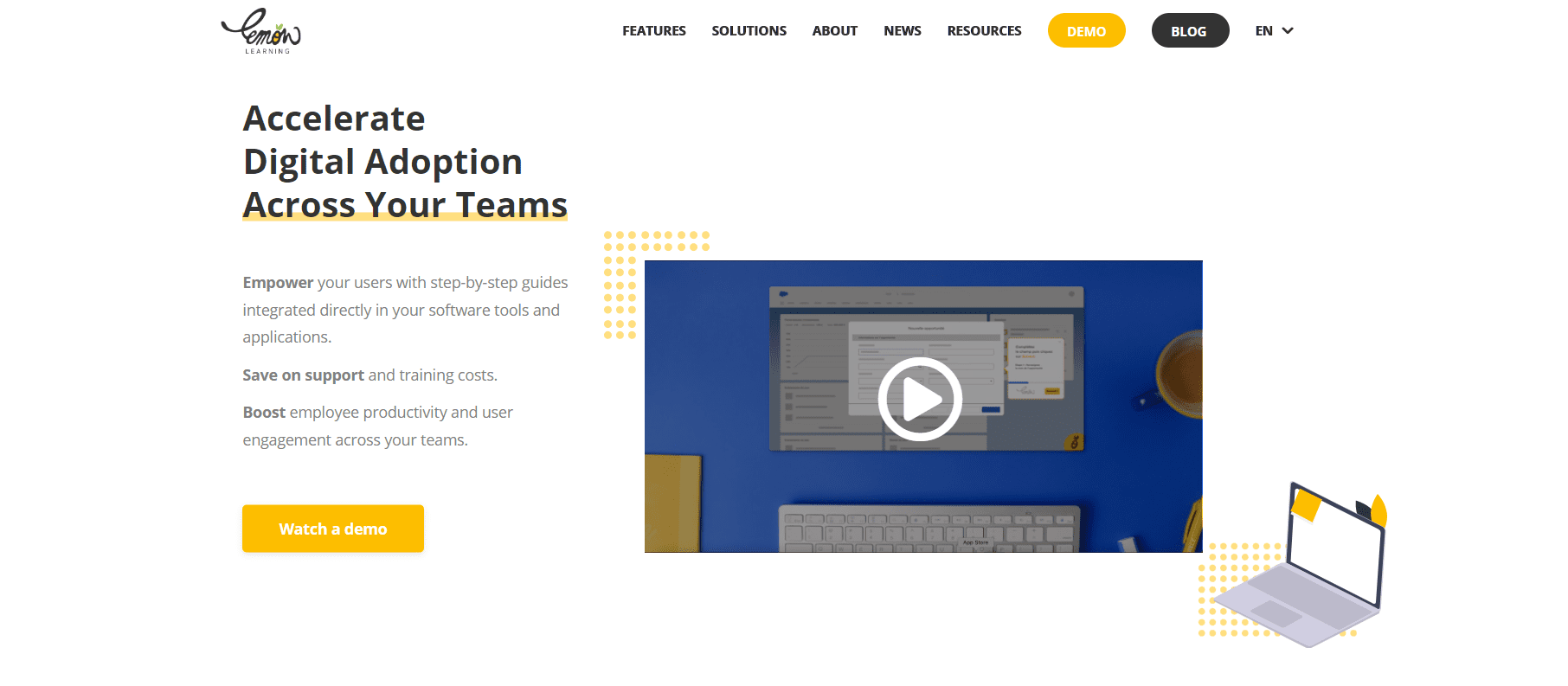 Lemon Learning is an all-in-one training platform that aids in the rapid onboarding, training, and long-term adoption of sales software. Lemon Learning connects with any web-based sales tool to deliver in-application prompts and learning resources that are available when needed. Lemon Learning interacts with top market platforms such as Salesforce, Oracle, and Dynamics365. It provides over 100 ready-to-use content resources to assist Salespeople in creating leads, reports, contacts, opportunities, and more.
Mindtickle is a sales-ready platform and learning management system noted for coaching, content management, and sophisticated user analytics. Companies can import current Sales and Marketing materials or employ a cross-departmental content collaboration feature. Mindtickle offers detailed reports that track the learning process and user interactions with material; it can also assess role-play and real-world performance using AI.
Brainshark is a sales readiness platform that provides onboarding, training, and user analytics to help salespeople improve their performance. Brainshark coaches Sales teams based on use case, job, and industry preparedness objectives. Brainshark includes an LMS to organize and develop learning content, concentrating on video content.
Edapp is a mobile-first learning management system that focuses on training content gamification. The app is great for sales representatives that need support on the road or often travel. Edapp lets you develop unique training material, import and convert current PowerPoint training information, or use the platform's existing content collection, which has 1000+ ready-made courses. 
ProProfs Sales Training is a comprehensive and user-friendly platform that offers a wide range of sales training modules to help your team members develop the skills they need to close more deals and increase revenue. With its flexibility and customization options, ProProfs allows you to create custom training programs tailored to your team's specific needs and goals, track progress, and measure results to identify areas for improvement.
Ruzuku is a modern and intuitive sales training platform that helps businesses to create, deliver and manage professional sales training programs. It offers an easy-to-use platform with a wide range of features such as course creation, quizzes, surveys, assessments, and analytics. Ruzuku is designed to make it easy for businesses to create, manage and deliver effective and engaging sales training programs.
LearnDash is a powerful and user-friendly sales training platform that enables businesses to easily create, deliver, and manage professional sales training programs. It offers various features such as course creation, quizzes, surveys, assessments, and analytics to help businesses create compelling and engaging sales training. LearnDash is designed to make it easy for businesses to train their sales team, track their progress, and measure the results of their training.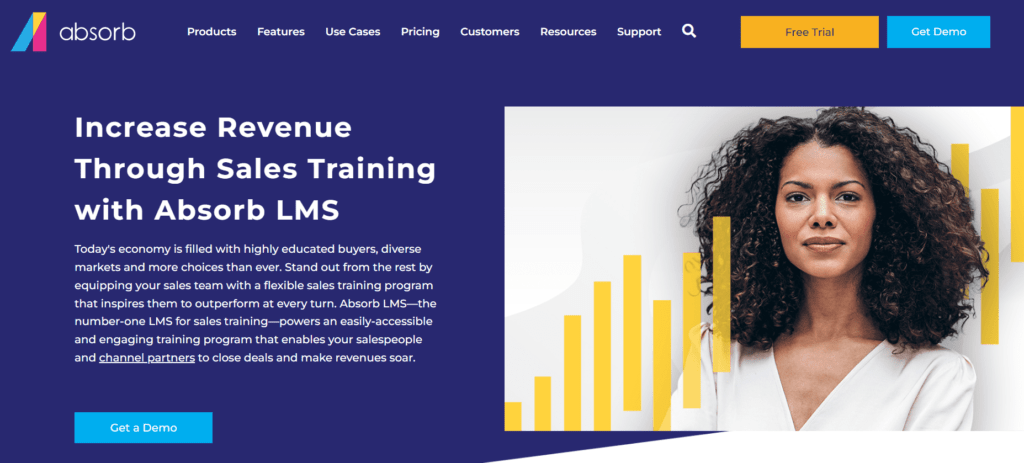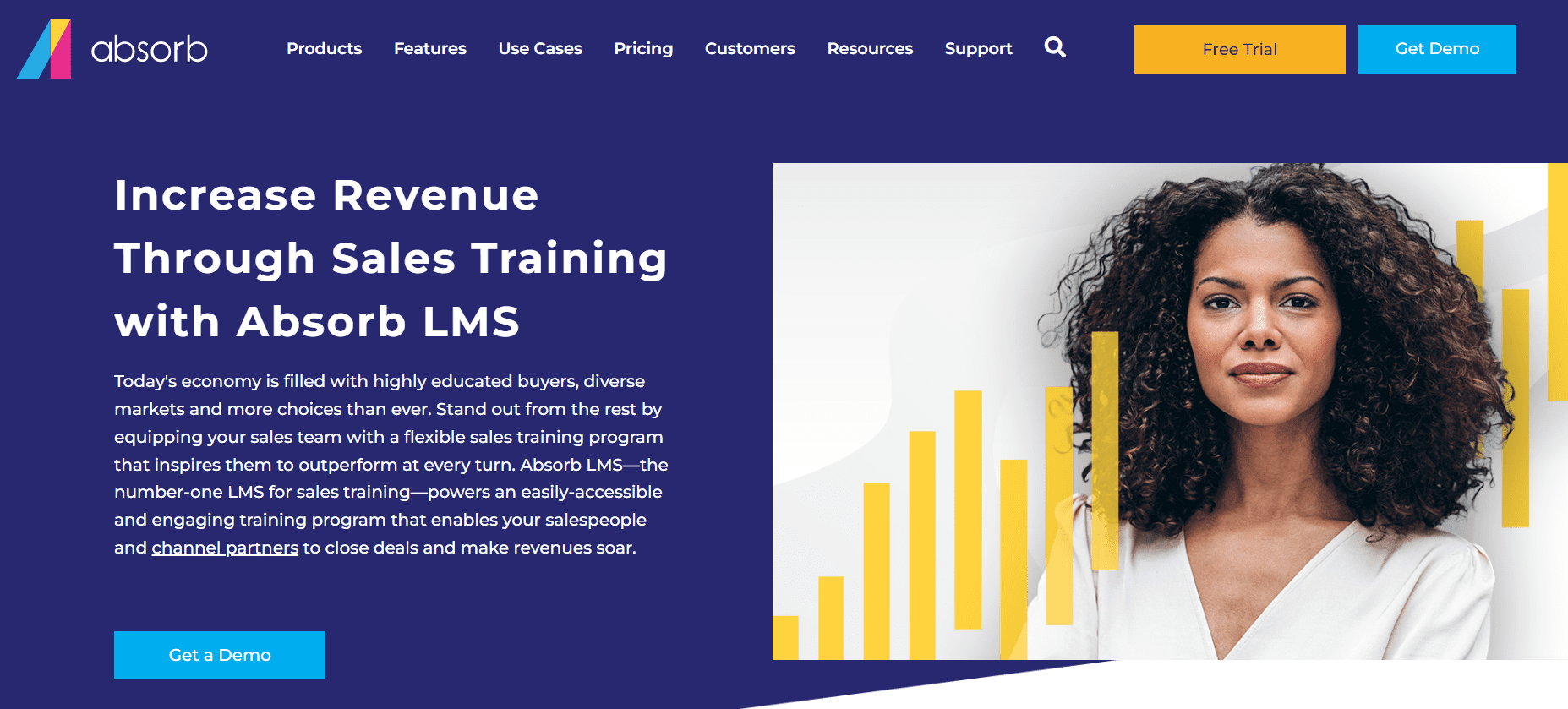 With the world's finest online sales training software, you can unleash the potential of your sales force, surpass your goals, and outperform the competition. Whether your organization is large or small, expanding or worldwide, Absorb LMS has a solution to reach out to your employees and motivate them to achieve.
Absorb LMS, with a mission to offer forward-thinking enterprises great eLearning, accessible mobile learning, intuitive design, and seamless connections, offer limitless alternatives to fulfil the demands of your sales staff.
 Sales training platforms are essential for any business that relies on a sales team to generate revenue. They provide knowledge, skills, and techniques to sales professionals, help them improve their performance, close more deals, and ultimately drive more revenue for your business. To make the best choice, look for a platform that offers flexibility, allows tracking progress, includes interactive and engaging elements, offers comprehensive reporting, and can be customized to your business needs. With the right platform, you can ensure that your sales team is well-equipped to succeed in today's competitive market and will help you achieve your sales objectives.