The e-learning and online teaching landscape has undergone a complete transformation, diverging significantly from its past iteration. As a result, adequate tools are indispensable for successfully administrating and creating online courses. 
Especially for those starting as novice educators on teaching applications, such tools become vital assets. To this end, it is advisable to peruse the roster of course creation tools tailored for beginners if one intends to create courses.
Notably, such tools are user-friendly and accessible to all, including newcomers. Therefore, it is recommended to first comprehend the rationale behind their significance before examining the catalog of course creation tools designed for beginners.
Learn how to create and publish your first course with Paradiso CourseCart, for free!  
What Is the Need to Create a Course?
The internet provides a vast space for people to learn and teach almost anything they want through online courses. It is a great way to gain knowledge and improve skills related to our interests. These online courses allow us to learn and become professionals in a particular field. Creating courses online is much easier now compared to before because there are various tools available online that people can use. 
Online courses are significant because they can help us gain more knowledge and become a source of income for those who create them. Online courses can also increase your reach and visibility and enhance your profile, among other benefits.
Valuable tips to ease your content creation journey
When designing a course for your customer, it is essential to clearly understand who your target customer is and what they expect from you. Given the abundance of courses available, your course needs to stand out and capture the attention of potential learners. 
To achieve this, it is essential to keep the needs and desires of your audience in mind throughout the course creation process. Once you have explicit knowledge of your target customer and their requirements, you can create your virtual course.
It is best to start with your most substantial area of expertise and break down the course into smaller, manageable parts. For instance, if you are designing a course based on Search Engine Optimization, create separate courses for link building, website optimization, keyword research, etc.
Breaking down your course into smaller parts makes it more engaging and digestible for learners. Additionally, ensure that you present the information in an easily understandable format.
Titles and outlines should be descriptive and accurately reflect the content of the course. When you have finalized your course content, use course creation tools to organize your files, scripts, and other materials. As you are ready to launch the course, be prepared for questions from your students.
They may have inquiries about the course content, and it is your responsibility to promptly and effectively address their concerns.
Here are Top 5 Course Creation Tools For Beginners in 2023
Paradiso

CourseCart

Teachable

Ruzuku

Kajabi

Thinkific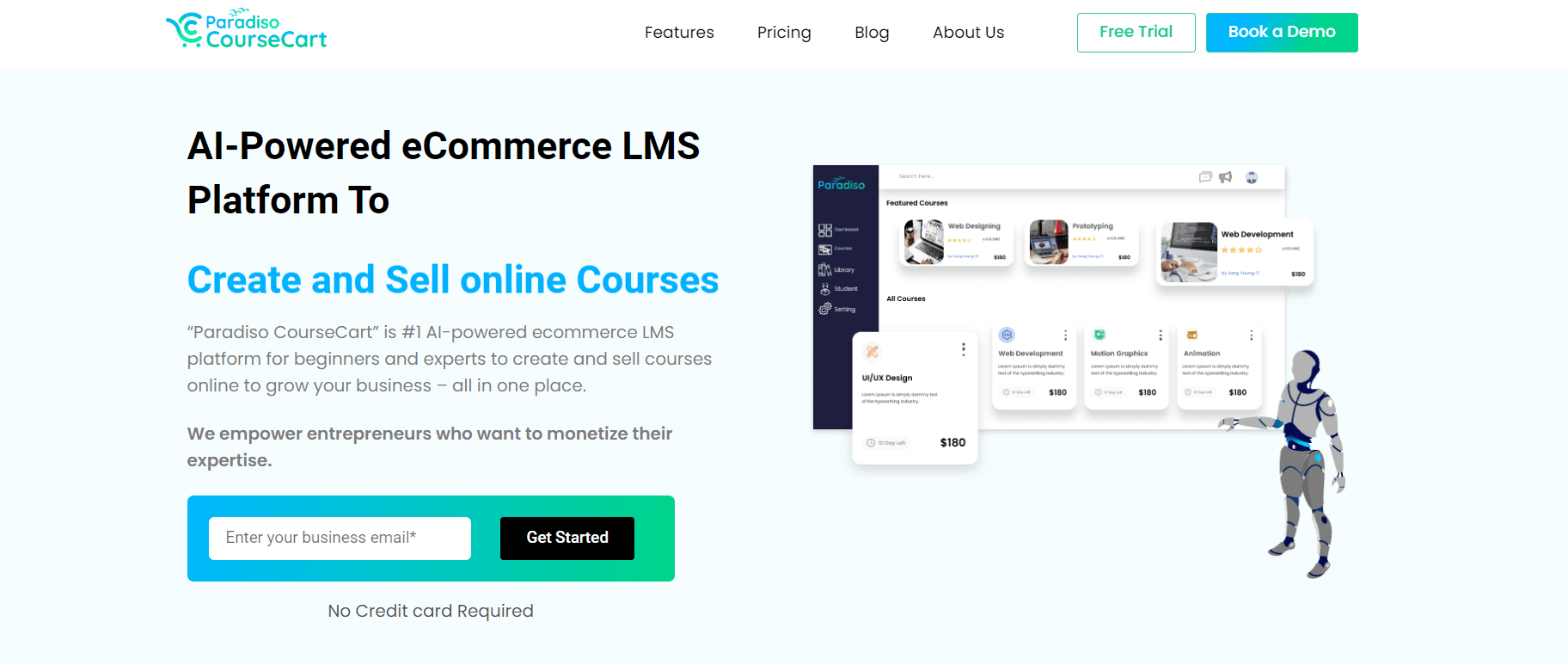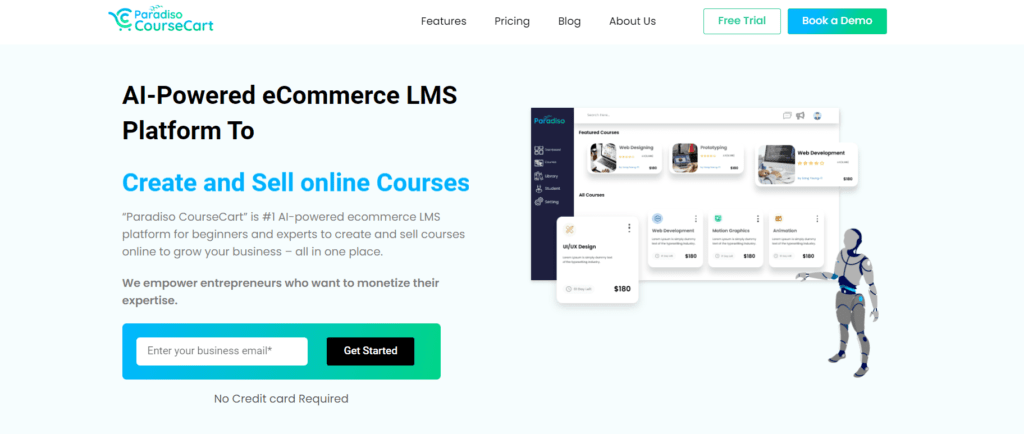 It is an e-commerce LMS platform that utilizes AI technology to empower beginners and experts to develop and market courses online, all within a single platform. You can construct dynamic learning courses incorporating multimedia elements such as videos and quizzes to captivate your audience. As a result, Paradiso CourseCart can increase user engagement with immersive E-learning experiences and differentiate your brand from the competition. The best part is that you can create appealing course content without technical expertise or coding skills. Additionally, you can use our AI Media Studio to drive conversions, sales, and engagement, monetizing your content through one-time payments or subscriptions.
Advance features
Paradiso CourseCart helps build an interactive course containing videos, quizzes, and more to engage your users with exciting E-learning.
Double down on your efforts to build your brand unique with the help of Paradiso CourseCart.
Create interactive content without coding and watch your conversions, sales, and engagement soar using our AI Media Studio.
Top creators and brands monetize content with one-time payments or subscriptions with Paradiso CourseCart.
To advertise your latest course to your audience, sign up for a free trial for 30 days with Paradiso CourseCart today.  
Teachable is a user-friendly course creation platform that is well-suited for beginners. It provides a variety of options for adding basic features to your course. With Teachable, you can create multimedia courses that incorporate video, audio, text, images, PDFs, and design landing pages. Although it is an effective tool for course creation, you will need additional tools for promoting and marketing your course.
This software is an excellent choice if you're new to creating virtual courses. It's effortless to utilize and has a lot of beneficial assets. You can add videos, PowerPoint presentations, audio, PDFs, and text to your course. You can even include downloadable files. You can also choose to create courses that people must pay to access. This tool gives you lots of flexibility and options to design your desired course.
Kajabi is an all-in-one tool that provides everything you need to create and market your online course, generate leads, and more. In addition, it offers pre-set themes and customization options to create a visually appealing course that engages learners. The platform is user-friendly and fully accessible from mobile devices and desktops. You can easily incorporate images, audio files, and presentations into your course.
It is an exclusive forum planned to design, promote, and sell your virtual courses with effortlessness, even if you're a beginner course generator. This platform enables you to create multimedia courses with video, audio, text, PDFs, HTML, and slide presentations. It also includes a voice-over tool for slide presentations and allows CSS/HTML editing. Additionally, you can start marketing your course early with Thinkific's marketing tools.
In recent years, many people have started using online learning, virtual classrooms, and buying courses over the internet. 
It's predicted that more and more people will continue to study online, so this is an excellent time for anyone with knowledge to create and sell courses online. There are many places online where you can make and sell your courses, and one of them is called CourseCart.
It's a platform that helps you create high-quality courses that are interesting and engaging. With Paradiso CourseCart, you can easily promote and sell your courses, which could help you earn money from your knowledge. To advertise your latest course to your audience, sign up for a free trial for 30 days with Paradiso CourseCart today.