In business learning, employee training is often in the spotlight. But with growing competition, forward-thinking companies are also embracing partner training. Partner training falls under extended enterprise training. While extended enterprise involves customers and business partners, partner training focuses only on the latter. It educates vendors, stakeholders, suppliers, consultants, and other external partners about your product or service. This training is a crucial part of your partner enablement plan.
Today, we'll explore partner training and discover dynamic ways to provide it. Let's begin.
What Is Partner Training?
Partner training means giving your business friends all the information they need to talk about, sell, and help with your products. It helps make customers happy and keeps them coming back. It's like ensuring your partners know everything about your products so they can tell others and care for customers well.
How to opt for the Right Partner Training for Your Business?
One solution only fits some people when training your business partners. Picking the right learning management system (LMS) for your partner training ensures they learn well. Here are things to think about while choosing an LMS:
Size: How many partners do you have? If a lot, your LMS must fit all users.
Training Needs: What type of training do partners need? Training often includes audio, video, and text. Testing might also be part of it. So, ensure your LMS has these features.
Integration: Can the LMS work with your other systems? It should connect with your CRM, ERP, etc.
Support: Does the LMS provider help you? It's crucial to have support if any tech problems arise for you or your partners.
In simple words, the LMS you choose should match how many partners you have and what they need to learn and work well with your existing systems. Plus, having good support is a must for smooth training.
Let's Discover 6 Keyways to Deliver Unique Partner Training Outside Your Organization
Now that you've learned how to choose the best partner training let's focus on setting up the training in your channel partner plan. Here's a checklist of 6 essential points to consider:
Establish Your Key Performance Indicators to Measure Success
Just like any training, partner training should have clear goals. These goals help you see how well the training works by comparing "before" and "after" results. They also guide partners towards expected business outcomes.
Key Performance Indicators (KPIs) are great training goals as they're specific and measurable. Decide what matters most to you and tell your partners your expectations. Whether reducing issues or boosting sales, define KPIs and set a timeline for checking them. It keeps partners motivated and focused.
Adopt a Learning Management System for a Better Learning Experience
A partner training LMS is a direct path to educating your business friends. With this training platform, you can teach partners everywhere, even if they speak different languages. It keeps their training and customer service steady. Even if you're a small company, a flexible LMS works now and grows with you.
With an LMS, you'll have detailed reports, easy course updates, and less admin work. It cuts costs and removes the hassle of in-person training logistics. And security-wise, you share data only when it's necessary. An LMS lets you create separate training partner spaces, so partners get the info they need for their partnership level.
Infuse Your Brand into Course Content to Establish Identity in Learning
When you teach your business partners, it's a great chance to make your brand stronger. Imagine creating your training using a unique tool. You can use your brand's colors, style, and logo to make everything look and feel like your company.
It Helps people remember your company better. When your name sticks in their minds, it's like building a good reputation. It also helps you make more friends in the business world. It doesn't matter if your company is small or big – having a unique brand is essential.
Engage Your Partners with Gamification and Certificates to Keep Them Motivated
Do you know how busy your business partners are with their work? So, let's make learning feel like a game they enjoy. Imagine they get badges when they do well and can earn points to level up. And when they're done, they get a special certificate showing their excellent work.
A big learning group called Paradiso LMS did precisely this. They added fun games and certificates to learning. It made learning feel like playtime, and partners felt proud when they finished.
Build an Effective Knowledge Hub for Easy Information Access to Partners
Imagine having a particular area where your business pals can find answers – either to their questions or ones your customers ask. Another idea is to make small cards with important info partners can quickly read.
But here's the thing: questions only sometimes show up when you're relaxed at your desk. They pop up when you're working. Having a place for answers on your phone is helpful. Just like games work on phones and on computers, make sure your learning stuff works well on both devices.
Measure and Monitor Partner Training Success for Effective Assessment Strategies
Your unique goals, called KPIs, show if the training worked. But it takes time to see fundamental business changes. So, while you wait, use tests in your courses. They help partners remember and understand better.
Your learning tool, LMS, is like a super helper. It can give you reports on what's happening. It shows things like who finished and how much time they spent learning. And ask partners what they think. At the end of the course, let them say if it was easy and fun and how to improve it.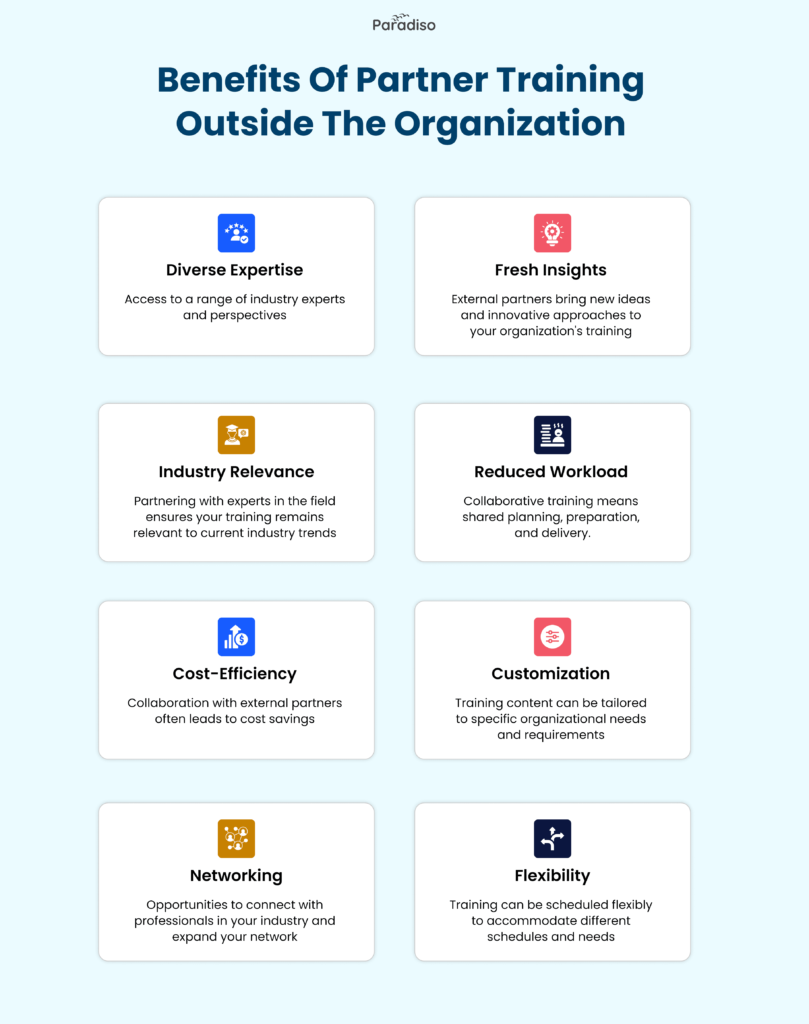 How does a channel partner LMS Make the training super easy?
A partner LMS is a tool for sharing everything your channel partners need to know about your product. But how to choose the right one?
Teaching your employees is different from teaching partners. Partners can't be forced to learn, so you must make them excited about it. First, make sure learning is easy for them. Second, spark their interest to take courses.
For example, let's talk about Paradiso LMS. It's a great choice to teach partners effectively. Keep reading to know what features you should look for in a partner training LMS.
Useful LMS Features Explained to Make Learning Easier for Partners
Single Sign-On:
Imagine partners logging into your platform without needing to remember multiple usernames and passwords. Single sign-on makes this a reality. Partners authenticated on other portals can access the LMS flawlessly without re-entering their credentials. It eliminates the hassle of password recovery and prevents delays in training partner.
Mobile App:
For partners who are often on the move or don't have immediate access to a computer, a mobile app is a game-changer. It allows partners to learn on their terms, anytime and anywhere. This flexibility empowers sales representatives working in the field or employees who are frequently on-site to fit learning into their busy schedules.
Multi-Tenancy:
Recognizing that partner teams have diverse roles and responsibilities, a multi-tenancy feature proves invaluable. It enables you to group learners based on job functions, tailoring the training content to address specific needs. Whether they're newcomers or seasoned experts, this approach ensures that each partner receives relevant and meaningful training.
Efficient Scheduling:
Partners juggle multiple responsibilities, making effective time management essential. Offering a clear overview of training schedules, assessments, and deadlines helps partners plan their learning activities. This feature empowers partners to allocate time efficiently and prioritize their training commitments without missing any crucial steps.
Built-In Course Tool:
Crafting engaging, and informative training materials are essential, and a built-in
course authoring tool
streamlines this process. It lets you update existing content or create new modules swiftly and efficiently. The content created must integrate seamlessly with the LMS, ensuring accurate tracking of progress and completion. Opting for an LMS like Paradiso LMS that offers an integrated authoring tool that simplifies the entire process and enhances the learning journey for partners.
Take Your Partner Training Journey to the Next Level with Paradiso LMS
Having partners who know their stuff and are well-trained can be a big plus for your business. Imagine taking their training to the next level by putting it online. This way, they can learn comfortably and enjoyably. And guess what? It's also easier for you to manage. If you're curious and want to try it, you can start by checking out Paradiso LMS. It's like a step towards improving your business with intelligent partner training.