When starting a career in online teaching, choosing the right software for your courses is crucial. LearnWorlds is a relatively new online training platform worth considering if you're in the education business and want to sell courses online. It has taken the best features from older platforms and improved them, offering various tools to create, promote, host, and sell your courses in one place. 
It is user-friendly, making it easy for first-time users to create and monetize their knowledge. In addition, it boasts advanced features compared to other learning management systems (LMS). However, like any software, it does have some areas that can improve.
One drawback is that LearnWorlds needs to provide phone or chat support. Also, no free version is available, but they offer a 30-day free trial.
Before making a purchase, it's essential to consider the pros and cons of LearnWorlds and alternatives to the platform.
Pros and Cons of LearnWorlds
LearnWorlds is a standout Learning Management Systems (LMS) platform because it's easy to use and great for selling interactive courses. It offers interactive features like a video player and E-Book reader, providing a unique learning experience. The platform also optimizes course sales pages and payment processes to boost conversions and increase sales. This software has all the necessary tools to meet the needs of digital information publishers. However, before making a purchase, it's essential to consider the LearnWorlds alternatives options available. 
Areas Where LearnWorlds Performs Well
Enhanced Functionality: LearnWorlds offers advanced features that simplify the course creation process and provide an engaging learning experience for students.
Diverse Learning Activities: The platform provides a range of interactive learning materials and activities to keep students motivated and help them achieve learning goals.
Advanced Digital Marketing Tools: With SEO tools, blogging features, email applications, and other marketing resources, you can effectively promote your online course.
Areas for Improvement In LearnWorlds:
Limited Support Options: LearnWorlds does not provide phone or chat support.
Occasional Bugs: Some features may experience occasional glitches.
No Free Plans: You only get LearnWorlds free trial but won't get a permanently free option.
The Top 7 LearnWorlds Alternatives
Below is List of  Learn Worlds Alternative
Paradiso LMS
Teachable

Thinkific

 

Talent LMS

iSpring Suite

Podia 

Course Funnels  
Paradiso LMS is award-winning eLearning software trusted by corporations, training companies, and educational institutions worldwide. It offers a comprehensive solution for managing eLearning, incorporating mobile, social, and video technologies. The platform boasts many features, including gamification to motivate learners, social learning for collaboration, blended learning, e-commerce capabilities, advanced reporting, and seamless integration with over 100 leading business tools. 
It provides learners with valuable and high-quality content. It is an excellent content library where businesses can purchase courses in various fields to enhance their employees' skills. The platform enables effortless content creation and selling. It also simplifies content management, making it easier for you to handle your eLearning materials. Paradiso LMS empowers your eLearning business to reach new heights with flexibility and seamless integration capabilities.
Build Your Website
Convenient Payment Gateway Integration
Simple Course Creation Process
Automated Marketing Capabilities
Integrated Analytics and Reporting Features
Support for SCORM 1.2, XAPI, and AICC Standards
Smooth Integration with Other Platforms
Paradiso LMS allows you to build interactive courses with videos, quizzes, and other engaging elements. It enables you to captivate and involve your users through exciting e-learning experiences. With its user-friendly interface and robust features, Paradiso LMS empowers you to create dynamic, interactive courses that enhance learner engagement and drive effective knowledge retention. 
It goes beyond just facilitating eLearning; it helps you build a unique brand identity. With customizable branding options, you can tailor the platform to align with your organization's visual style and brand guidelines. It allows you to create a cohesive and consistent learning experience that reflects your brand's values and personality. By leveraging the branding features of Paradiso LMS, you can strengthen your brand presence and make a lasting impression on your learners, reinforcing your organization's identity and credibility.
Paradiso LMS empowers you to create interactive content without coding expertise. With our AI Media Studio, you can easily incorporate multimedia elements like videos, images, and interactive quizzes into your courses. By leveraging this powerful tool, you can enhance learner engagement and drive conversions and sales. Watch as your learners become more immersed in the interactive learning experience, leading to improved knowledge retention and higher levels of engagement.
Top creators and brands can monetize content through various options, including one-time payments or subscriptions. You can choose the best approach to your business goals with flexible pricing models. By leveraging Paradiso LMS's monetization features, you can generate revenue from your valuable courses and content, making it profitable. Whether you prefer a pay-per-course model or a subscription-based approach, Paradiso LMS provides the tools and flexibility to monetize your eLearning offerings effectively.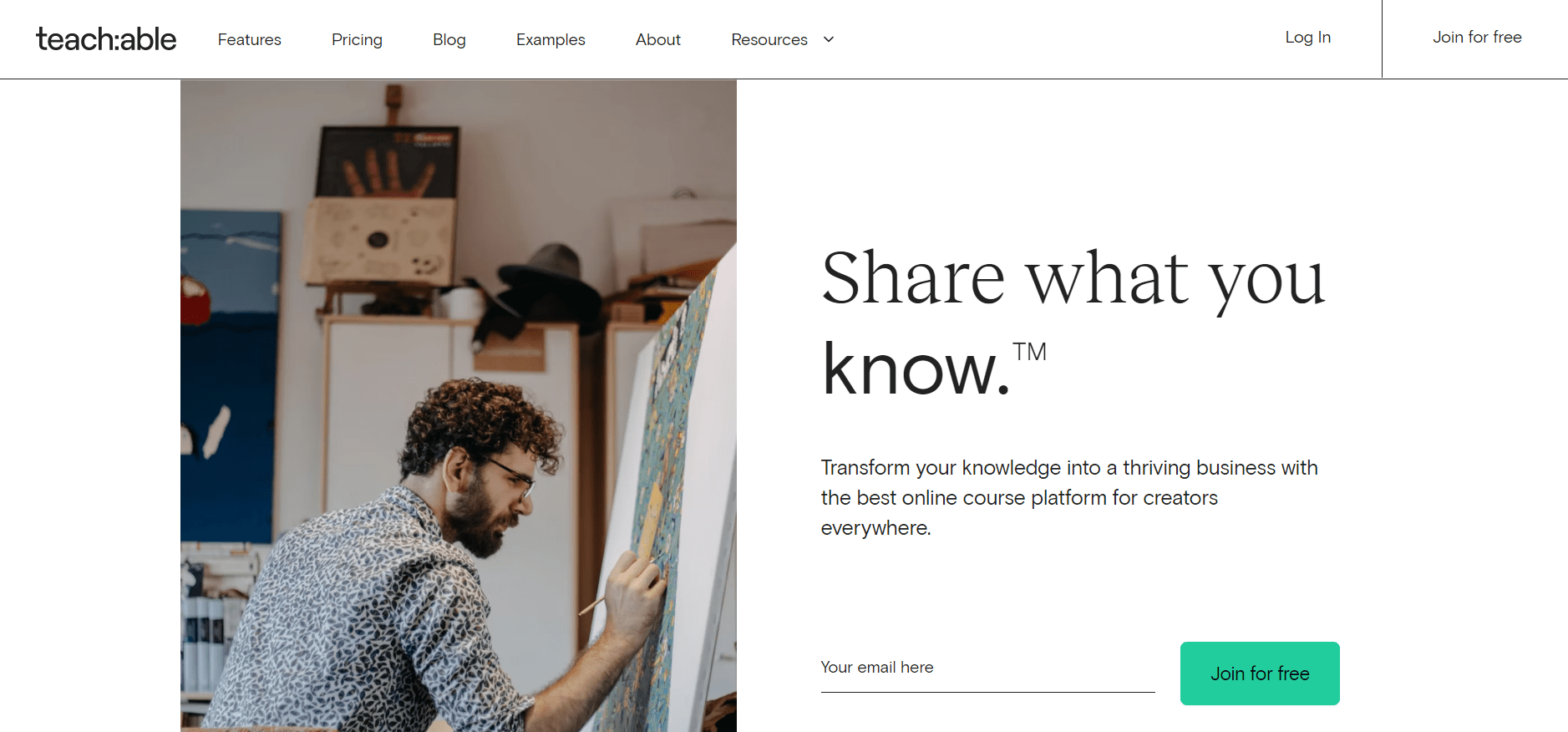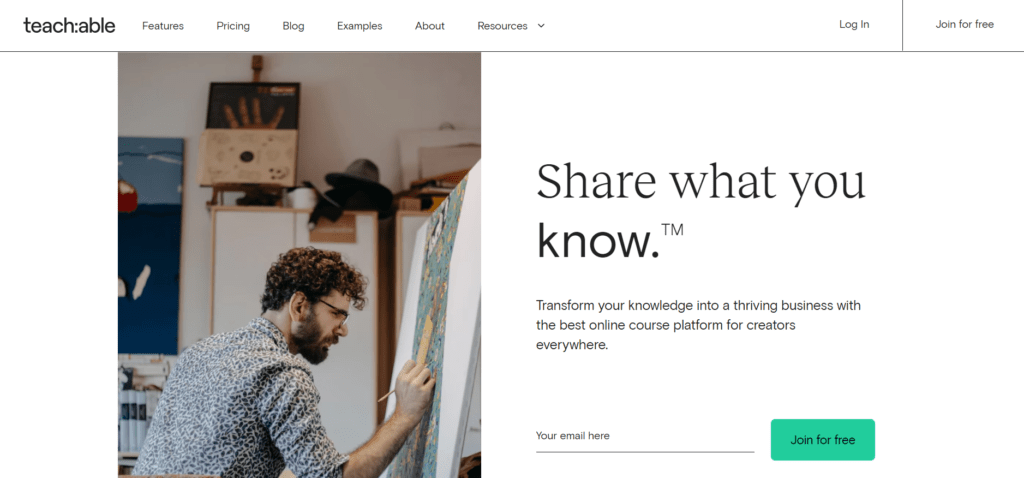 Teachable is a web-based platform that allows professionals from any industry to create and share their expertise through online courses. Users can access various tools to curate and customize their course content, enabling them to develop and sell engaging online courses. They can create multimedia-rich presentations and even use their domain name to connect their courses with existing websites. Additionally, Teachable offers the option to invite a team of professionals, assigning specific roles and permissions. The platform also provides a flexible editor to design attractive sales pages and comprehensive dashboards to effectively track sales and student data. 
Asynchronous Learning: Learning that happens at different times, not in real-time. 
Blended Learning Environment: Learning that combines online and in-person elements.
Integrated Course Authoring: Built-in tools for creating course content.
Organizations providing eLearning: Companies that offer electronic learning solutions.
Online Video Conferencing: Virtual meetings and discussions through video communication.
Teachable provides a cloud-hosted solution with a user-friendly interface designed for beginners. In addition, it prioritizes quick course launches by offering a wide range of templates, making it easy even for inexperienced instructors to get started swiftly. With over 100,000 instructors already earning over $500 million on the platform, Teachable is the leading choice for creating online courses in the current market.
Basic – $39 per month.
Pro – $119 per month.
Business – $299/month
Thinkific is a powerful online course creation platform that allows individuals to customize every aspect of their online course business. With their exceptional customer support, they provide a seamless starting experience and quickly address any inquiries or concerns you may have. The recent introduction of the Thinkific App Store further simplifies the process of creating professional-looking content that aligns with your brand, business, and vision. From entrepreneurs to influential organizations, creatives, coaches, consultants, writers, academics, hobbyists, industry experts, and many more.
Tailored Templates for Course Creation
Continuous Instructor-guided Learning Paths
Assignment Scheduling for Practice and Assessments
Content Tracking and Distribution
Content Development and Creation
Thinkific offers various marketing and sales tools, empowering you to personalize your course to align with your brand. With over 51,000 instructors and a track record of helping individuals earn $340 million, Thinkific provides a user-friendly dashboard to manage clients seamlessly, payments, course materials, integrations, and other essential aspects of your online course business.
Basic: $49/month
Pro: $99/month
Premier: $499/month 
It is a user-friendly platform that simplifies course creation for your team. Its intuitive interface lets you drag and drop various media types into the built-in design. You can add videos, documents, and presentations to maintain interactivity and even incorporate xAPI, SCORM, or cmi5 files. Additionally, TalentLMS allows you to share content from popular video platforms such as Prezi, YouTube, Flickr, Vimeo, and Slideshare, expanding your options for enriching your courses.
Content Delivery and Tracking
Administrator Portals for Consumer Training
Assessments and Practice for Content Storage and Organization
Creating content
With its learner portal, users can access valuable information and services independently. This program caters to e-learning companies, academic institutions, businesses, and organizations. The authoring tools make it easy to create engaging learning content, while features such as certification management, SCORM compliance, and gamification enhance the learning experience. It provides a comprehensive solution for organizations looking to deliver effective and engaging online training.
Starter –$69.00/Month.
Basic –$149.00/month.
Premium –$459/month 
It is powerful software that helps you create captivating eLearning courses effortlessly. It offers interactive elements like quizzes, assessments, simulations, video training, and screencasts to enhance learner engagement. The user-friendly interface, designed to work seamlessly with PowerPoint, ensures a familiar and easy-to-use experience. With all the necessary features conveniently integrated into one tool, iSpring Suite eliminates the need for a learning curve.
Importing and Exporting Content
Courses Led by Instructors
Engaging in Interactive Content
Converting PowerPoint Presentations
Effective Template Management
iSpring Suite offers a wealth of valuable features and an impressive content library, which are essential qualities in software of this kind. The webinar series is particularly noteworthy, as it provides weekly courses covering various topics to optimize the built-in features of iSpring Suite. Additionally, iSpring Space, available with the iSpring Suite Max plan, is an online workspace for collaborative course authoring. This feature lets you streamline course creation by working with your team online.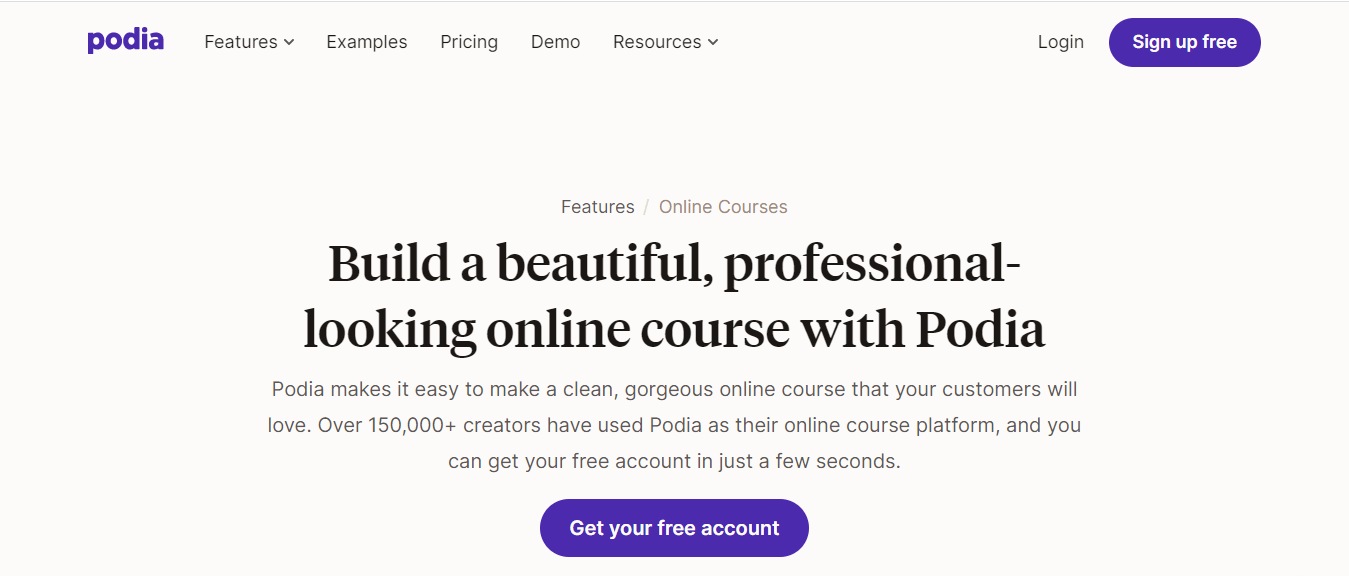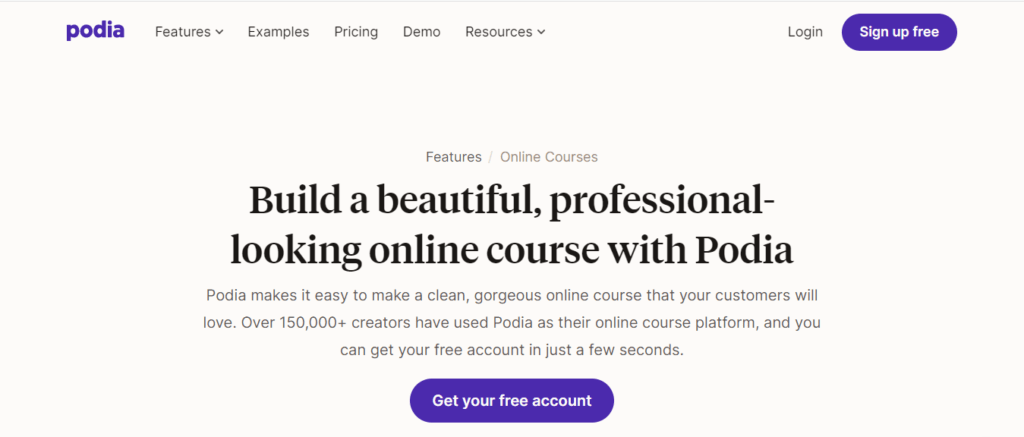 If you're looking for LearnWorlds alternatives, it is an excellent choice that offers affordable pricing and impressive course creation features. Like Thinkific, Podia doesn't require coding knowledge to create and sell your courses. With its drag-and-drop builder, pre-made templates, and webinar software, Podia makes it easy to develop engaging online courses. You can enhance your courses with quizzes, videos, audio, images, PDFs, and multimedia. Podia also allows you to create memberships, sell course bundles, and run affiliate programs, expanding your course offerings and marketing reach.
Offer Sequential Courses and Bundle Sales 
Sell a Variety of Digital Downloads, including PDFs, audiobooks, eBooks, cheat sheets, and more
Build an Online Community for Student Engagement and Networking
Conduct Webinars and Live Coaching Sessions via Zoom or YouTube
Schedule and Sell Live Coaching Sessions in Advance with Podia
Podia set itself apart as an all-in-one platform, distinguishing its interface from other platforms mentioned here. Unlike standard school templates, this alternative to LearnWorlds provides website templates that require more customization time to achieve the desired appearance. With Podia, you can create a comprehensive website encompassing various aspects of your online course business, offering your audience a unique and tailored experience.
Mover: $39/month
Shaker: $89/month
Earthquaker: $199/month
Course Funnels is designed for selling courses and transforming them into a profitable business. This platform seamlessly integrates marketing features, including a built-in autoresponder and free plugins to boost sales.
Easy-to-use course creation tool
Supports various payment systems
Comprehensive analytics and reporting
Effective member management system
Multi-language support for 17 languages
Course Funnels is designed to help you sell courses and build a profitable online business. This platform integrates marketing tools to boost sales, such as built-in autoresponders and free plugins. In addition, you can enjoy 24/6 live chat customer support and access to free training, empowering you to create and market courses like a professional.
Starting price: $37.00 per year
Free trial: Not Available
Free version: Not Available
Check out Other Mighty Networks Competitors
Below is List of Mighty Networks Competitors
LearnDash

 

Tovuti

LMS 

Teachmore

Ezy

Courses  

SkillShare

 
If you want to host your courses and online school on your WordPress website, LearnDash is your perfect online course platform. It's a widely-used plugin for WordPress that allows you to manage and create courses. If you're already familiar with WordPress, you'll find it easy to use this software for creating and organizing your courses. In addition, LearnDash is highly recommended for self-hosting your online learning content.
Learning at Your Own Pace
Combining Online and In-Person Learning
Creating Courses within the Platform
Managing Assignments
Flexible Learning Schedule
If you're looking for a course platform that lets you handle everything directly from your WordPress dashboard, LearnDash is an excellent choice. You can easily set up and manage your courses and have complete control over creating and customizing them. It's perfect for complete autonomy and flexibility in running your courses.
One site: $199/year
Ten sites: $399/year
Unlimited: $700/year
It is a modern and easy-to-use platform that aims to provide interactive online learning experiences. The platform offers a personalized approach, prioritizing the needs of individuals. It effectively combines technology, data, and content to create a learning environment that promotes growth, adaptability, and improved performance for all learners. Tovuti LMS is designed to enhance the overall learning experience and help learners thrive.
Evaluating Activities
Managing Certificates
Ensuring Compliance
Support for Learning on Mobile Devices
Integrated Course Creation Tool
Tovuti makes online training zenfully easy for managements and students. It's suitable for almost any kind of association, whether they just need to train their staffs, partners or consumers, or they need to monetize their knowledge by charging for online training. It empowers admins to create more than 40 different types of interactive and gamified training modules, from interactive video to flash cards to memory matching games and more.
Starting Price: $775/month
Teachmore is a comprehensive solution for online course creators, offering a range of features such as a website builder, coupons, banners, and more. The pricing structure is designed to meet the needs of different customers, with options for free trials, monthly plans, and yearly plans. Teachmore provides three plans: Basic, Pro, and Business, allowing users to choose based on their requirements. The user interface is flexible, clean, and easy to navigate, providing convenient access to all functionalities. Additionally, Teachmore offers a unified learning platform for corporate training purposes.
Organize Learning Materials
Seamless Integration with External Tools
Make Engaging Courses
Enhance Learning with Multimedia
Personalize Templates to Your Needs
It is a platform that assists course creators in every stage of online course creation, marketing, and management. Course creators can choose a category and personalize their courses with themes and templates. Teachmore's unique features help creators develop top-selling courses by understanding learner requirements and designing course content based on data and metrics.
Free Trial: 15 days Free Trial available.  
It is a platform designed for course creators, offering various benefits. It allows you to monetize your courses and time through strong communities, groups, and private chats. You can customize your website with over 250 pre-made designs or build your own using the intuitive drag-and-drop site builder. Ezycourse provides the tools to create a branded and engaging online course experience.
Mobile App for Android and iOS
Course Bundling
Simplified Email Marketing
Instant Reporting
Website Building Tool
It offers a comprehensive range of features to meet all the needs of your online course business. From a seamless checkout process and innovative upselling options to tier pricing and add-on offerings, we help businesses significantly boost their revenue potential. With Ezycourse, you can sell individual courses and bundle courses together. Additionally, our platform supports communities, group chats, private chat functionality, appointment booking, and the sale of both digital and physical products.
Basic: $39.00/Month
Pro: $129.00
Business: $399.00/month
It is a highly acclaimed online teaching platform that offers a unique opportunity for growth. As an instructor, you get to share your knowledge and gain access to a wide range of courses yourself. It means you can continuously expand your expertise and learn from others in your field. In addition, it provides a supportive environment for teaching and personal development, making it a popular choice among educators.
Skillshare Mobile Application
Tracking and Analysis
Integration with Learning Management Systems
API Functionality
Administrative Panel for Management 
Its most significant advantage lies in its widespread recognition and popularity. As a well-known platform, SkillShare attracts motivated and enthusiastic individuals to learn new things. When people are seeking knowledge, their first instinct is often to turn to SkillShare. It translates to increased visibility and exposure for instructors, providing a more significant opportunity to reach and engage with a larger audience.
Discover The Right Platform Among All The LearnWorlds Alternatives
Paradiso LMS is an excellent alternative to LearnWorlds for effective team and company training. It is highly customizable, allowing you to personalize the interface to match your company's needs. It's easy to manage teams, and the user interface is simple, so you don't need to be a tech expert. With Paradiso LMS, you can provide excellent training experiences for your team, customers, partners, and employees. We hope this blog has helped you find the best LearnWorlds alternatives. Let us know which LearnWords competitors you prefer from the list above in the comments below. We value your feedback!