Teachable is a top-rated platform designed explicitly for courses. You can effortlessly develop and sell your courses using Teachable course builder and take advantage of landing pages to drive sales. 
However, Teachable does have its limitations. It needs the comprehensive functionality of an all-in-one platform, missing critical features like a built-in community function. Furthermore, it offers limited course delivery options, primarily focusing on asynchronous learning. Additionally, Teachable is only available on iOS, which excludes a significant portion of the global smartphone user base, approximately 85% of who use Android.
If you find these limitations dissatisfying and seek a suitable alternative to Teachable, you're reading the right blog. Numerous alternatives offer more comprehensive features and, in some cases, even cost less. In addition, these Teachable alternatives provide diverse solutions for hosting your online courses, allowing you to explore new possibilities and find the platform that best suits your needs.
What Makes an Online Course Successful Today?
Before we dive into Teachable alternatives, let's discuss the essential elements that make a course engaging. Whether you're new to course creation or an experienced veteran, these steps will guide you in building an engaging course. So, let's explore them together.
Define Your Target Audience
Identify the individuals who will benefit most from your online course. By understanding your ideal students, you'll be able to reach out to and engage them effectively. Regardless of whether you choose Teachable or one of its alternative platforms, this step is crucial.
Develop A Distinctive Course or Program Tailored To Your Ideal Learners
To effectively meet the needs of your students, it's essential to structure your course in a way that brings about the desired transformation. By organizing the content and learning materials thoughtfully, you can provide your students with the necessary tools and knowledge to achieve their desired goals and outcomes.
Promote Your Online Course To Reach Your Target Audience
Once you've created an online course, the next step is to market it to your target audience effectively. Traditionally, this has involved various methods like email campaigns, webinars, and persuasive landing pages designed to entice potential students. These marketing strategies aim to engage and convince individuals to enroll in your course, maximizing its reach and impact.
Ensure That Learners Effectively Apply For Your Online Course In Their Daily Lives.
The key to standing out as a course creator, whether just starting or already established, is fostering a sense of community among your learners as they progress and master the subject together. Emphasizing this community aspect leads to faster growth and better outcomes and allows you to charge a premium. In the ever-growing landscape of online courses, more individuals are venturing into course creation, making community-building an essential element for success.
It is a learning platform that helps teachers and course creators to introduce their instructional videos while earning income from their efforts. It was established nearly ten years ago to address the limitations faced by its founder on another online course platform. Today, Teachable has attracted over 100,000 instructors who have successfully launched courses on various subjects, from wine pairing to free diving. In addition to Teachable course, instructors can offer coaching and workshops to enhance the learning experience. 
Teachable is the preferred choice of content creators because it empowers them to:
Get started on the platform without any cost.
Rapidly create and launch online courses.
Offer bundled courses and manage subscription fees.
Enforce compliance by setting specific requirements for students.
Issue certificates of completion to students.
Basic: its plan lets you gradually release course content, establish an exclusive members-only community, and generate coupon codes—price: $29 per month plus a 5% transaction fee. 
Pro: its third plan offers an unbranded website, affiliate marketing capabilities, and advanced student reports—price: $99 per month.
Business: its top plan provides features like bulk student enrollment, manual student imports, and advanced customization options—price: $249 per month.
It is a dedicated platform for selling online courses and coaching, offering additional options for selling ebooks, services, workshops, and conferences. The most significant advantage of Teachable is its user-friendly approach, allowing anyone to create courses without coding knowledge and handling the technical aspects. However, it has limited product types and customization options available for Teachable course creators. 
Many Teachable course creators utilize third-party tools for email marketing, building landing pages, community engagement, and selling memberships to enhance their success. Furthermore, selling standalone digital products is not possible on Teachable. For creators on the Basic plan, transaction fees can amount to over $100 monthly.
If you're looking for more flexible alternatives, here are six options worth exploring. These alternatives provide a more comprehensive range of features and capabilities to support your online course or coaching business.
The 7 Best Teachable Alternatives in 2023
Teachable is widely recognized as a top online course platform for creators, but there are competitive alternatives worth considering. At the same time, Teachable has a solid following and has been instrumental in the success of many course creators in the booming eLearning industry. Exploring other platforms that offer comparable, if not superior, features are essential. These Teachable great courses alternatives provide a range of options for online course creators, expanding their choices when selecting the right platform for their needs.
Below is List of  Teachable Alternative
Paradiso LMS
Kajabi

Thinkific

 

LearnWorlds

 

FreshLearn

 

Podia 

Mighty Networks 

 
Are you searching for a convenient solution to quickly create, market, and sell your online courses? Look no further! Start today and discover why Paradiso LMS Platform is the number one choice for online course creators. This platform utilizes artificial intelligence to assist online course creators in designing and selling their courses, all in one convenient location. 
Paradiso's eCommerce LMS platform primarily aims to offer learners high-quality and valuable content. It has evolved into a comprehensive content library, offering courses in various fields. In addition, businesses can purchase individual or multiple courses to enhance their employees' skills using their own Learning Management Systems.
With Paradiso LMS, you can effortlessly create and sell your course. Furthermore, this platform simplifies content management, providing an easy-to-use tool that seamlessly integrates and elevates your eLearning business.
Build Your Website
Convenient Payment Gateway Integration
Simple Course Creation Process
Automated Marketing Capabilities
Integrated Analytics and Reporting Features
Support for SCORM 1.2, XAPI, and AICC Standards
Smooth Integration with Other Platforms
Easily create online courses with AI-based eLearning tools.
Create captivating online courses with the help of advanced learning tools such as AI voiceover, video integration, customizable templates, interactive quizzes, and assessments. These features enable you to build engaging content that adheres to the SCORM format, ensuring compatibility and seamless integration with various learning management systems. Boost learner engagement and deliver effective online education through interactive and dynamic course materials.
It has personalized storefronts for selling your online courses.
Tailor our e-commerce storefronts to match your business needs. These customizable solutions seamlessly integrate with payment processing applications, allowing you to start generating revenue with just a few simple clicks. As a result, maximize your earning potential and streamline your online sales process effortlessly.
Use data-driven insights and a dashboard for your business learner analytics.
Utilize learner analytics to gain valuable insights into students' learning behaviors, empowering you to use free platforms to create online courses that enhance their learning effectiveness. By leveraging this data-driven approach, you can optimize your course content to meet your learners' specific needs and preferences, resulting in a more impactful and engaging learning experience.
Comprehensive built-in marketing tools to boost your business growth.
warmly welcome your student's automated reminders and keep them informed about new courses or events using email and push notifications. Create a seamless communication channel that ensures your students stay engaged and up to date with relevant information, enhancing their learning experience.
Develop a captivating mobile app for an immersive user experience.
Beyond just a website, expand your reach by providing workshops and courses through an operative mobile app available on Android and iOS platforms. Opt for either Paradiso LMS or create your own branded app.
Enhanced user engagement with push notifications
Effortless in-app purchases with a single click
Support for both iOS and Android devices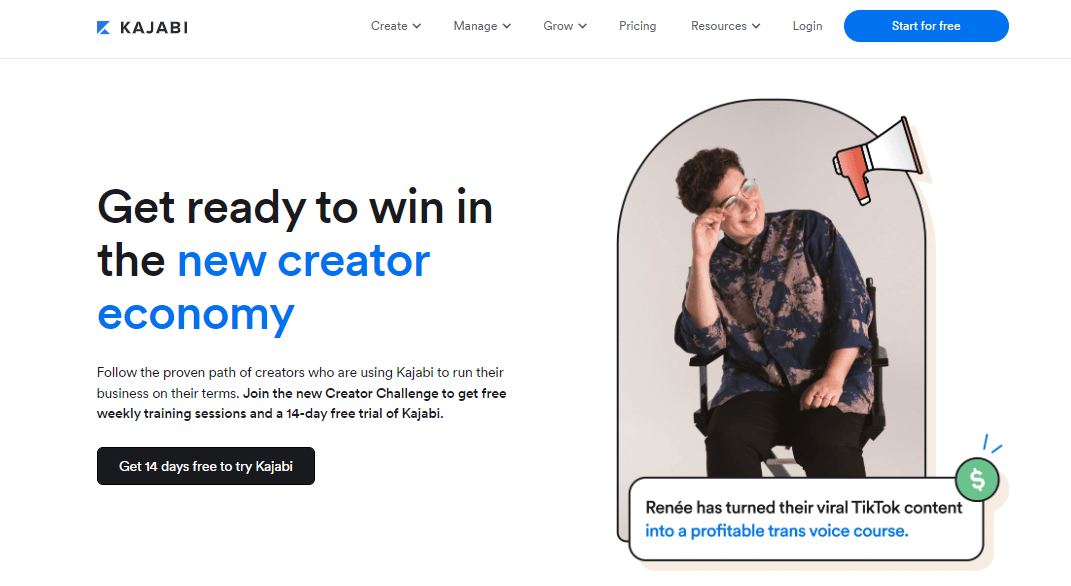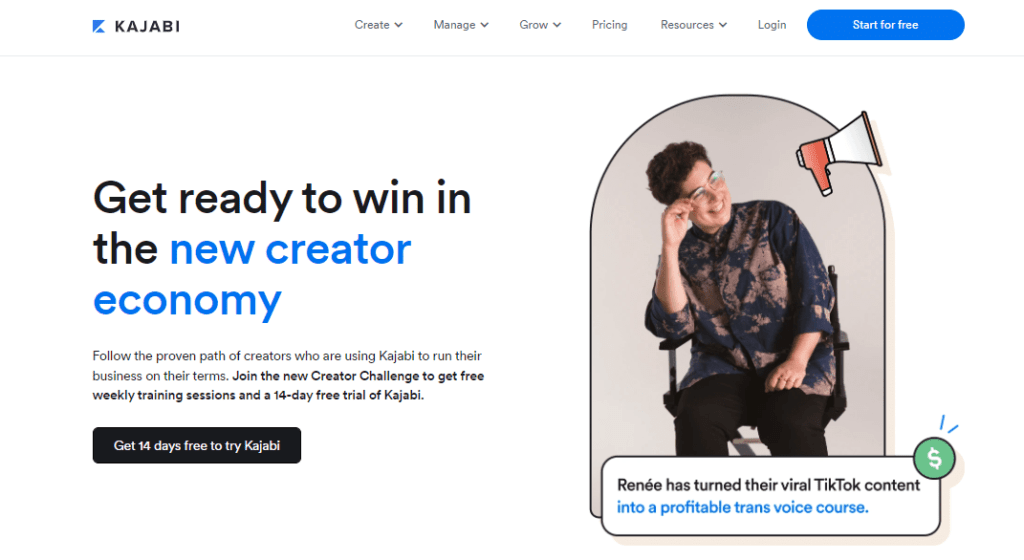 Kajabi is comprehensive platform allows you to sell various digital products such as courses, downloads, coaching, podcasts, memberships, and communities. Additionally, Kajabi offers features like email marketing, website creation, sales funnel building (pipelines), and affiliate management, making it a versatile all-in-one solution for your online business needs.
Build integrated sales funnels effortlessly
Utilize powerful email marketing and affiliate tools
Explore podcasting capabilities
Create websites with customizable themes and blogging features
Access a mobile app for convenient on-the-go learning
Kajabi stands out as an exceptionally comprehensive platform for creators, offering many features. Notably, it provides a mobile app for convenient access, includes blog functionality to engage with your audience, and supports podcasting. Additionally, Kajabi distinguishes itself by not charging transaction fees on its plans.
Basic Plan: Includes creating three products and three pipelines.
Growth Plan: Offers expanded features with 15 products and 15 pipelines.
Pro Plan: Provides maximum capacity with 100 products and 100 pipelines.
Thinkific, similar to Teachable, is designed to cater to course creators. It provides a platform where you can sell a range of course formats, such as live lessons, pre-recorded videos, self-paced courses, and cohort programs. It also offers features like course completion certificates, assessments, assignments, and the ability to set lesson prerequisites. Furthermore, you can create a storefront or website for your courses using Thinkific.
Video and content hosting available on all plans
Build a website and sales pages for your products
Unlimited course content and communities offered on select plans
Sell courses, communities, products, bundles, and memberships
Enable students to leave course reviews.
Thinkific users enjoy the advantage of no transaction fees on any plan. In addition, paid plans offer unlimited courses, content, and students. Creators on higher tiers also can customize their websites with custom CSS and HTML.
Basic: $49/month
Pro: $99/month
Premier: $499/month 
LearnWorlds is a versatile platform that empowers creators to develop and sell online courses, memberships, and mobile learning apps. Additionally, you can build your website using a custom domain name. With the LearnWorlds mobile app builder, you can offer in-app purchases, send notifications, and create a branded app for a seamless and personalized learning experience
Offer a wide range of products: online courses, memberships, subscriptions, and bundles
Mobile app with in-app purchases and notifications available (additional fee)
Incorporate assessments, quizzes, question banks, and course completion certificates
Utilize built-in video editing and transcription tools
Access note-taking features in the course editor and interactive ebooks
LearnWorlds is an excellent platform for educators and entrepreneurs who want to sell their courses. It provides a wide range of valuable features and tools. One standout feature is the mobile app builder, which lets creators offer a convenient learning experience for students on the go. With LearnWorlds, you can easily reach your audience and provide high-quality courses.
Starter: $29/month (+$5 fee per course sale)
Pro Trainer: $99/month
Learning Center: $299/month
This platform is an excellent alternative to Teachable and can help online course creators quickly start successful online businesses. It provides all the tools you need to transform your knowledge into courses, workshops, downloads, and cohorts. With its user-friendly features, you can concentrate on your expertise while it takes care of the technical aspects. It's a one-stop solution with limitless possibilities for your online ventures.
Manage Assessments
Combine Online and In-Person Learning
Integrated Learning Management System
Track Progress and Performance
Ensure SCORM Compliance
FreshLearn offers several advantages that make it an excellent choice for course creators. Let's explore the main benefits! One of the standout features of FreshLearn is its all-in-one platform, which doesn't require coding knowledge. It means you can create top-notch courses without prior experience in the industry. In addition, building, customizing, and selling your courses has never been more straightforward and accessible.
Pro Plan: $25.00/month
No Brainer: $59.00/month
Podia is an all-in-one platform that provides creators with everything they need to establish their online business. With Podia, you can quickly build a website and sell various offerings like online courses, coaching services, digital downloads, webinars, and community memberships. In addition, it simplifies the process by offering a single dashboard to manage all aspects of your business.
Effective tools for email marketing
No transaction fees on Mover, Shaker, and Earthquaker plans
Simple and transparent pricing
Free migrations are available on all yearly plans
Easy integration options with Stripe and PayPal
Podia stands out from Teachable by providing additional features like live chat, email marketing, and affiliate marketing tools. These features allow you to promote your courses and engage with your audience. Moreover, Podia enables you to create an attractive website for your online business without the need for coding skills or investing in separate website tools.
Mover: $39/month
Shaker: $89/month
Earthquaker: $199/month
Mighty Networks platform designed for creating online communities and offers online course features in its higher-tier plans. With Mighty Networks, creators can build free and paid membership communities, providing a space for interaction and learning. You can monetize your community by charging for memberships with recurring billing or one-time subscriptions. Advanced features like live streams, direct messaging, virtual events, and member profiles enhance the community experience.
Engage and connect with your community through membership site features
Host live streams and events and manage event calendars
Facilitate group and private chat messaging for member interaction
Scale your community with unlimited members and moderators
Offer live or cohort courses on the Business plan and higher tiers
Mighty Networks is built for community management, offering robust membership features. This platform allows you to easily create landing pages, develop courses with dedicated community spaces, access analytics, and utilize other valuable membership tools. It provides everything you need to manage and engage your community effectively.
Community plan: $39/month
Business plan: $119/month
Mighty Pro: Custom pricing
Find the suitable Teachable alternative for you 
Here are the top 7 alternatives to Teachable for 2023. I hope you've chosen the course builder that suits your coaching business needs. 
With these Teachable alternatives, you have many excellent options for managing your online courses and memberships. Whether you prioritize certification, mobile accessibility, or the integration of courses and community, you have fantastic choices.
When you opt for Paradiso LMS as an alternative to Teachable, you can access the latest and most straightforward method for launching or expanding your online courses quickly, efficiently, and enthusiastically. This platform is powerful yet user-friendly, making it ideal for beginners with limited technical knowledge or experienced course creators seeking to elevate their businesses to new heights.