If you're searching for a platform to sell your online courses, you may have encountered Thinkific, an e-learning platform. With Thinkific, you can create both free and paid programs and reach an unlimited number of students. In addition, it allows you to upload as much course content as you want and even create a storefront to promote your courses effectively.  
While it is well-known in the field of course creation, it may not be suitable for creators who want to explore other types of products. In this guide, we will discuss the advantages and disadvantages of the Thinkific platform. Additionally, we will present eight Thinkific alternatives that you can consider if they don't meet the needs of your business.
How Thinkific Changes Online Learning Experiences?
When the Thinkific platform started in 2012, online course platforms primarily focused on delivering content to an audience and charging for it. Instructors saw the opportunity to make money by sharing their knowledge. As a result, it emerged as a reliable hosted platform for online course content. It caters to various needs, allowing you to create and sell online courses.
You can choose between drip courses (content released over time) or courses with all content available simultaneously. The platform provides a user-friendly e-commerce checkout system and handles the hosting and management, eliminating the need for technical expertise or expensive custom websites. 
Setting up integrations with other businesses, marketing, and analytics tools is also straightforward, even for non-developers. In addition, its free plan offers unlimited courses, making it ideal for beginners who want to explore and experiment without financial commitment.
With the Thinkific platform, you can effortlessly build courses using a drag-and-drop interface, import content in bulk, and incorporate quizzes and tests. You also have the option to add credits or certificates to your courses. Furthermore, you can seamlessly connect your course homepage to your existing website, creating a smooth transition for your visitors into the learning experience.
Why Consider Other Platforms Instead of Thinkific Learning Platform
Although the Thinkific platform offers many features for creating and selling online courses, there are some potential downsides that users should be aware of. These drawbacks include limited customization options, missing key components in the free and basic plans, a need for more third-party integrations, and it may not be suitable if you intend to sell digital goods, memberships, or live streams. 
Furthermore, users seeking more comprehensive analytics and reporting features and greater flexibility in course delivery options may find Thinkific needs to improve in these areas. To address these concerns and find a platform that aligns better with your requirements and goals for online course creation and sales, it's worth considering Thinkific alternatives. Exploring other options can help you discover a solution that suits your needs and aspirations better.
It offers a free plan that allows you to sell a limited number of courses to unlimited students without any upfront payment. The free plan doesn't charge any transaction fees. You can upgrade to a paid plan at your convenience if you require additional features. The pricing breakdown for the Thinkific platform is as follows:
Free Plan: Limited to three courses
Basic plan: $49 per month
Pro Plan: $99 per month
Premier Plan: $499 per month
Unlimited Course Creation
By upgrading to a paid plan, you can create and offer unlimited courses on the Thinkific platform. You can upload as much content as you want, providing ample space for your course materials. Some plans even come with additional features like course completion certificates, assignments, and lesson prerequisites, enhancing the learning experience for your students. 
Website Building Made Easy
it offers a user-friendly drag-and-drop page builder that allows creators to set up their own website or online storefront effortlessly. Additionally, pre-designed website templates are available to give you a head start and inspire your creativity in building a professional and visually appealing online presence for your courses.
Thinkific Plus for Enterprise
Thinkific Plus caters to larger companies and organizations with extensive e-learning needs. If you require a robust and scalable e-learning solution for enterprise-level operations, Thinkific Plus offers the features and capabilities to meet your requirements effectively.
Limited Flexibility in Selling Digital Products
While the Thinkific platform excels in the realm of online courses, it may not be the ideal choice if you intend to sell other digital products like downloads, memberships, communities, live streams, webinars, coaching programs, or services. Thinkific is primarily optimized for online courses, which could pose limitations as your creator business expands into diverse offerings.
Additional charges for The Growth add-on: 
Creators who want to utilize premium tools on Thinkific will need to pay an additional fee for the Growth add-on. This add-on is available only as an addition to the $99/month Pro plan and costs an extra $50/month. With the Growth add-on, you can access advanced integrations, remove Thinkific branding, Zapier actions, unlimited communities, and student segmentation tools, and send bulk messages to students. 
Limitations of Thinkific's Community Feature
Communities allow creators to connect with their course participants and followers. However, Thinkific's community tool is limited and only available on higher-tiered plans. It is impossible to sell community access as a separate product, nor can you create different membership tiers. Communities must be dealt with in a course or made available to all logged-in users of your Thinkific School. The Pro plan allows you to create only one community area. If you want multiple communities for different programs or student groups, you must purchase the Growth add-on. 
Restricted Email Functionality
Email marketing is crucial in online businesses, but Thinkific's email tools may need to be more basic for some creators. To access features like email segmentation and sending bulk messages, you must be on the Pro plan with the Growth add-on. Alternatively, you can integrate Thinkific with a third-party email service, although this may involve additional fees. Ultimately, choosing a course platform depends on your specific business needs. If you find that Thinkific platform unsuitable, there are eight Thinkific alternatives you can explore instead. 
The 8 Best Teachable Alternatives in 2023
Below is List of  Teachable Alternative
Paradiso LMS
Teachable 

Thinkific

 

LearnWorlds

 

FreshLearn

 

Podia 

Mighty Networks 

 

Course Funnels 

 
It is an excellent choice for beginners or individuals looking to build a large educational business. It is also suitable for those who want to create and sell their courses. 
With Paradiso Ecommerce LMS, you can efficiently deliver online educational content within your institution, such as a school or college. Since you already have an existing audience and don't need extensive marketing, you can use its user-friendly course builder to create your courses quickly. In addition, the platform offers valuable features like membership websites, course bundles, bulk access, and course subscriptions to help you increase your sales.
Regarding marketing and selling your online courses, it provides a range of options, including sales promotions, coupons, and subscriptions. It also offers customization options for branding, detailed course analytics, and student management.
The platform allows course creators to design and personalize online courses using various multimedia elements, such as videos, PDFs, quizzes, and more.
Multiple Course Types
Create your website
Pre-installed payment gateways
Emails, Flash & Push Notifications
Easy To Create Online Courses
Built In Analytics And Reporting
SCORM 1.2, XAPI, And AICC Support
CPD, And Certification Tracking
Seamless Integration
Sell Courses and Grow Your Revenue. 
Maximize your earnings by leveraging Paradiso Ecommerce LMS to sell your courses worldwide. Its robust e-commerce functionalities ensure secure transactions and flexible payment options. Additionally, it integrates a comprehensive learning management system (LMS) for efficient course management, progress tracking, and engaging learning experiences. Finally, use its marketing capabilities to drive sales with sales pipeline management and dynamic marketing funnels.
Cost-effective & Scalable Platform
It offers excellent value for your investment, combining a low cost of ownership with a wide array of features that ensure a remarkable user experience. As a result, you can maximize your budget while enjoying the benefits of a platform that delivers outstanding performance and functionality. With Paradiso Ecommerce LMS, you can confidently create and manage your online courses, engage learners effectively, and achieve your educational goals. It's cost-effectiveness and comprehensive feature set make it a smart choice for those seeking a high-quality learning management system without breaking the bank.
Advanced Course Management
Take your courses to the next level with Paradiso Ecommerce LMS advanced features designed to enhance learner engagement. Track course progress and incorporate interactive quizzes to create captivating and interactive learning experiences. Empower your learners with an immersive journey that promotes active participation and ensures effective knowledge retention. With Paradiso Ecommerce LMS, you have the tools to create dynamic and captivating courses that keep learners motivated and excited to learn.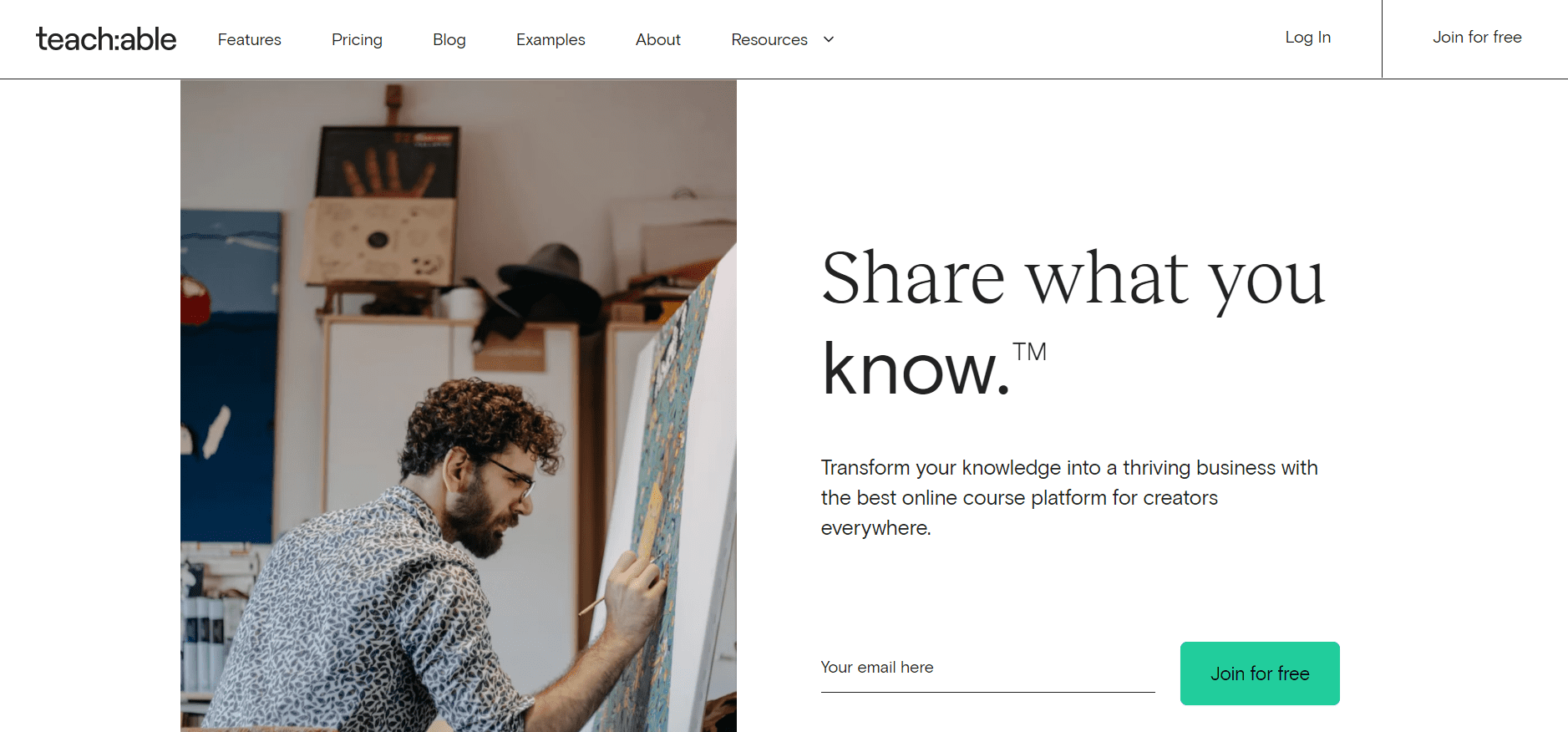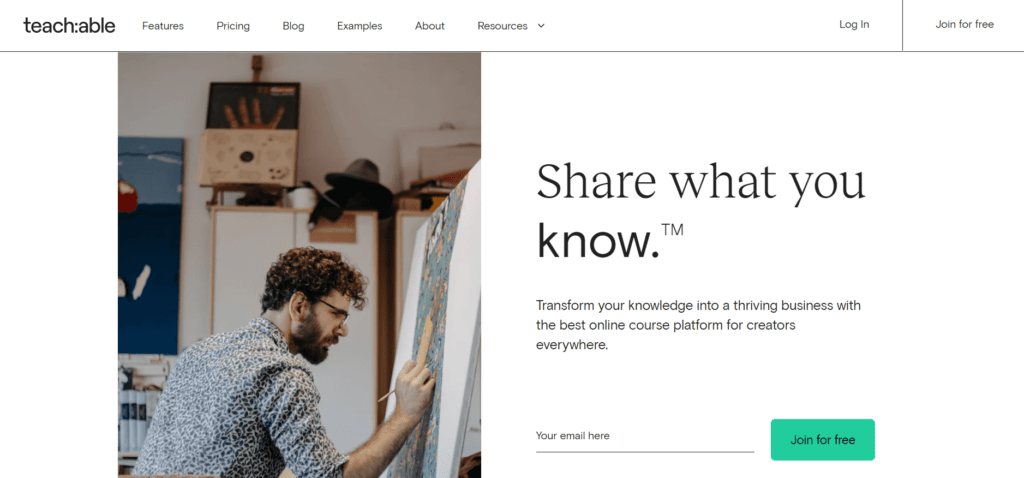 Teachable is a website where you can sell as many online courses and coaching programs as you want, even on the free plan. They provide ready-to-use templates for designing your courses, and you can create a store to showcase all your products. In addition, when customers make purchases using Teachable's payment system, they can receive their earnings instantly.
Offer your courses and coaching services for sale.
Create personalized sales pages for your courses and other products.
Utilize various payment options such as coupons, subscriptions, one-time payments, memberships, and bundles.
Access basic email features to communicate with your students.
Manage your affiliates and utilize available resources for affiliate management.
When you create courses using Teachable, you can provide course completion certificates and incorporate interactive elements like quizzes. If you require additional features, Teachable offers valuable integration. Besides allowing you to sell unlimited courses and coaching products, Teachable handles financial tasks behind the scenes, such as making payments to you, your affiliates, and other authors involved. 
Basic: $39/month
Pro: $199/month
Business: $299/month
Kajabi is a comprehensive alternative to Thinkific that offers a variety of features. For example, you can sell courses, digital products, coaching services, memberships, and podcasts in one place. Kajabi also provides tools for email marketing, running an affiliate program, building websites, and tracking analytics. One of its notable features is the ability to create sales funnels called pipelines, which are pre-designed automation templates to help you reach specific goals, such as generating leads or launching new products. 
Sell courses, downloads, coaching services, memberships, podcasts, and communities for sale.
Utilize email marketing, affiliate management, and analytics tools.
Build your website using the provided builder and templates.
For podcasters, sell exclusive podcasts to members and manage your podcast subscribers.
Create sophisticated sales funnels to optimize your marketing strategies.
Similar to Thinkific, Kajabi offers a wide range of tools for a single monthly fee. In addition, no transaction fees apply to any plans, and it provides a mobile app, enabling students to access their courses conveniently while on the go.
Basic Plan: Includes creating three products and three pipelines.
Growth Plan: Offers expanded features with 15 products and 15 pipelines.
Pro Plan: Provides maximum capacity with 100 products and 100 pipelines.
LearnWorlds is an online learning platform that operates on the cloud. It enables you to create and sell your courses effortlessly. With various tools, you can build courses, create content, design assessments, and track your learners' progress. By monitoring their time spent on lessons, quiz scores, and overall advancement, you can utilize the reporting system to export data and analyze their performance.
Customize your courses according to your needs and preferences. 
Ensure compatibility with SCORM standards for seamless integration with other systems.
Build assessments to evaluate your learners' progress and knowledge.
Conduct live sessions and incorporate interactive videos to enhance engagement and interactivity.
LearnWorlds stands out for its student engagement tools, including discussion forums, live chat, and interactive videos. Social media integration and interactive e-books enhance the learning experience. The user-friendly course builder allows you to customize course structures with chapters, lessons, and assignments. Create multimedia-rich content like videos, audio files, and images. Keep track of student progress and performance using the LearnWorlds reporting system.
It is a platform that empowers you to transform your knowledge into a profitable business by designing and selling online courses. In addition, it serves as a cloud-based course creation platform, enabling content creators to monetize their skills, expertise, and interests. With FreshLearn, you can create educational lessons and turn your valuable knowledge into a source of income through course creation and sales.
Keep track of course progress and performance with course monitoring.
Enhance learner engagement and motivation through gamification elements.
Access courses and learning materials on mobile devices with mobile learning support.
Ensure compatibility with SCORM standards for seamless integration with other systems.
Cater to the needs of training businesses with specialized tools and features.
FreshLearn is a user-friendly tool enabling you to effortlessly build, promote, and sell digital products on your branded website. It is the ideal platform for creators looking to develop and sell online courses. With FreshLearn, you can easily create, modify, and sell courses while the platform handles essential tasks like making landing pages and processing payments. Unlock the full potential of your classes with FreshLearn's powerful features. 
Pro Plan: $25.00/month
No Brainer: $41.00
Podia offers a free plan that provides a comprehensive website for your business. You don't have to worry about coding or hiring a developer because Podia's user-friendly page builder lets you create a digital home that suits your preferences. You can create unlimited sales pages for your products and offerings. Additionally, you can create draft courses, webinars, and product bundles that can be launched when you decide to upgrade your plan.
On paid plans, you can sell unlimited courses, digital downloads, webinars, communities, and coaching sessions.
Seamlessly integrate webinars with popular platforms like Zoom and YouTube Live.
Accept payments through Stripe and PayPal, providing convenient payment options for your customers.
Enjoy the benefit of no transaction fees when using the paid plans.
Opt for custom domains on the paid plans, giving your online presence a personalized touch.
Podia distinguishes itself from Teachable by offering extra functionalities like live chat, email marketing, and affiliate marketing tools. These features empower you to market your courses effectively and connect with your audience. Additionally, Podia provides:
A user-friendly website creation feature.
Eliminating the need for coding knowledge or separate website tools.
Allowing you to build an appealing online business presence.
Mover: $39/month
Shaker: $89/month
Earthquaker: $199/month
Mighty Networks  platform specifically designed to manage free and paid online communities. Although creators can sell courses on the business plan, the main highlight is the community feature. By upgrading and accessing the course creation tools, you can gradually release content, involve additional instructors, and create a dedicated community space for participants enrolled in your courses.
Engaging Community and Membership site Functions
Personalized Feeds for Users with Advanced Technology
Unlimited Members and Moderators for Communities
Group and Private Chat Messaging Options
Live and Cohort Course Creation available on Business Plan and above
You can build courses with dedicated community spaces with Mighty Networks' Business plan. These communities offer advanced functionalities such as virtual and in-person events, detailed member profiles, and a Discovery page where members can discover new and exciting content.
Community plan: $39/month
Business plan: $119/month
Mighty Pro: Custom pricing
It is designed to help you sell courses and transform them into a successful business. This platform combines course creation with integrated marketing features, including an autoresponder and plugins to boost sales. Benefit from 24/6 live chat customer support and access to free training resources to elevate your course creation and marketing skills to a professional level.
Easy-to-use course creation tool
Supports various payment systems
Comprehensive analytics and reporting
Effective member management system
Multi-language support for 17 languages
CourseFunnels offers three integrated platforms: course creation, sales, and membership. As a course creator, you can utilize this program to design your courses and efficiently promote them by constructing effective sales funnels within the platform. Additionally, it provides a built-in tool to manage your students' memberships, making it easier to handle and organize your student community.
Starting price: $37.00 per year
Free trial: Not Available
Free version: Not Available
Choose the right platform among all Thinkific Alternatives Wisely
These platforms offer a wide range of resources, tools, and opportunities for course creators, business owners, and lifelong learners to thrive in the online learning world. Selecting a platform that aligns with your vision and values while providing the necessary support and resources for creating and delivering top-notch online courses is crucial. 
Paradiso LMS simplifies the process of selling courses, webinars, and coaching by offering unlimited options without transaction fees. You can engage with your audience through a vibrant online community, which can be a standalone offering or a valuable addition to your courses. Being an all-in-one tool, Paradiso Ecommerce LMS provides features like email integration, affiliate management, website building, and customer messaging to enhance learning management.