Podia is an all-in-one platform for selling online courses, webinars, digital downloads, and memberships. However, users often need help with its email marketing tool, which is less comprehensive than other tools. It lacks customization options and templates, limiting its appeal to those seeking a professional online store. Additionally, it lacks phone support, relying solely on email for customer assistance. Finally, the pricing plans may need to be more competitive, particularly for low-volume sellers who need access to essential features like embedded checkout and affiliate marketing. On a positive note, there are alternative platforms available that offer similar functionalities. Exploring these Podia alternatives can give users more options to find a solution that suits their needs.
What Are The Key Factors To Consider In Podia Alternatives
As mentioned earlier, it needs some essential features that are crucial for an online course platform. Therefore, choosing a platform with these missing features makes sense when seeking Podia alternatives. Opting for a platform that fulfils all your requirements is a no-brainer. Here are some features to consider when selecting the best alternatives.
While Podia offers useful marketing features like email campaigns and basic marketing funnels, it's essential to find alternatives that provide similar options for selling and marketing courses. Great Podia alternatives should ideally have a built-in point-of-sale system, the ability to create course bundles and support for selling in different currencies. Combining multiple platforms to run a functional course business should be optional. The goal is to find a platform where you can conveniently build and sell your courses all in one place.
When considering Podia alternatives, ensuring that the platform allows you to create online courses is crucial. However, it's about more than just basic course capabilities; the ideal alternatives to podia should offer intuitive upload and design features, user-friendly navigation for members, the ability to incorporate feedback, and even the option to build a community. We are currently in a time where online course creation is flourishing, so there's no need to settle for a platform that doesn't empower you to create visually appealing and engaging courses.
Let's Discuss The Top 7 Podia Alternatives
Below is List of  Podia Alternatives
Paradiso LMS
Teachable

Thinkific

 

Talent LMS

Ruzuku

LearnWorld

  

 

Mighty Network  

 
Paradiso LMS is a highly acclaimed eLearning software that has gained the trust of corporations, training companies, and educational institutions worldwide. It offers a complete solution for managing eLearning, utilizing mobile, social, and video technologies. The platform stands out with its extensive features, including gamification to motivate learners, social learning for collaborative experiences, blended learning options, e-commerce capabilities, advanced reporting, and seamless integration with over 100 top business tools. 
One of the key strengths of Paradiso LMS is its provision of valuable and top-quality content. It is an excellent content library, allowing businesses to procure courses in various fields to enhance their employees' skills. The platform also facilitates effortless content creation and selling while simplifying content management to handle eLearning materials seamlessly. With its flexibility and integration capabilities, Paradiso LMS empowers your eLearning business to reach new heights and succeed.
Build Your Website
Convenient Payment Gateway Integration
Simple Course Creation Process
Automated Marketing Capabilities
Integrated Analytics and Reporting Features
Support for SCORM 1.2, XAPI, and AICC Standards
Smooth Integration with Other Platforms
Create Compelling Content 
With Paradiso LMS, you have the power to develop captivating courses that incorporate interactive elements like videos, quizzes, and more. The user-friendly interface and robust features enable you to create dynamic, engaging learning experiences that enhance learner participation and promote effective knowledge retention. By utilizing Paradiso LMS, you can easily design and deliver courses that keep your users actively involved and eager to learn.
Establish Your Unique Brand
Paradiso LMS goes beyond simple eLearning functionality and helps you establish a distinctive brand identity. Through customizable branding options, you can tailor the platform to align with your organization's visual style and brand guidelines. It allows you to create a cohesive and consistent learning environment that reflects your brand's values and personality. By leveraging the branding features of Paradiso LMS, you can strengthen your brand presence and leave a lasting impression on your learners, reinforcing your organization's identity and credibility.
Boost Conversions
With Paradiso LMS, you can create interactive content effortlessly without coding expertise. The AI Media Studio empowers you to seamlessly incorporate multimedia elements like videos, images, and interactive quizzes into your courses. By leveraging this powerful tool, you can enhance learner engagement and drive conversions and sales. Watch as your learners become fully immersed in the interactive learning experience, resulting in improved knowledge retention and heightened levels of engagement.
Seamless Integrations
Paradiso LMS provides powerful integration capabilities that allow top creators and brands to monetize their content through various options, such as one-time payments or subscriptions. You can choose the pricing model that best aligns with your business goals. By utilizing Paradiso LMS's monetization features, you can generate revenue from your valuable courses and content, ensuring their profitability. Whether you prefer a pay-per-course or subscription-based approach, Paradiso LMS equips you with the tools and flexibility to monetize your eLearning offerings effectively.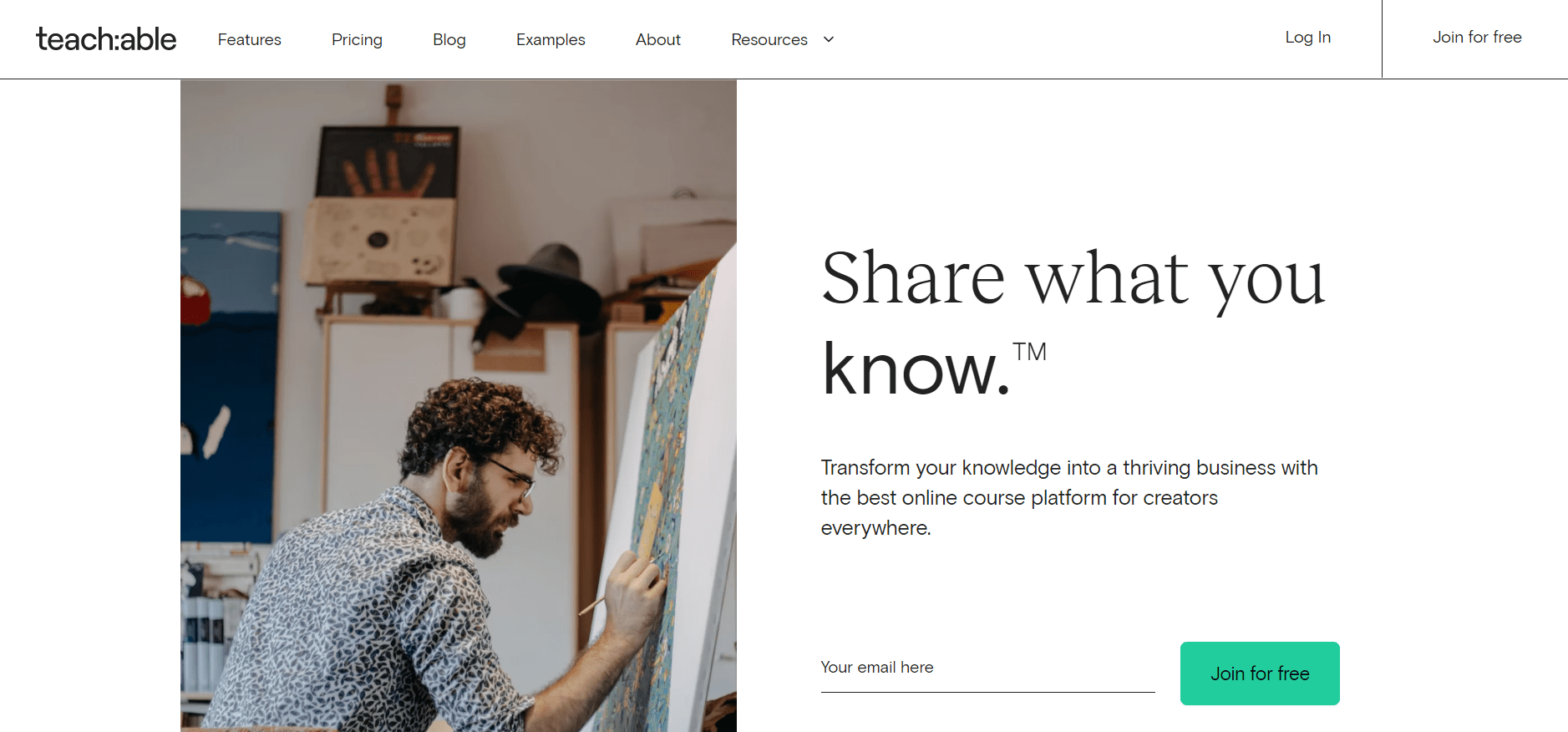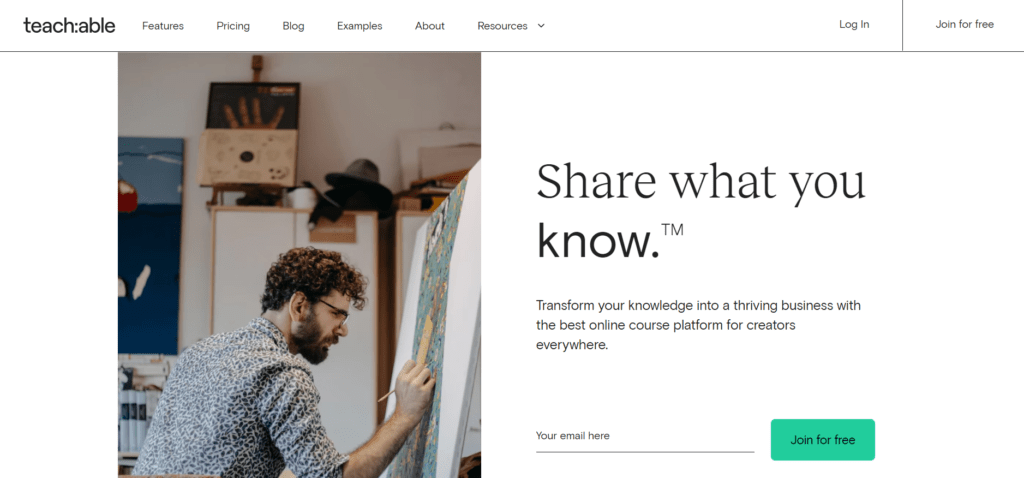 It is a robust alternative worth considering. However, it's important to note that it may be slightly more expensive than other available options. Therefore, the Teachable free plan is worth exploring, which allows you to create complete courses with unlimited videos and hosting. The main limitation of the free plan is that it only accommodates up to 10 students. So, while Teachable offers excellent features, be mindful of the student limit if you opt for the free plan.
Extensive Integration Support
Simple Sales and Student Analytics Tracking
Versatile Sales Page Editor
Effortless Class Scheduling and Hosting
Teachable offers a standout feature: setting up an affiliate program. It means you can collaborate with others to promote and sell your course. Whether it's previous course takers or influencers in your field, the affiliate program allows you to share commissions with those who bring you students. It's an effective marketing tactic that can broaden your reach and boost sales by leveraging the networks and influence of others.
Basic – $39 per month.
Pro – $119 per month.
Business – $299/month
It is a platform designed for creating and selling online courses. It provides various tools to enhance user engagement, such as quizzes, course templates, drip schedules, certificates, live sessions, and communities. With Thinkific, users can easily create learning materials using professional templates that align with modern design trends. Unlike Podia, Thinkific strongly emphasizes the student experience, offering features that foster active engagement and interaction between learners and instructors.
Community Building Capabilities
Assessment and Certification Features
Track Progress with Ease
Intuitive Drag and Drop Website Builder
Thinkific allows creating landing pages even before you launch your online courses. These pre-sale pages serve multiple purposes, such as building email lists and assessing the demand for your course. In comparison, Podia also offers pre-sale pages, but the process is different, and users may not realize the availability of this tool until it's too late. With Thinkific, you can gauge interest, attract potential customers, and invite them to sign up for your course before its official launch.
Basic: $49/month
Pro: $99/month
Premier: $499/month 
It is a powerful Learning Management System that prioritizes training success. It is designed to gain support from all stakeholders, including budget heads and learners, creating an environment where teams can thrive and develop. With its extensive features, full customization options, and user-friendly management, training becomes an enjoyable and valuable experience for everyone involved, providing an opportunity for continuous learning and growth.
Efficient Assessment Management
Integrated Blended Learning
In-built Course Authoring Tools
Mobile Learning Accessibility
TalentLMS is designed to provide a seamless training experience for various scenarios. It offers versatile features that cater to onboarding new employees, whether they are working in-house or remotely. It is also suitable for compliance training, product training, and skills development. Additionally, with a single account, you can extend your training to customers, partners, and other external audiences, ensuring a consistent and effective learning environment for all.
Starter –$69.00/Month.
Basic –$149.00/month.
Premium –$459/month 
Ruzuku is a versatile online learning platform that goes beyond just being a learning management system. It gives you the advantage of combining a website and an LMS into one platform. With Ruzuku, you can easily create and manage engaging online courses, allowing you to deliver successful learning experiences to your students.  
Manage Your Students  

Offer Open Access to Courses  

Host Live Lessons with Audio and Video  

Student Profiles and Community 
Like Podia, Ruzuku may provide limited customization options or advanced eCommerce features. However, it excels in its comprehensive onboarding process, giving structured guides to facilitate a smooth start. Notably, the course analytics feature is valuable for tracking student engagement. You can gain insights into student behaviours through detailed reports, enabling you to make informed decisions about your courses.
It is an e-learning platform that stands out for its exceptional customer support. It offers a similar service to Podia but focuses on serving professional institutions. LearnWorlds empowers users to develop comprehensive training programs, effectively market their products, and gather valuable data on performance. With LearnWorlds, educators and institutions can create engaging and impactful online courses while receiving dedicated support throughout their e-learning journey.
Create a Customized Website with Your Branding.
Gain Knowledge through Detailed Tutorial Videos.
Develop E-commerce Pages with Design Flexibility.
Distribute E-books and Conduct Surveys Effectively.
LearnWorlds' community and support system is highly regarded in the industry. They provide an extensive knowledge base with regularly updated content, detailed tutorials, and video guides to assist users. The platform offers four flexible pricing plans to cater to different needs. Additionally, it provides a learning center with iOS and Android apps that can help you effectively plan, budget, and execute your marketing campaigns, albeit with an additional cost.
Starter: $29/month (+$5 fee per course sale)
Pro Trainer: $99/month
Learning Centre: $299/month
It is a versatile platform where you can create communities, courses, and membership sites. You become the owner by creating a community on Mighty Networks; members can access it through the platform. It's important to note that this platform focuses more on community-building than course creation. Therefore, it may not be the best fit if you prioritize a professional course experience. However, if building a thriving community is your primary goal, with courses as a bonus, Mighty Networks is worth considering.
Unify your social media followers into a vibrant community
Engage with your audience through live-streaming capabilities
Create and cultivate communities with powerful tools
Gain exclusive insights and valuable data for better decision-making
Mighty Networks offers branding options to personalize your platform with preferred fonts and colours. While the customization options may have some limitations, they are generally sufficient for most professional requirements. The advantage is that you can quickly create a website, establish a community, and sell your offerings without spending excessive time on design. However, it's important to note that Mighty Networks lacks a drag-and-drop editor for further customization.
Community plan: $39/month
Business plan: $119/month
Mighty Pro: Custom pricing
Check out Other 4 Similar Platforms
Below is List of Podia Alternative Competitors
SkillShare

  

 

LearnDash

  

 

LearnUpon

LMS  

 

Mindflash  
It is widely recognized as a leading online teaching platform allowing you to teach and learn. It will enable you to share your expertise with others while granting you access to various courses for personal growth. By utilizing Skillshare, you can enhance your skills and knowledge, becoming an expert in your field while contributing to the learning community.
Enjoy boundless access to a vast selection of Skillshare courses
Efficiently manage and oversee courses through the admin panel
Provide students with practice lessons to enhance their learning experience
Track and analyze course performance with comprehensive analytics and reporting capabilities
SkillShare's most significant advantage lies in its widespread popularity. As a well-known platform, it attracts many individuals seeking new skills. When people are motivated to acquire knowledge, they instinctively turn to SkillShare as their go-to resource. This increased visibility offers you excellent opportunities to reach a broader audience and share your expertise with a larger community of learners.
It is a highly recommended choice for building and monetizing online courses. Unlike Podia, LearnDash functions as a WordPress plug-in, harnessing WordPress's core capabilities. In addition, it offers tools like quizzes, assignments, and user tracking to enhance learner engagement. These features can deliver a valuable and interactive learning experience, attracting and retaining more users. LearnDash empowers you to create successful and profitable online courses through its robust features and WordPress integration.
Extensive Integration Options
Efficient Group Management
Comprehensive Reporting
Flexible Page Builder Integration
It offers similar features to Podia, such as the ability to award certificates to students upon course completion. In addition, it lets you add content layers and break the material into smaller, well-structured sections. With LearnDash, you have complete control over the pricing model, allowing you to set different prices for each course. You can choose from one-time sales, subscriptions or create bundles with multiple courses.
One site: $199/year
Ten sites: $399/year
Unlimited: $700/year
It is a user-friendly platform that can serve as an alternative to Podia. It provides online course creators with a seamless and intuitive experience. With its user-friendly interface and comprehensive features, LearnUpon LMS offers a hassle-free solution for building and delivering online courses. Whether you are new to course creation or an experienced instructor, LearnUpon LMS provides the tools and resources to create engaging and effective learning experiences for your students.
Tools for creating courses
Insights and data analysis
Integration capabilities
Management tools for users
It's important to note that LearnUpon LMS also provides gamification features. With this platform, you can create an exceptional e-learning business and have access to all the essential tools to enhance your students' learning experiences. In addition, the gamification functionality adds an extra element of engagement and motivation, allowing you to create interactive and enjoyable courses. This feature makes LearnUpon LMS a comprehensive solution for building a thriving online learning environment.
Basic – suitable for up to 50 users
Advanced – designed for up to 300 users
Enterprise – ideal for 300 users and beyond
It is a top-tier cloud-based learning management solution designed for large companies and fast-growing enterprises. It allows organizations to provide frequent training on essential topics to their extensive network of contractors and channel partners. Mindflash, on the other hand, introduces groundbreaking advancements in content creation, business analytics, program management, and integration capabilities, providing companies with comprehensive and cutting-edge learning solutions.
Support for PowerPoint presentations and videos
Live training and interconnected training portals
Support for Word documents
Intuitive and user-friendly interface
It empowers businesses to assess the effectiveness of training by measuring its impact on revenue, cost, and profitability. It allows the use of existing content, including animation, video, and voice, with the flexibility to make live course edits on the go. The platform facilitates efficient segmentation, automation, and integration of large-scale training programs. Real-time tracking of trainee progress ensures compliance, while customizable options cater to mobile, global, and white-label requirements.
Standard plan- $599/month
Premium plan- $999/month
Why Should You Choose Paradiso LMS?
Paradiso LMS is an all-in-one platform for creating, selling, marketing, and analyzing eLearning courses. It provides interactive features like AI voiceover, video, templates, quizzes, and assessments in SCORM format to make your courses engaging and effective. 
The platform offers customizable eCommerce storefronts integrated with payment processing apps, allowing you to monetize your courses effortlessly. In addition, learner analytics provide valuable insights into student learning patterns, helping you enhance the effectiveness of your online courses.
It offers a mobile app for Android and iOS to reach more learners, allowing users to access workshops and courses on the go. You can even choose between using Paradiso LMS or your white-label app.
Additionally, Paradiso LMS provides improved click-through rates with push notifications, one-click in-app purchases, and support for both iOS and Android platforms.
Also, the platform offers easy integration with your preferred software applications, allowing you to simplify workflows and increase productivity.
It facilitates the entire eLearning process, from course creation to marketing and analysis. It empowers you to deliver engaging courses, monetize your content, gain insights on student learning, and connect seamlessly with other software applications.
We hope this comparison blog has provided valuable insights into the top Podia alternatives. With numerous excellent course platforms available, you can maintain the required essential features. Among them, Paradiso LMS emerges as the best Podia alternative. Through extensive research, testing, comparisons, and ratings, Paradiso LMS stands out as a powerful all-in-one solution for building a comprehensive e-learning business.
Moreover, it offers everything that Podia does and more, all at a considerably more affordable price. So, instead of wasting your time, grab the opportunity to kick-start your online course business without further ado!