Building an online community is crucial for gaining your audience's trust and active participation. However, what if you find yourself using the wrong platform? Several problems can arise from this situation. Firstly, the platform may need more tools than you require, hindering your community-building efforts. Secondly, navigating and locating the features you need might be challenging. 
Additionally, the platform may be too expensive for your budget, impacting your ability to manage your online community effectively. If you're planning whether to choose Mighty Networks or switch to a better platform, you've come to the right place. In this blog, we will explore some excellent Mighty Networks alternatives that we have uncovered. So, let's explore right in and discover the best options available.
Mighty Networks is a platform that allows you to build and expand online communities. Whether you want to create membership sites, online courses, or your community with your unique brand, Mighty Networks can assist you. If you're considering Mighty Networks alternatives or still deciding which platform to choose, we'll provide more information to help you make an informed decision.
Mighty Networks provides a range of features in its community platform, but sometimes having too many choices can be confusing. Here's a breakdown of what they offer:
You can create your website and community.
Build landing pages to showcase and advertise your content.
Decide whether your community should have free or paid access.
Gain insights into member behavior and activities with analytics and reports.
Engage with your members using a personalized activity feed.
Expand your capabilities by integrating with other tools.
Mighty Networks offers three pricing options to choose from: 
The Community Plan: For $33 per month, you can build a website and community. This plan also includes paid membership capabilities, live streaming, and events.
The Business Plan: At $99 per month, you'll have access to all the features in the Community Plan. Additionally, you can create online courses and access analytics and workflows.
Mighty Pro: This plan offers a branded app, an account manager, and strategy support. For pricing details, you'll need to contact their team directly. While Mighty Networks' pricing is comparable to other platforms, there might be compelling reasons to consider alternative platforms.
The Top Seven Mighty Networks Alternatives For Your Course Business
Below is List of  Mighty Networks Alternative
Paradiso LMS
Teachable

Thinkific

 

LearnWorlds

 

FreshLearn

 

Podia 

Course Funnels  
Paradiso LMS is award-winning eLearning software trusted worldwide by companies, training providers, and eLearning sectors. It offers a complete solution for managing online learning, including mobile, social, and video technologies. The platform has many features, such as gamification to keep learners motivated, social education for collaboration, blended learning, and the ability to sell courses online. It also provides advanced reporting and can integrate with over 100 popular business tools.  
The platform is dedicated to delivering valuable and high-quality content to learners. It is a content library where businesses can purchase courses in different subjects to enhance their employees' skills. Paradiso LMS makes creating and selling content easy and simplifies the management of your online learning materials. With its flexibility and seamless integration capabilities, Paradiso LMS helps your eLearning business thrive and reach new heights
Build Your Website
Convenient Payment Gateway Integration
Simple Course Creation Process
Automated Marketing Capabilities
Integrated Analytics and Reporting Features
Support for SCORM 1.2, XAPI, and AICC Standards
Smooth Integration with Other Platforms
Create online Courses fast with AI-base eLearning Authoring Tool  
Paradiso LMS empowers you to build interactive and engaging online courses using the best learning features. Take advantage of AI voiceover and video, templates, quizzes, and assessments in SCORM format to create dynamic and compelling learning experiences. With these robust features, you can captivate learners and enhance their knowledge retention, ensuring an immersive and impactful eLearning journey.
Bespoke Storefronts to help you Sell Your Courses Online
It offers customizable e-commerce storefronts tailored to your business needs. These storefronts seamlessly integrate with payment processing apps, allowing you to easily monetize your courses and start generating revenue with just a few clicks. With the flexibility and convenience of the built-in e-commerce features, you can efficiently manage your online sales and create a profitable eLearning business.
Learner Analytics and Dashboard for Your Digital Business
With learner analytics provided by Paradiso LMS, you gain valuable insights into how students learn, empowering you to design online courses that maximize their learning effectiveness. By understanding their progress, engagement, and areas of improvement, you can continuously refine and enhance your course content to ensure optimal learning outcomes for your students. Harnessing the power of data-driven insights, you can create a personalized and impactful learning experience that caters to the unique needs of each learner.
Feature-Rich In-Built Marketing Tools to Grow Your Business
With Paradiso LMS, you can create a seamless communication experience with your students. Welcome them warmly, set up automated reminders, and inform them about new courses or events through personalized emails and push notifications. This proactive communication approach helps foster engagement, keep learners motivated, and ensure they stay up to date with your eLearning platform's latest offerings and updates.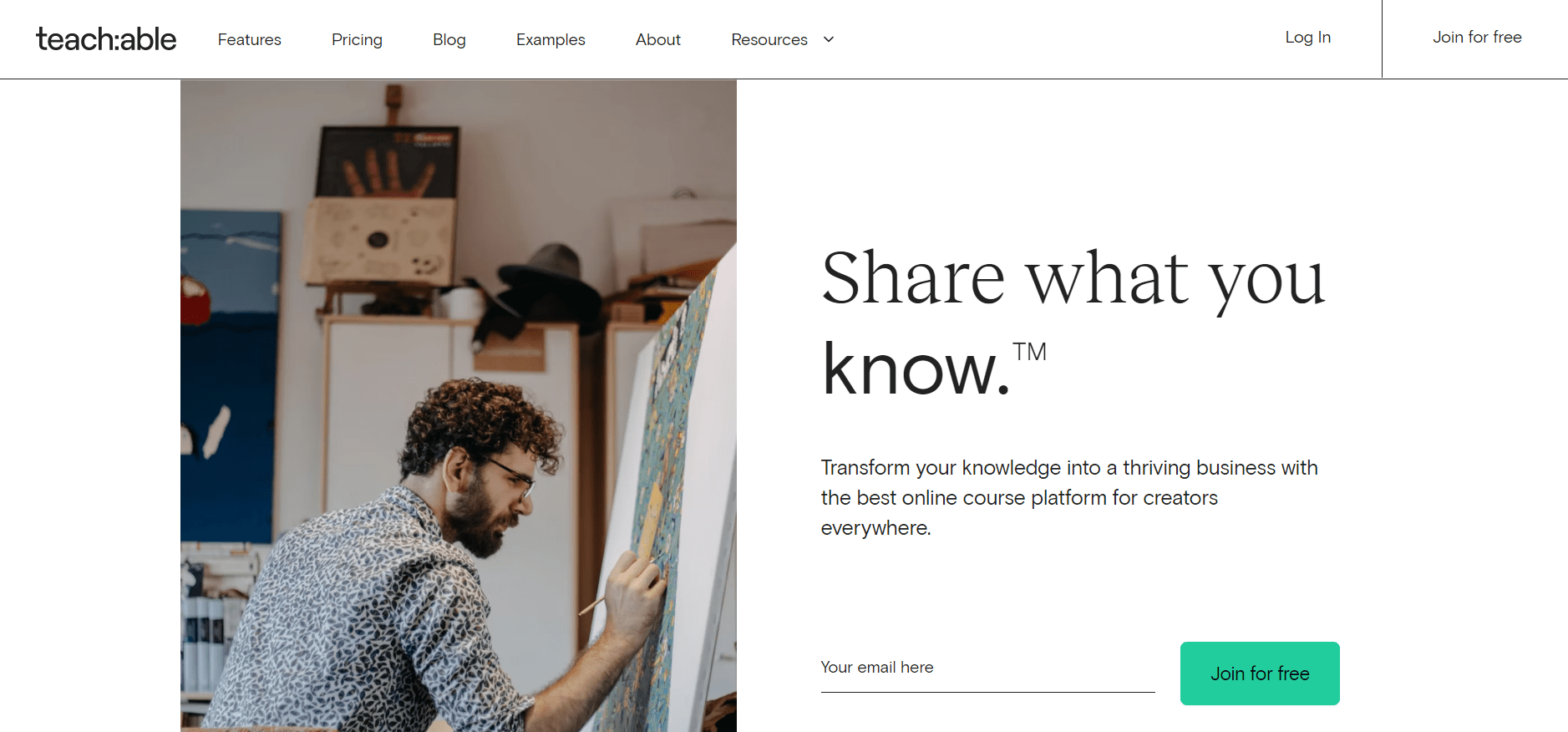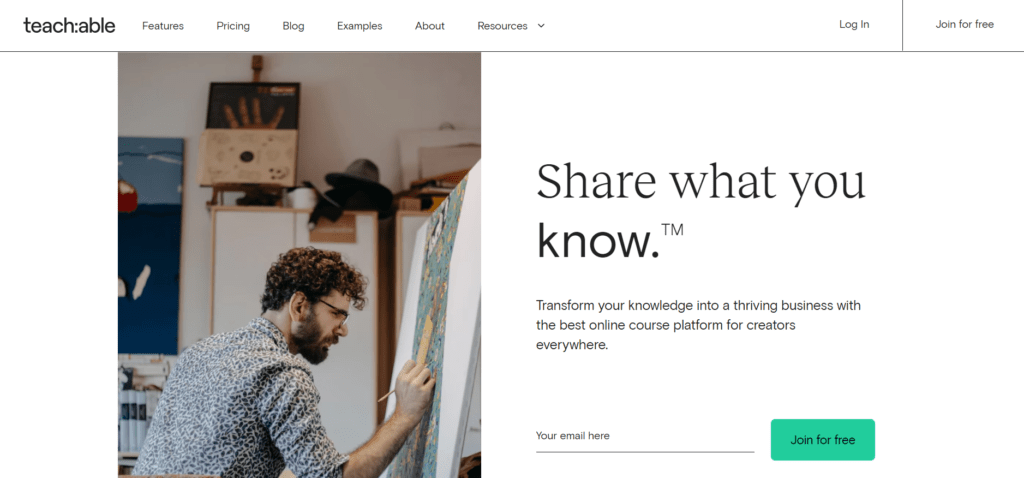 For online course instructors who want to provide their courses on their websites with their branding, Teachable is a popular choice. It's a solid alternative to Mighty Networks if you seek a different platform to host your online courses. Teachable, like Kajabi, allows you to enlist affiliates to promote and sell your course. In addition, it offers a comprehensive solution for creating and managing your courses while maintaining control over your brand and website.
Sell your courses and coaching services to learners.
Design customized sales pages for your courses and other products.
Take advantage of flexible payment options, including coupons, subscriptions, one-time payments, memberships, and bundled offerings.
Utilize basic email features to communicate effectively with your students.
Efficiently manage your affiliates and leverage available resources for affiliate management.
Creating an online course on Teachable is simple and user-friendly. This platform lets you incorporate various content types, such as videos and quizzes, into your courses. If we compare both platforms, Teachable is not similar to Mighty Networks because it can generate certificates for students who complete their course.
Basic – $39 per month.
Pro – $119 per month.
Business – $299/month.
LearnWorlds is a powerful LMS platform that includes community features. These communities provide dedicated pages for you and your students to interact through posts and messages. Unlike Mighty Networks, Thinkific does not have specific channels or groups. However, it still offers a valuable space for collaboration and engagement within your online learning environment. 
Sell Courses, Communities, Products, Bundles, and Memberships with Ease
Seamlessly Add Voiceover to PowerPoint Presentations
Collect Valuable Feedback through Student Surveys
Enable Course Feedback from Students
Integrate Exams with Higher-tier Plans
Host Videos and Content Across All Plans
Thinkific users enjoy the advantage of no transaction fees on any plan. In addition, paid plans offer unlimited courses, content, and students. Creators on higher tiers also can customize their websites with custom CSS and HTML.
Basic: $49/month
Pro: $99/month
Premier: $499/month
It is an e-learning platform that brings instructors and learners together for online lectures, quizzes, discussions, and assessments. This virtual learning solution offers students a diverse range of educational content. They can access engaging video lessons taught by expert instructors from anywhere, making remote learning an interactive and enriching experience.
Tailor Your Courses to Fit Your Needs and Preferences
Seamlessly Integrate with Other Systems Using SCORM Compatibility
Assess and Track Learners' Progress and Knowledge with Built-in Assessments
Boost Engagement and Interactivity with Live Sessions and Interactive Videos
LearnWorlds surpasses Mighty Networks with its extensive features, including customizable courses and themes, content protection, quizzes, and a built-in payment system. Additionally, it provides convenient customer support options, including telephone, web-based messaging, and a knowledge base, ensuring accessible assistance whenever needed.
Starter: $29/month (+$5 fee per course sale)
Pro Trainer: $99/month
Learning Center: $299/month
It is an online course creation platform that empowers you to transform your knowledge into a profitable business. With FreshLearn, you can design and sell engaging online courses, tapping into your expertise to share valuable educational content. This cloud-based platform lets content creators monetize their skills, expertise, and passions by creating and selling courses online. Whether you're a professional or an enthusiast, FreshLearn offers the tools and resources to help you leverage your knowledge and turn it into a successful online course business. 
Monitor Course Progress and Performance for Effective Tracking
Foster Learner Engagement and Motivation with Gamification
Access Courses and Learning Materials on Mobile Devices with Mobile Learning Support
Seamlessly Integrate with Other Systems Using SCORM Compatibility
Provide Specialized Tools and Features for Training Businesses' Needs
FreshLearn is a user-friendly tool enabling you to effortlessly build, promote, and monetize digital products on your branded website. It's the go-to platform for creators who want to create and sell online courses, offering impressive features. With FreshLearn, you can easily create, edit, and sell your courses while the platform handles everything from landing pages to payment processing.
Starting Price: US$29.00/month
No Brainer: $41.00
Pro Plan: $25.00Per Month
It is an all-in-one platform that provides creators with everything they need to establish their online business. With Podia, you can quickly build a website and sell various offerings like online courses, coaching services, digital downloads, webinars, and community memberships. In addition, it simplifies the process by offering a single dashboard to manage all aspects of your business.
Unlimited Selling Opportunities on Paid Plans: Courses, Downloads, Webinars, Communities, and Coaching Sessions
Seamless Webinar Integration with Popular Platforms: Zoom, YouTube Live, and more
Convenient Payment Options: Accept Payments via Stripe and PayPal
No Transaction Fees on Paid Plans: Keep More of Your Earnings
Personalized Online Presence: Custom Domains Available on Paid Plans
Podia outshines helping you monetize your products, making it a superior choice over Mighty Networks. It allows you to accept payments in multiple currencies and offers a variety of pricing options. With top-notch support and unlimited hosting, you can seamlessly run your business on Podia's paid plans without worrying about transaction fees.
Mover: $39/month
Shaker: $89/month
Earthquaker: $199/month
It is designed to do more than sell courses; it transforms them into a lucrative business. This online course platform combines marketing capabilities to help users increase sales through A/B testing and split testing. It also offers an integrated autoresponder and free sales-boosting plugins, allowing you to optimize your marketing efforts and earn more revenue.
Track Learner Activity
Manage Assessments
Handle Assignments
Facilitate Asynchronous Learning
Record Audio/Video
Course Funnels is an online course platform that combines marketing features and supports 17 languages. It offers fully customizable page themes and ready-to-use templates for opt-in and squeeze pages, making it easier to capture leads. In addition, its user-friendly setup lets you quickly get your courses up and running. The platform also includes SEO-friendly features like on-page optimization, caching for fast content delivery, and AMP for excellent mobile performance.
Check out Other Mighty Networks Competitors
Below is List of Mighty Networks Competitors
Graphy
Mindflash  

Absorb LMS  

 

Teachmore

 

LearnDash

 
It is another alternative to Mighty Networks and an excellent platform for online course creators. It provides all the essential tools to help you sell your courses effortlessly. You can integrate popular payment gateways like Paytm, PayPal, Stripe, Instamojo, Razorpay, and more. Additionally, Graphy offers features like live streaming, watermarking, permission management, content scheduling, and course certification. With Graphy, you have everything you need to monetize and manage your online courses successfully. 
In-depth Reports & Statistics
Easy Course and Content Management
Progress Tracking
Effective Learning and Assessment Management Tools
Graphy allows organizations to create custom learning platforms with their domain names. Students can seek clarification through discussion forums or live chat. Institutions can quickly build course websites using predefined templates and a user-friendly interface. Teachers can access detailed reports to track student performance, results, rankings, and other metrics. In addition, they can create courses enriched with various content formats like audio, video, PDFs, SCORM, assignments, and forms. 
Graphy offers a single pricing plan that comes at $999.
It is a learning management system that allows organizations to offer training solutions to their employees and external partners. It caters to various industries and audience groups. As one of the early pioneers in web-based learning systems, Mindflash has a strong reputation in the e-learning industry. 
Customers who use their solution can deliver courses to their organization and beyond, benefiting from cost savings, increased efficiency, and business growth.
Support for PowerPoint presentations and videos
Live training and interconnected training portals
Support for Word documents
Intuitive and user-friendly interface
Mindflash's learning management software simplifies creating courses, managing programs, and tracking results. Users can utilize their existing content and make on-the-spot edits. The platform includes convenient administrative tools for efficient course management, segmentation, automation, and program integration. Additionally, it offers the capability to measure the impact of training programs, providing insights into revenue, cost, and overall profitability.
The Standard plan is available for $599 per month with an annual contract.
With an annual contract, you can access the Premium plan for $999 monthly.
It is a cloud-based learning management system (LMS) designed to enhance business productivity and provide superior experience for both learners and administrators. With Absorb LMS, customers have access to robust and adaptable software that can be customized to their specific learning program needs. Achieve higher returns on investment with streamlined administrative tools powered by artificial intelligence and an intuitive user interface that allows learners to easily access, explore, and retain learning materials.
Smart management
Dashboards for learners and courses
Insights and data analysis
Integration with external platforms
With Absorb LMS, you can create individual courses or establish an entirely online school. The best part is it's designed to be incredibly user-friendly, allowing you to save valuable time and effort. This efficient system provides all the necessary tools and resources to develop highly effective online courses. You'll have everything you need to create engaging and impactful learning experiences for your students. 
Absorb LMS offers a pricing structure that begins at $800 per year.
It is the perfect platform to create and sell your online courses, complete with customized mobile apps and a website. It handles everything from web hosting to payment processing, ensuring a seamless experience. Additionally, Teachmore offers a dedicated learning and development portal for corporates, providing a centralized hub for their training needs.
Organizing Events
Managing Billing and Invoices
Controlling Website Operations
Conducting Email Marketing
Teachmore offers an easy-to-use website builder that allows you to create your customized website, even if you have limited knowledge of web development. With the appearance feature, you can personalize your courses by adjusting the content, design, tone, and overall theme. Moreover, it provides intuitive tools for selling and promoting your online courses, offering support throughout your business growth journey.
Basic Plan: $39 /month/
Pro Plan: $99 /month/
Business Plan: $249/month
It is ideal for beginners or those who want a simple educational platform. It works exclusively with WordPress and is suitable for creating a few courses. You can use it within academic institutions. You can enhance your offerings with features like membership websites and course bundles. It's easily integrated as a WordPress plugin.
Assessing Activities
Managing Certificates
Ensuring Compliance
Learning on Mobile Devices
LearnDash empowers trainers to develop and sell online courses using various pricing options easily. It enables automated content delivery according to learners' schedules. In addition, educational institutions can enhance student engagement by offering certificates, badges, and points upon course completion.
One site: $199/year
Ten sites: $399/year
Unlimited: $700/year
Find the suitable Platform Among All The Mighty Networks Alternatives
If you're overwhelmed by all the options for building your online community, don't worry! You've made progress by narrowing down your choices. Each platform mentioned earlier has different features to help you create a great membership website. But if you want an all-in-one solution, Paradiso LMS is the best option. 
Take advantage of the amazing benefits of Paradiso LMS as the top alternative to Mighty Networks. Whether you're new to building online communities, have some experience, have a tight budget, or are ready to invest in your website's growth, Paradiso LMS has got you covered. You can join for free and start building your community with ease. So take this opportunity to leverage all the advantages Paradiso LMS offers and create the membership website you've been dreaming of.