Can you think of two creators who are precisely the same? Some creators become famous on YouTube and make money from ads and sponsorships. Others sell planners with funny cat pictures that you can print. Some even teach music online and offer courses to teach musical theory. There are countless ways for creative people to start their businesses. Each entrepreneur's journey is unique, and that's why there are so many different tools to help them behind the scenes.  
One of these tools is called Kajabi. It's a platform that helps you sell things online and run your business all in one place. In this guide, we'll talk about the good and not-so-good things about Kajabi. We'll also tell you about Eight Kajabi alternatives you can use to achieve your goals.
Let's Discover Kajabi Pros and Cons
The mobile app feature of Kajabi for online courses is quite handy as it allows your students to access and view your courses while on the go. The best part is that you don't need to pay any transaction fees, so you can keep all the money you earn from your sales.  
It offers various options for selling and managing your digital products. For example, you can sell courses, downloads, coaching, podcasts, and memberships and even create online communities. It also provides tools for:
Email marketing.
Website building.
Sales funnels creation (called pipelines).
Managing affiliates. 
In summary, Kajabi is an advanced platform enabling you to sell various products and manage your online business. In addition, it offers convenience through its mobile app and ensures you receive total earnings without any additional fees. 
Even the cheapest Basic plan on Kajabi costs more than $100 per month, which can be too expensive for creators on a tight budget. On top of that, Kajabi limits the number of products you can have, regardless of the plan you choose.
Basic: $149/month
Growth: $199/month
Pro: $399/month
Based on a survey, creators typically have around 10.95 products. Many creators may need to upgrade to Kajabi's Growth or Pro plans to continue selling their work. However, it's important to note that Kajabi doesn't have built-in course completion certificates. You must integrate a third-party tool to provide this feature to your students. If you're looking for Kajabi alternatives that fit your budget, there are other options you can explore. 
Basic plan: You can have up to three products and three pipelines.
Growth plan: With this plan, you can have up to 15 products and 15 pipelines.
Pro plan: The Pro plan allows you to have up to 100 products and 100 pipelines.
Top 8 Kajabi alternatives and Competitors to look for in 2023
Below is List of  Kajabi Alternatives
Paradiso LMS
Teachable

Thinkific

 

LearnWorlds

 

FreshLearn

 

Podia 

Mighty Networks 

 

Course Funnels 

 
Are you looking for an easy way to create, promote, and sell your online courses? Look no further; get started today and see why Paradiso's E-commerce LMS Platform is the top choice for online course creators! This eCommerce LMS platform is helpful for online course creators to design and sell online courses to grow their business – all in one place. 
It is focused on providing learners with high-quality, valuable content. It has become a great content library for purchasing courses in different fields. Businesses can buy individual or multiple courses to enhance their employees' skills using their Learning Management System (LMS). With Paradiso Ecommerce LMS, you can effortlessly create content and sell it. Additionally, managing your content becomes more manageable with this platform. It is a flexible tool that integrates seamlessly to take your eLearning business to the next level.
Multimedia Content Hosting
Multiple Course Types
Create your website
Pre-installed payment gateways
Emails, Flash & Push Notifications
Easy To Create Online Courses
Built In Analytics And Reporting
SCORM 1.2, XAPI, And AICC Support
CPD, And Certification Tracking
Mobile Support
Language Support
Seamless Integration
Get Started Quickly and Easily  
Creating a course with Paradiso E-commerce LMS is fast and straightforward. The intuitive drag-and-drop editor allows you to create your course quickly and easily without coding. You can even upload your existing course content and tweak it in Paradiso E-commerce LMS with just a few clicks. Once your course is ready, its secure hosting ensures that your course is always available to your students.
Monetize Your Course with Paradiso E-commerce LMS
With Paradiso E-commerce LMS, you can monetize your course in no time. You can use its built-in payment processor to accept payments from your students. You can also use its affiliate program to promote your course and earn commissions on sales. Best of all, its analytics platform allows you to see how your course is performing and make improvements.
Leverage Paradiso E-commerce LMS for Maximum Impact
Paradiso E-commerce LMS is designed to help online course creators to generate revenue from their online courses. You can use its marketing tools to promote your course and reach more students. You can also use its powerful automation tools to create emails and other messages that engage your students and keep them returning for more.
Get Support from Paradiso E-commerce LMS Experts
When you use Paradiso E-commerce LMS, you can rest assured that you're getting the best support in the business. Its team of experts is on hand to answer your questions and provide the support you need. So, whether you need help setting up your course or are looking for advice on how to maximize the impact of your course, Paradiso E-commerce LMS's team of experts is here to help.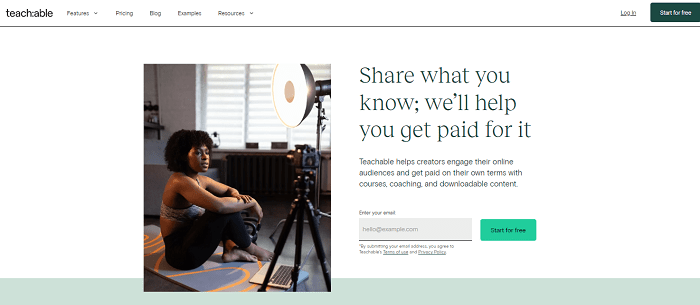 Teachable a popular platform that many coaches and course creators prefer. When you sign up for their paid plan, you can have unlimited courses, coaching products, students, and video bandwidth. You also have the freedom to create your own sales pages, checkout pages, and even a homepage to showcase all your products. In addition, it offers various options for pricing your courses and products, and you can even receive your payments instantly. 
The Go-To Platform for Coaches and Course Creators. Get unlimited courses, coaching products, students, and video bandwidth with Teachable's paid plan.
Create Your Own Sales Pages, Checkout Pages, and Homepage for Your Products. Customize your pages to showcase and sell your products effectively on Teachable.
Flexible Pricing and Instant Payouts for Your Products and Courses. Choose from multiple pricing options and receive your payments instantly on Teachable. Collaborators and affiliates are also assured a fair price.
Teachers are ideal for selling courses and coaching. Creators can access design templates, quizzes, drip content, upsells, and course compliance. Users on any plan, including free, can customize school pages with CSS code snippets.
Basic: $39/month
Pro: $199/month
Business: $299/month
Similar to Teachable, Thinkific is a platform made for course creators. With Thinkific, you can sell self-study courses, live lessons, videos, and cohort programs. It's simple to include assessments and offer various payment options to students. Additionally, Thinkific lets you build a storefront or website for your business using ready-made templates.
Offer Sell Courses, Communities, Products, Bundles, and Memberships
Easily Add Voiceover to PowerPoint Presentations
Gather Valuable Feedback with Student Surveys
Students can Leave Feedback for Courses
Integrate Exams with Higher Plans
Host Videos and Content on All Plans
Creators on Thinkific's paid plans enjoy unlimited courses, content, and students. In addition, advanced users can access custom CSS and HTML with the $99/month Pro plan. In contrast, Kajabi offers this feature only with their $399/month Pro plan. 
Basic: $49/month
Pro: $99/month
Premier: $499/month 
Learnworlds platform allows online course creators, educators, entrepreneurs, and small to mid-sized businesses to create and sell online courses, memberships, and mobile learning apps. It includes a convenient website builder, allowing you to customize your site and try different designs. The LearnWorlds mobile app builder tool is available as an add-on for Learning Center members, but the pricing details are private.
Offer Courses, Memberships, Subscriptions, and Product Bundles for Sale
Easily Manage Affiliates to Boost Your Sales
Create Your Website without Technical Hassles
Edit Videos and Access Transcripts with Built-in Tools
Build a Mobile App for Your Brand (additional fee may apply)
LearnWorlds simplifies video creation for content creators with its built-in editing tools and features. In addition, students can enhance their learning experience with interactive add-ons such as note-taking and highlighting within the course viewer.
Starter: $29/month (+$5 fee per course sale)
Pro Trainer: $99/month
Learning Center: $299/month
This platform is an excellent alternative to Kajabi and can help online course creators quickly start successful online businesses. It provides all the tools you need to transform your knowledge into courses, workshops, downloads, and cohorts. With its user-friendly features, you can concentrate on your expertise while it takes care of the technical aspects. It's a one-stop solution with limitless possibilities for your online ventures. 
Manage Assessments
Combine Online and In-Person Learning
Integrated Learning Management System
Track Progress and Performance
Ensure SCORM Compliance
FreshLearn offers several advantages that make it an excellent choice for course creators. Let's explore the main benefits! One of the standout features of FreshLearn is its all-in-one platform, which doesn't require coding knowledge. It means you can create top-notch courses without prior experience in the industry. In addition, building, customizing, and selling your courses has never been more straightforward and accessible.
Pro Plan: $25.00/month
No Brainer: $59.00/month
Podia is comprehensive platform that enables you to create, host, and manage all aspects of your business. If we compare Kajabi vs. Podia, Podia keeps the number of products you can make. It allows you to explore new business ideas and pursue your creative interests. Podia's community feature also will enable creators to build a network around their brand, fostering more connections and ensuring customer satisfaction.
User-Friendly Website Builder Available on All Plans
Incorporated Email Marketing, Affiliate Marketing, and Customer Messaging
Outstanding Customer Support
Integration with Stripe and PayPal for Payments
Personalize Your Domain Name
Podia provides essential features like email marketing, affiliate management, and customer messaging within its platform, eliminating the need for additional tools or software. Users can also award course completion certificates to their students, enhancing their learning experience.
Mover: $39/month
Shaker: $89/month
Earthquaker: $199/month
Mighty Networks is online platform allows creators to establish free and paid membership communities. With higher-tiered plans, creators can also sell online courses. In addition, the platform enables the creation of landing pages and offers flexible payment plans for community access. Advanced features include live streams, member profiles, direct messaging, virtual events, and calendar functionality.
Engaging Community and Membership site Functions
Personalized Feeds for Users with Advanced Technology
Unlimited Members and Moderators for Communities
Group and Private Chat Messaging Options
Live and Cohort Course Creation available on Business Plan and above
It is designed mainly for managing communities, offering creators valuable analytics and membership tools. However, it also allows the creation of courses with a dedicated space for community interaction.
Community plan: $39/month
Business plan: $119/month
Mighty Pro: Custom pricing
Course Funnels is designed for selling courses and transforming them into a profitable business. This platform seamlessly integrates marketing features, including a built-in autoresponder and free plugins to boost sales.
Easy-to-use course creation tool
Supports various payment systems
Comprehensive analytics and reporting
Effective member management system
Multi-language support for 17 languages
Course Funnels is designed to help you sell courses and build a profitable online business. This platform integrates marketing tools to boost sales, such as built-in autoresponders and free plugins. In addition, you can enjoy 24/6 live chat customer support and access to free training, empowering you to create and market courses like a professional.
Starting price: $37.00 per year
Free trial: Not Available
Free version: Not Available
Why Should You Choose Paradiso LMS?
Paradiso LMS is an all-in-one platform for creating, selling, marketing, and analyzing eLearning courses. It provides interactive features like AI voiceover, video, templates, quizzes, and assessments in SCORM format to make your courses engaging and effective. 
The platform offers customizable eCommerce storefronts integrated with payment processing apps, allowing you to monetize your courses effortlessly. In addition, learner analytics provide valuable insights into student learning patterns, helping you enhance the effectiveness of your online courses.
It offers a mobile app for Android and iOS to reach more learners, allowing users to access workshops and courses on the go. You can even choose between using Paradiso LMS or your white-label app.
Additionally, Paradiso LMS provides improved click-through rates with push notifications, one-click in-app purchases, and support for both iOS and Android platforms.
Also, the platform offers easy integration with your preferred software applications, allowing you to simplify workflows and increase productivity.
It facilitates the entire eLearning process, from course creation to marketing and analysis. It empowers you to deliver engaging courses, monetize your content, gain insights on student learning, and connect seamlessly with other software applications.
Find the Suitable Kajabi Alternatives For You
This list of software aims to provide you with an overview of the leading platforms available in the market. However, keeping your options open and exploring different Kajabi alternatives that can deliver better results is essential. Therefore, try out as many platforms as possible before making a decision. 
When you choose Paradiso eCommerce LMS, you opt for a robust platform that becomes more valuable as more people join and contribute to your course. So, instead of switching from Kajabi to Teachable and relying on additional services, choosing Paradiso Ecommerce LMS is a clear decision.
We've mentioned several great Kajabi alternatives to help online course creators sell their courses. You have plenty of choices depending on what you value most. If you like aggressive marketing tactics, there's a platform for that. If you want a platform focused solely on courses, there's one for that too. And if you're looking to bring your courses and community together to expand, there's a platform that can meet your needs.